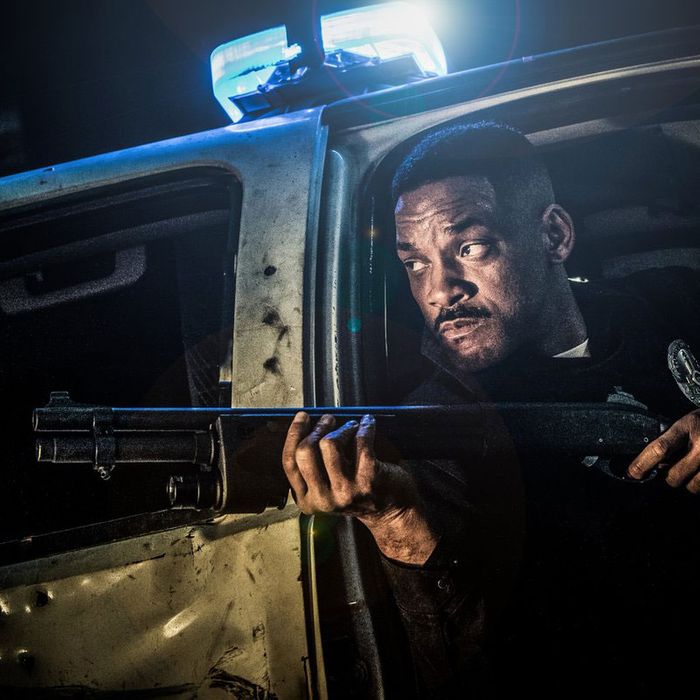 As Netflix and Amazon have gotten into the movie game more or less simultaneously, they've taken two very different approaches. Amazon partners with theatrical distributors to put its films in theaters, respecting the traditional window of exclusivity before making them available to stream on Prime; Netflix does not, committing to making its movies available to stream the same day they hit theaters, if they hit theaters at all. Because of that, the major chains have refused to work with Netflix, a rift that's had ripple effects for the company's inaugural foray into movies.

As a result, Amazon has seamlessly become a major player while Netflix appears to be playing catch-up. At this year's Academy Awards, Amazon earned its first major Oscars with Kenneth Lonergan's Manchester by the Sea, which it co-released with Roadside Attractions, and the Iranian director Asghar Farhadi's The Salesman, which it co-released with Cohen Media Group. In addition to the awards-season players, it also scored minor hits with Whit Stillman's Love & Friendship and Woody Allen's Café Society, and in 2017, its first release, James Gray's The Lost City of Z, has done promising business as it expands. Down the road, its big Sundance acquisition The Big Sick is an almost-guaranteed hit.

The situation with Netflix is a bit more complex. It's hard to say whether any of Netflix's movies have or haven't been successful: Without the barometer of box-office gross, there's no objective yardstick to measure them by. A similar difficulty exists with the company's television releases, but at least there, shows like House of Cards, Orange Is the New Black, and Stranger Things became such significant objects of cultural discussion that their success would be hard to deny. However many people are watching them, none of Netflix's movies have popped the same way.

This year, Netflix — which finances, produces, and distributes its movies itself — is set to take even bigger swings, with a slate of movies budgeted close to $100 million and starring A-listers like Will Smith and Brad Pitt. And that has intensified the conversation that's been dogging Netflix since it started making films: How can they not release them in theaters?
That idea gained a bit more traction this week, thanks to a section in Netflix's shareholder statement. "Since our members are funding these films, they should be the first to see them," the company said. "But we are also open to supporting the large theater chains, such as AMC and Regal in the US, if they want to offer our films, such as our upcoming Will Smith film Bright, in theaters simultaneous to Netflix. Let consumers choose." At first glance, this might seem like a reversal: Netflix is open to putting its movies in theaters! Theaters win! When you look at it more closely, though, it's clear that nothing's changed. "We are also open to supporting the large theater chains," the company says, and it's hard not to note that word choice; it doesn't exactly suggest the kind of partnership with distributors that exhibitors would like to have.
It's also consistent with how Netflix has treated its releases since Beasts of No Nation, which came out in 31 theaters, 19 of which were owned by Landmark. To qualify for Oscars, Beasts had to have some sort of theatrical release, and Netflix partnered with the exhibitors who would agree to show the film despite the fact that it would be streaming at the same time. At the time, the National Association of Theater Owners made its position very clear: "It was merely PR for the home video, which is usually the only point of simultaneous release." While Beasts flopped in its limited theatrical release and eventually fell short of Oscar glory as well, that can't be pinned exclusively on its distribution: It was a difficult movie about a grim subject without much in the way of stars, and it would've been a hard sell no matter what.
Since then, Netflix has been on a tear, acquiring what felt like the entire 2017 Sundance Film Festival and releasing its films without much in the way of a theatrical footprint, excepting partnerships with smaller exhibitors like iPic. In doing so, it's avoided the kind of negative press that Beasts' release generated, but it's also basically punted on any sort of major big-screen strategy. As it prepares to release its marquee titles this year — which include Bong Joon-ho's follow-up to Snowpiercer, Okja; Brad Pitt's satirical, ripped-from-the-headlines team-up with David Michôd, War Machine; the Will Smith–Joel Edgerton–David Ayer–Max Landis would-be blockbuster Bright; and its best bet for Oscar, Dee Rees's Sundance standout Mudbound — it hasn't budged on that commitment to day-and-date releases, to the astonishment of many observers.
But the company's strategy makes a certain amount of sense. While there are plenty of people still committed to their films having some theatrical release at any cost, the truth is that for many films a big-screen release is at best an afterthought, and at worst a money-sucking albatross to hang around its neck. I've talked at length with three filmmakers who had Netflix releases this year, Macon Blair, Charlie McDowell, and Jake Johnson, and they were all relieved that their movies, none of which were guaranteed hits, didn't have to deal with the judgment passed on films that fail to catch on in theaters. You don't have to look far to find an example of this: Take Amazon, which saw Nicolas Winding Refn's The Neon Demon die in wide release, an event that the filmmaker Alex Ross Perry perceptively used to address the problems with current strategies of independent-film distribution.
Without that sort of dismissal, Blair, McDowell, and Johnson each believed that their work was far more likely to reach the widest possible audience if it was released on Netflix, particularly with the support and exposure of the Netflix Original label. And for the vast majority of viewers, that's probably true. Last year, the 246 million moviegoers in the United States and Canada bought an average of 5.3 tickets a year. And while only 11 percent of moviegoers qualify as frequent moviegoers (people who buy a ticket once a month or more) that group accounts for 48 percent of tickets sold. Most folks are only seeing the biggest, most event-worthy films in theaters.
For most movies, then, and especially lower-profile indies, a theatrical release costs a large amount of additional money — publicity and advertising can often exceed the budget of the film — and is an uphill battle against the blockbusters that tend to dominate the box office. There is an important aesthetic and artistic conversation to be had about the value of moviegoing to movies as a form, but it's a different conversation than this one. For your average consumer who spends most of their entertainment time binge-watching cooking shows, and certainly doesn't know the difference between 35mm, 70mm, and DCP, it isn't even particularly relevant. For those people, a Netflix release is just as real as a theatrical release; if they see the film at all, that's where they're going to see it.
Netflix caters exactly to those people, and while a presence in theaters might be beneficial within the film industry and community associated with it, so is the amount of money that Netflix has been funneling into independent film. For its part, executives like Ted Sarandos have long said they expect an understanding to ultimately be reached in which the company's movies will premiere simultaneously in theaters and on Netflix, even if exhibitors might have a harder time, at this point, envisioning that future. Meanwhile, Netflix will continue to have access to one of the most powerful distribution tools available — itself.