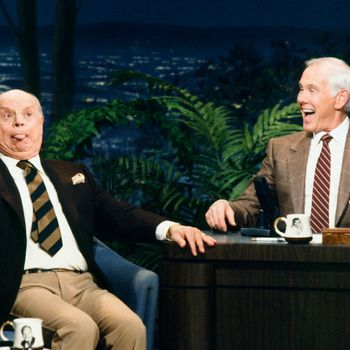 Don Rickles cracks up Carson.
Photo: NBC/NBCU Photo Bank via Getty Images
Don Rickles, who passed away earlier today at the age of 90, was the ultimate insult comic. An icon of his generation, he was also a fixture on Johnny Carson's Tonight Show. He was clearly a favorite of Carson's, and the two developed the type of sniping, zinger-filled relationship that comedians arrive at only when they truly like each other. Rickles often adopted a subservient role to Carson's megastar — "We know each other, we don't see each other that often socially. I have begged …" — but only until the next chance to make fun of Carson's wealth or wives came up. Over the course of 30 years, Rickles would appear on Carson's show more than 100 times, each time bringing a blast of energy onto the set. Here's a look at some of Rickles's best appearances on Carson's Tonight Show.
This clip, from 1978, is a perfect place to start in understanding the relationship between Rickles and Carson. In his intro, Carson says that he gave Rickles the nickname "Mr. Warmth," which would stay with him his entire career and become the title of the 2007 documentary about him. Funny not only for some retro references — Carson has to explain the concept of ultrasuede to Rickles — it's a great showcase for the duo's fraternal relationship. Rickles can make fun of Carson's lackadaisical schedule and Carson can tease Rickles for his womanizing past. But Rickles aims his jabs everywhere, from sidekick Ed McMahon to some poor boom operator. Carson, and the audience, love every minute.
One of the most classic clips, from 1976, sees Rickles surprising his old pal Frank Sinatra on the set of The Tonight Show. Instantly, Rickles launches into an inside-baseball gabfest with Sinatra, teasing Sinatra for his mob connections. It's clearly just what the audience wanted to hear. The clip is most famous for Rickles planting a kiss on Sinatra's lips, but the funniest bit is Sinatra's classic story about Rickles at the end.
Never one to be wowed by celebrities, in 1972 Rickles finds himself casually dressed among a tuxedoed crew that includes the legendary Jack Benny. He knows that he should be impressed and yet he spars with the icon almost instantly, and manages a heartfelt roast of Carson on his anniversary show.
This clip from 1976 is one of the greatest moments in Tonight Show history. Carson discovers that Rickles had broken his cigarette box during the previous night's show, when Bob Newhart had guest-hosted. With barely a pause, Carson abandons the scheduled interview and walks out of the studio, grabbing a handheld mic and beckoning a camera to follow. He walks straight into the studio of CPO Sharkey, Rickles's short-lived NBC sitcom, to confront Rickles with the box. Rickles is clearly tickled and overwhelmed at the intrusion, but his brain kicks into shtick almost instantly, groveling at Carson's feet and promising restitution.
This clip truly needs no context. It's the late 1960s, and Carson is receiving a massage from two underdressed young women when he's surprised — truly surprised — by the appearance of Rickles in his makeshift massage studio. Rickles plays up his sad-sack image by insisting upon taking over as Carson's masseuse, and the whole thing devolves into some expertly staged but seemingly spontaneous physical comedy.
In his last year on air, Carson had Rickles on for one final chat. There's no sentimentality to the end of Carson's tenure — Rickles even takes a few preemptive shots at Carson's successor Jay Leno — and he's happy to be set up for jokes about Jewish wives and Nebraska fashion. If it's not his funniest appearance, it's a real indication of how much Carson valued their relationship and saw Rickles as integral to the show.