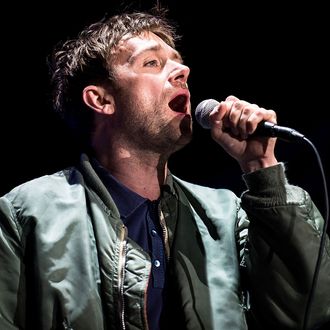 Keep it hush-hush.
Photo: Cassandra Hannagan/Getty Images
Most pop songs can be traced back to Michael Jackson to some degree if you listen closely, and "Andromeda," Gorillaz's shimmering, space-age dance track with D.R.A.M., from the band's upcoming album, is no exception. Though, as Damon Albarn readily admits, he might've taken a bit more creative license with the King of Pop's influence than he wants anyone to notice: Breaking down "Andromeda" on the Song Exploder podcast, he says the song was conceived from a conversation about "two of the greatest '80s pop songs," Michael Jackson's "Billie Jean" and Hall & Oates's "I Can't Go for That."
Albarn attempted to "chemically channel the greatness of those into our own music," with little subtlety — he originally titled the record "I Can't Go for Billie Jean." But because you can't just go naming your songs after MJ classics, that didn't last, and instead it's now named after a nightclub. Albarn now adds this cheeky disclaimer, should anyone detect similarities: "I want to emphasize that the eventual outcome bears no resemblance and any resemblance is purely fictitious." In other words, don't come for Albarn's head. Listen to him talk about who almost sang lead vocals on the song (plus, hear that demo) and how his partner's dying mother, Ethel, was the song's true inspiration, below.