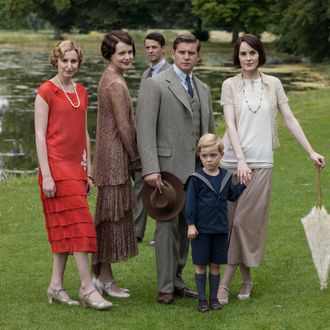 Off the air, but not forgotten.
Photo: Nick Briggs/Carnival Film & Television Limited
If no TV period drama has succeeded in filling that Dowager Countess of Grantham–size hole in your life, take heart: The immersive Downton Abbey Exhibition Tour might be coming to a town near you. According to Variety, the exhibition, which kicks off this June in Singapore, is bringing the Crawley family's home on the road on a multi-year tour with stops across the globe. Highlights include sets like Mrs. Patmore's kitchen and costumes worn by Lady Mary and other less-fashionable characters. There will also be some never-before-aired scenes from the show and other pieces that reflect the history and culture of post-Edwardian British society. The website detailing the exhibition can be found here — we expect the written invitation shortly.