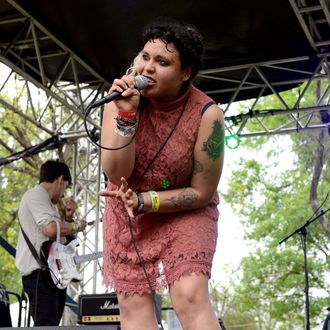 Downtown Boys.
Photo: Scott Dudelson/WireImage
Though Coachella went off for two consecutive weekends mostly without a hitch, the controversy it endured beforehand has continued to haunt the festival even after the desert has emptied. Providence punk band Downtown Boys, who played the festival both Saturdays this year, have written an open letter urging the festival to reconsider its economy and redistribute its resources to better the music community and artists' rights. In light of revelations that the festival owner had donated to anti-LGBTQ hate groups, Downtown Boys (who self-identify as a "bi, bilingual political dance sax punk party") say they were conflicted but went ahead with their sets because there was "no call for an organized boycott of the festival." But as performers on the bill and, therefore, festival employees, the band believe they have a right to say they "have a problem with one of the bosses." While at Coachella, they say they learned some troubling information: A worker picking up trash said their pay has decreased from $14 an hour to $10 an hour. (Vulture has reached out to Coachella reps for comment.) The band now notes the hypocrisy in a festival which the The New Yorker says grossed $95 million while paying its employees 50 cents under California's minimum wage:

Music does not exist in a vacuum and that includes the giant musical platform like Coachella. Of course, to participate in this festival at all means playing a capitalist and mainstream music venture, but we can make demands within that framework, and it is totally unacceptable that money from its owners or anyone for that matter ever goes to anti-LGBTQ organizations or any efforts that endorse hate. We need to call this all out, though it can't end there. We need to work to redistribute the cultural and economic resources so that Coachella no longer holds so much power. We need to increase public funding for the arts so that musicians are not dependent on people like Anschutz to pay our checks.
To get their message off the ground, Downtown Boys are donating a portion of the fee they earned from Coachella to pro-LGBTQ organizations and are echoing the call to other artists who played the festival to also donate and fight back against festival overlords.