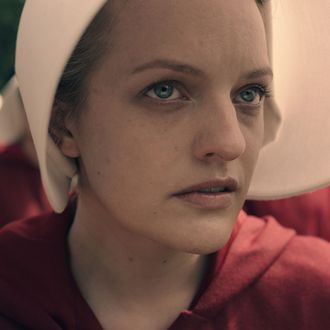 Elisabeth Moss as Offred.
In our current political climate, many people have looked forward to this month's premiere of The Handmaid's Tale, which stars Elisabeth Moss as a forced reproductive concubine living in a misogynistic dystopia, on Hulu. Naturally, that topic was bound to come up at the show's panel at the Tribeca Film Festival on Friday evening, but the conversation soon took an abrupt turn when a discussion about feminism was tossed around instead. Per the AV Club, when asked if she considered the story, like that of Peggy Olson in Mad Men, to be feminist in nature, Moss was dismissive of such a reading. "I mean, they're both human beings. They're the same height," she said. "Honestly, for me it's not a feminist story — it's a human story, because women's rights are human rights. I never intended to play Peggy as a feminist; I never intended to play Offred as a feminist. They're women and they are humans. Offred's a wife, a mother, a best friend. She has a job, and she is a person who is not supposed to be a hero. She falls into it and she kind of does what she has to do to survive to find her daughter. It's about love, honestly, so much of this story. For me, I never approach anything with any sort of political agenda. I approach it from a very human place, I hope."
Margaret Atwood, who wrote the original Handmaid's Tale novel in 1985, disagrees with Moss's perspective. "They needed an 'only,' an 'also,' and a human rights definition of the F word, IMHO," she tweeted to a Twitter user who asked for her thoughts. However, the show's creator, Bruce Miller, similarly sees the narrative through a nonfeminist lens like Moss. "I don't feel like it's a male or female story," he told the New York Times in a profile. "It's a survival story." The show (and its subsequent think pieces) premieres on April 26.