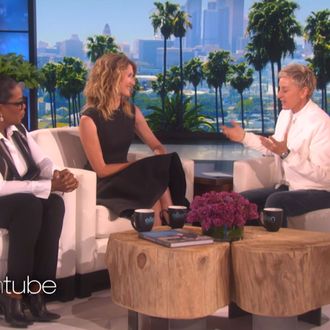 Oprah and Laura Dern with Ellen DeGeneres.
Photo: The Ellen Show
On April 30, 1997, Ellen DeGeneres came out on her eponymous sitcom, Ellen. To celebrate the 20th anniversary of that historic television moment, DeGeneres sat down with Oprah Winfrey, Laura Dern, and cast members from the show to discuss her choice to come out publicly, the backlash she experienced after, and the impact that her decision had on the pop-culture conversation around LGBT issues. DeGeneres even explains that the coming-out episode was titled "The Puppy Episode" because "'Ellen Throws Her Career Away' seemed a little too on the nose." Actually, that's not the real reason for the "Puppy Episode" name, but you can see Ellen's explanation for it below. In an interview with Oprah after the coming out aired, the comedian said she did so "because it's okay. Because it is okay," and, thanks in part to Ellen, that became a little more true in Hollywood.