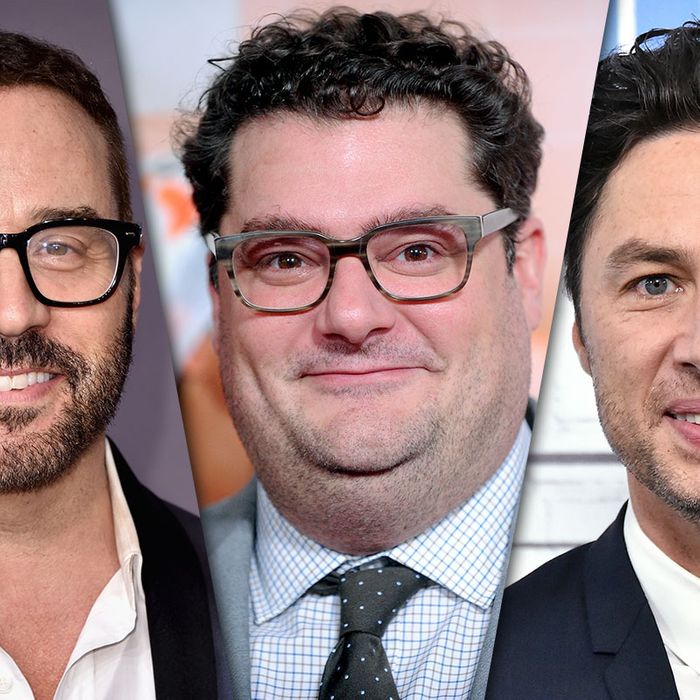 Jeremy will save us all.
Photo: Getty Images
Time to pack up all your "X meets Y, but this time they're in Z" pitches for the year. The major broadcast networks — ABC, CBS, the CW, Fox, and NBC — have started to assemble their pilots for the fall season in advance of upfronts, when they present their offerings to advertisers. And among the roughly 70 pilots the networks have in contention (EW has helpfully tabulated them here) there are a handful that sound utterly ludicrous. As Mindy Kaling once parodied, these pilot loglines are written in a strange pseudo-English full of buzzwords only truly comprehensible to people in executive suites. In honor of the latest batch of shows that may just grace your TV screen, here are the ten most absurd pitches:
ABC's Deception
When his career is ruined by scandal, superstar magician Cameron Black (Jack Cutmore-Scott) has only one place to turn to practice his art of deception, illusion, and influence — the FBI. He'll become the world's first consulting illusionist, helping the government solve crimes that defy explanation and trap criminals and spies by using deception.
Now, if you'd made the lead a woman and called the show Ms. Direct, we'd really be talking.
ABC's Doomsday
In the aftermath of 9/11, the U.S. government instituted a secret think tank composed of the most creative minds in science and entertainment, tasked solely with dreaming up man-made disaster scenarios and their possible solutions. The ideas they invented were so dangerous that the list was sealed and the program shut down. But when a catastrophe ripped from the pages of the missing doomsday book occurs, the team is brought back years later to prevent the disasters of their own making.
This whole thing feels like a real misuse of government resources, which all clearly should have gone to stopping the preexisting threat of Sharknados.
ABC's Start Up
Based on the podcast of the same name, the project follows Alex Schuman (Zach Braff), an inquisitive journalist, husband, and father who dives headfirst into the brave new world of entrepreneurship when he quits his stable job and starts his own business.
How quickly did the ABC executives start drooling upon hearing the words "based on the podcast of the same name?"
CBS's Wisdom of the Crowd
Based on the Israeli format of the same name, and inspired by the notion that a million minds are better than one, a tech innovator (Jeremy Piven) creates a cutting-edge crowdsourcing hub to solve his own daughter's murder, as well as revolutionizing crime solving in San Francisco.
The thing I like about this pitch is that it starts off fine but then takes a hard left turn right at the moment when you hit "(Jeremy Piven)."
CBS's Me, Myself & I
A single-camera comedy examining one man's life over a 50-year span. The show will focus on three distinct periods in his life – as a 14-year-old in 1991, a 40-year-old (Bobby Moynihan) in the present day, and a 65-year-old (John Larroquette) in 2042.
Half the show will probably be along the lines of: "I bet everything will be better when I'm older" followed by a smash cut to when he's older and things are just the same.
The CW's Insatiable
When a disgraced, dissatisfied civil lawyer-turned-beauty pageant coach takes on a vengeful, bullied teenager as his client, he has no idea what he's about to unleash upon the world.
Way to really skim over the exciting story of how the civil lawyer became a beauty-pageant coach, CW.
Fox's Orville

A comedic drama set 400 years in the future that follows the adventures of the Orville, a not-so-top-of-the-line exploratory ship in Earth's interstellar Fleet. Facing cosmic challenges from without and within, this motley crew of space explorers will boldly go where no comedic drama has gone before.
… but not too much like Star Trek, the series.
Fox's LA –> VEGAS
An ensemble workplace comedy about a group of underdogs trying to find their place in the world, set on the Friday night flight from LAX to Vegas and the returning flight on Sunday, who all share the same goal: to come back a winner in the casino of life.
At what point does the plane crash on a remote tropical island inhabited by a smoke monster and a host of other compelling mysteries?
NBC's Good Girls
Explores what happens when three "good girl" suburban wives and mothers suddenly find themselves in desperate circumstances — they decide to stop playing it safe and risk everything to take their power back.
You might say that the good girls are going bad. This logline isn't about to — but you could. If you want. It's right there.
NBC's What About Barb?
Based on the hit movie What About Bob?, a psychotherapist tries to cut ties with her most overbearing patient, but is unsuccessful and gains an annoying family member in the process.
Not that Barb, though they're probably hoping you make that mistake.