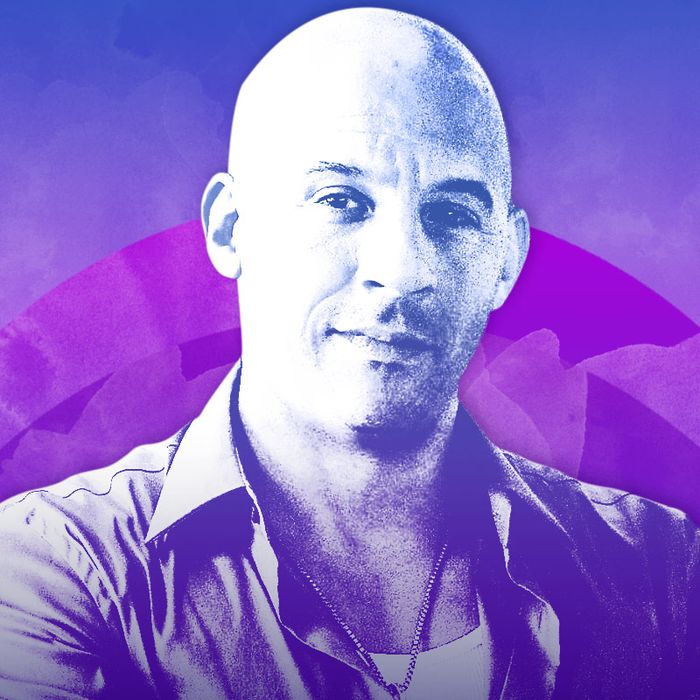 Damn, Dom.
Photo-Illustration: Universal Pictures
Vin Diesel's Dominic Toretto may be "internationally known as the world's most capable guy," but when it comes to his backstory the details have been as sparse as his body hair. We know he's been with Letty Ortiz (Michelle Rodriguez) since they were both teens, and that Mia (Jordana Brewster) is his sister, but beyond them it's always seemed like Dom's Fast Familia is the only one he's got. In ways both large and small, The Fate of the Furious upends that assumption. (In the opening sequence alone, we learn that Dom has a Cuban cousin?!) Still, it can be hard to keep track: Over the past 16 years, Dom has appeared in eight movies and two short films that have occasionally employed nonlinear timelines and done some light retconning. To help you get a full picture of the man, here is a primer on that human wrecking ball with a code, Dominic Toretto.
His Backstory
Judging by the location of the Toretto house — in Angelino Heights, a section of Echo Park that's close to downtown L.A. — we can safely assume that Dom grew up in the neighborhood, which is also home to Toretto's Market, the small business he operates in the first film. In The Fast and the Furious, Dom also explains to Brian why he spent two years in Lompoc prison: His father was coming up in the stock-car racing circuit, and in the last race of the season he got clipped by a fellow driver and died in a fiery crash; Dom attacked that driver with a wrench and served time for assault. He tells Brian, "I'll die before I go back." Another detail about the elder Toretto comes in Fast Five: Dom tells Brian his father worked in a garage all day, but was home every night to help Mia with homework. He also invited everyone over for BBQ after church each Sunday — much of what makes Dom Dom is a result of him trying to be as much like his father as possible.
Also in the first movie, Dom and the Family attend the Race Wars event in the desert outside L.A., and he returns there with Letty in Furious 7. When they show up at the track, Dom tells Letty they "invented it," which makes him something like the Godfather of L.A. street racing.
What He Did Between Movies
Dom was absent for 2 Fast 2 Furious and only popped up for a cameo in Tokyo Drift, so he spent eight years out of the spotlight until 2009's Fast and Furious. Luckily, the short film Los Bandoleros, written and directed by Diesel, takes place before that fourth movie, and fills in some of the gaps. The short sees Dom living in the Dominican Republic; based on comments by family friend Armando in Furious 7, Dom basically became a living legend in the DR. (Armando tells Mia attacking Dom would be "messing with the whole island," so I guess the island is a fan, too.) He's apparently spending his hideaway planning to hijack a gas truck, the heist that opens Fast and Furious. Dom summons his new team and when Han shows up, we learn that they met in the street-racing scene somewhere in Mexico, which is presumably where he fled after the end of The Fast and the Furious.
His Relationships
In one of Brian and Mia's early dates, Brian hears how Dom and Letty got together when he was 16 and she was 15. (In Fast and Furious 6, Dom elaborates on this story, telling the amnesiac Letty about the time he nearly killed her while showing off in a street race.) In Los Bandoleros, we learn that the pair were in Mexico together, but had been apart long enough for her to be surprised by how proficient his Spanish has become. The short ends with the pair canoodling on a kayak, but we find out at the end of Furious 7 that they married in secret shortly after — possibly even that night.
With Letty's apparent death in Fast and Furious, Dom is a single man once more, and in the subsequent film, he hooks up with Brazilian police officer Elena Neves (Elsa Pataky), and the pair are living together at the beginning of Fast & Furious 6. When Letty reappears, Elena gracefully bows out of Dom's life, but [spoiler warning] in Fate of the Furious, we learn that she got pregnant with Dom's child shortly before the breakup. That's right — Dom has a son! The kid seems less than a year old, which makes the timeline of this series even weirder than we thought.
His Superpowers
Dominic Toretto is technically not a superhero, but he does possess nigh-supernatural driving ability and can hold his own in hand-to-hand combat with special-ops veterans like Luke Hobbs and Deckard Shaw. An even weirder thing: In Fast and Furious we learn that Dom possibly feels no pain from bullet wounds, since he gets shot in the shoulder and his only reaction is to look mildly peeved, and then punch out the guy who did it. And when Letty shoots him in 6, his pain is much more emotional than physical.

His Silver Cross
Dom's all-important silver cross necklace has gone on quite a journey. It started out sitting against his chest in The Fast and the Furious, and was then used as a wedding ring during marriage to Letty (seen in the Furious 7 flashbacks). Dom loses it during the favela chase in Fast Five before getting it back from Elena. He keeps it until Fast & Furious 6, when he gives it to Letty to help jog her post-car-accident memory. Letty then lets Owen Shaw (Luke Evans) take it, and that baddie has it with him until his brother, Deckard (Jason Statham), shows up. In Furious 7, Deckard takes the necklace from Owen and leaves it behind with Han's dead body as a taunt. Dom goes to Tokyo to get it back in Furious 7, and without getting into spoilers, the cross plays a pivotal role in the eighth movie. As Billy Joel once said about religion, sooner or later it comes down to F8.