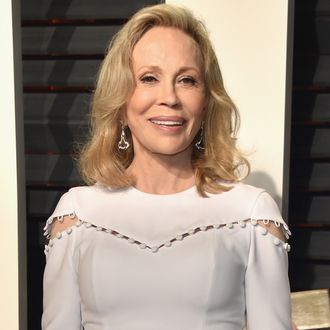 Photo: Pascal Le Segretain/Getty Images
In Faye Dunaway's storied Hollywood career, her involvement in the Best Picture mixup at this year's Oscars will surely go down as one of her most memorable moments. In an interview with Lester Holt on NBC Nightly News, Dunaway spoke for the first time about how seeing the name "Emma Stone" printed on a card led to La La Land initially receiving the night's biggest award instead of the intended recipient, Moonlight. Apparently, she thought her co-presenter, Warren Beatty, was just putting her on when he opened the envelope but didn't read out a winner.
"He took the card out, and he didn't say anything. He paused. He looked over at me, [then] offstage," Dunaway explained. "He looked around. And I finally said, 'You're impossible.' I thought he was joking. I mean, I thought he was stalling. Warren's like that. He kind of holds the power and makes people — a dramatic pause. But it's part of his charm." As we all learned soon after the ceremony, however, Beatty legitimately had no idea what to do after being handed a duplicate envelope for the Best Actress category, instead of the correct one for Best Picture. So Dunaway, doing what she thought was the right thing, named the movie that the Best Actress, Emma Stone, starred in — a move she says she feels "very guilty" about now. No matter how seasoned an industry veteran you are, it seems like the Academy Awards stage is a high-pressure environment for everyone.