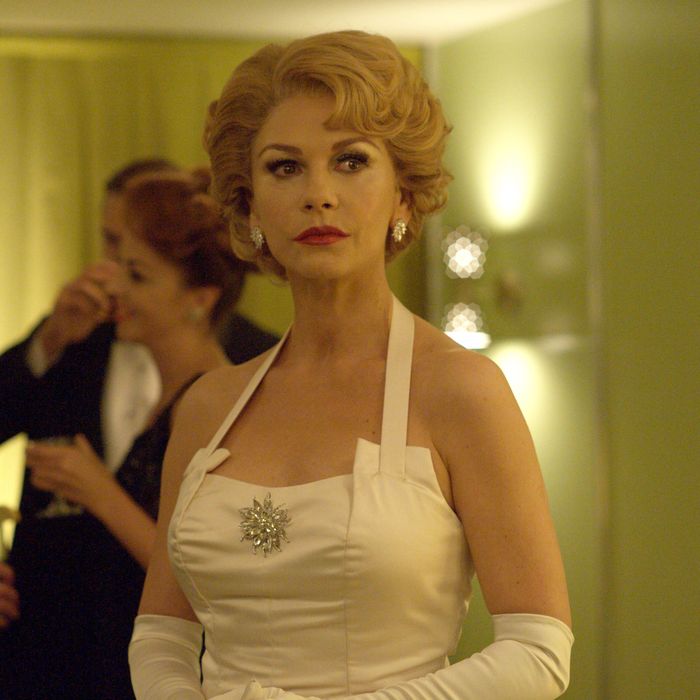 Catherine Zeta-Jones as Olivia de Havilland.
Photo: Copyright 2017, FX Networks. All rights reserved.
The announcement of the 1963 Academy Awards nominations, in which Bette Davis earns a Best Actress nod for What Ever Happened to Baby Jane? and Joan Crawford gets nothing (NOTHING!) has Hollywood buzzing. If you thought Joan was going to take her snub and go quietly into the night, well, what are you even doing here? This is Joan freaking Crawford. Joan's m.o. throughout the entirety of "And The Winner Is …" is to figure out a way to become the true star of Oscar night. And, boy, does she ever.
Of course, it's a little more nuanced than simple anger. As Joan later explains to Hedda, she's humiliated. Her self-esteem has slowly been leached from her body, thanks to her constant competition with Bette. (How dramatic!) She feels spurned by the industry — a place she's worked hard to be a valued member of the community, all while Bette "gives the finger" to Hollywood from her house in Connecticut. (Joan means this figuratively, but I'd put money on it also being true literally.) She's been loyal, but when it came down to choosing between her and Bette, they picked Bette.
It all adds layers to Joan's anger, but it doesn't make her attempts to deprive Bette of having the spotlight any less childish, or downright sad. As Joan spirals, Hedda comes to her side to remind her that Bette might be the odds-on favorite to take home the trophy, but she hasn't won her history-making third Oscar yet. Hedda is still smarting from that time Bette called her a hypocrite and blamed her for being a cog in the wheel that is Hollywood misogyny. It's safe to say Hedda is still very #TeamJoan at the moment. She concocts a plan to ensure Bette doesn't win: Hedda will call voters up and tell them tales about how awful Bette is, while Joan will hop on the phone and sing the praises of Bette's biggest competition, Geraldine Page (Sarah Paulson) and Anne Bancroft (Serinda Swan). It's a game of good cop/bad cop, but with fabulous clothes.
Phase two of this plan is even more devious. Hedda promises that Bette will not be walking off the stage with the Best Actress statue … because Joan will. RECORD SCRATCH, YOU GUYS. What? How? Hat? I know. Here's the plan: Joan will convince both Page and Bancroft to skip the awards show and allow her to accept on their behalf, should either of them win. That way, she can walk offstage waving that Oscar right in Bette's perfectly lipsticked face.
Honestly, Joan Crawford should win an Oscar for the phone call she gives Geraldine Page. She starts by passive-aggressively taking her to task for using Joan as inspiration to play a faded movie star in Sweet Bird of Youth. She then shifts gears and attempts to overwhelm Page with the pressure of looking her best on Oscar night, and finally proceeds to mention that she herself faked sick when she was nominated the first time — and it turned out to be much more memorable to win while at home. Geraldine Page is no dummy, and knows both what Joan is doing and that she has no choice but to go along with it. Also, Sarah Paulson does wonders with this small scene she's decided to bestow upon us mortals.
So, that's one actress down. To win over Anne Bancroft, Joan flies to New York City, where the Oscar nominee is currently starring in a new play. As with Geraldine Page, Joan goes in hot with some passive-aggressive comments, but honestly, she doesn't need to work very hard this time. Anne has already made it known that she won't be attending, since it would mean missing three performances. She also seems to sense Joan's sadness and desperation immediately. She asks Joan if it would make her happy to accept on Anne's behalf. Oh, it would. As Joan leaves, Anne tells her that Joan is what made Baby Jane work, and Joan looks touched. All she wants is a little recognition.
Oscar night is upon us. There's a gorgeous montage of Joan getting ready — she wears head-to-toe silver (including her hair), which is a bold fashion statement that fits right into the "All Eyes on Joan" plan. When asked who she voted for in the Best Actress category, she replies, "the winner," then turns the greenroom into her own boozy, private party. There's no slowing this train down. A collision with Bette is imminent.
Let's chat about Bette, shall we? Bette wants this. She wants this so bad, and she isn't afraid to admit it. A win would make history. More importantly, a win would put her back on top — or, at least, somewhere near the top. She has her pal Olivia de Havilland (so nice to see Catherine Zeta-Jones not just sitting on a couch and vomiting exposition!), a gal with her own Joan (her sister, Joan Fontaine) to bemoan, fly in from Paris and attend the show with her. She needs someone of comparable stature to support her. "Comparable to Joan's stature, you mean?" Olivia prods, knowingly. "What else would I mean?" Bette replies. Oh, Bette, you're the baddest bitch, even to your friends, and it is wonderful. Olivia — and literally everyone else, let's be real — tells Bette over and over that she's a shoo-in. Bette, maybe for the one time in her life, is not so confident; but before leaving, she gives her other two Oscars a little pep talk, so she must believe some of the hype.
We've never seen Bette as a nervous wreck, and it is at once off-putting and humanizing. Of course, when she catches wind of what's happening in the greenroom, she's back to her old self. She marches right in to see what Joan is doing. Bette is so livid, she can't even speak. She knows exactly what Joan is up to.
Before they can have it out, Joan is whisked away to present Best Director. In one long, gorgeous tracking shot, Joan ushers the winner, David Lean, off the stage, leading him through the maze that is backstage, without even looking at him. (As if she has time to look at him!) It sums up exactly what Joan's been trying to prove all night: This is her house.
She lands back in the wings of the stage, perfectly timed to hear the announcement of the Best Actress Oscar. Joan, standing just a few feet behind Bette, lights up a cigarette and prepares to take in the show. You guys, even if you know what's about to go down, it's an agonizing few seconds. The eagerness in Susan Sarandon's eyes is a gut-punch. Bette can barely breathe. She's so close to everything she's wanted.
But not close enough. Anne Bancroft is announced as the winner; Joan puts her cigarette out on the floor with her silver pump, and goes out to collect her trophy. As if walking off the stage with the Best Actress Oscar wasn't enough, Joan takes photos with it, announcing herself as one of "tonight's champions" to the press. Everything has gone according to plan. It is so devious, you really have to hand it to her.
Or, like Bette, you can get drunk and vow to toss a drink in Joan's face. I mean, it's a free country. Bette is crushed, not just because she lost, but the manner in which it all went down. She believes her waning career was just laid to rest by none other than Joan Crawford. In a talking head, Olivia refers to the 1963 Academy Awards as "the point of no return" in the Davis-Crawford rivalry. Joan's actions and revelry in Bette's loss is the biggest slap in the face possible, and Bette isn't one to get slapped around. The feud is on, people!
Bette's anger is palpable, and it makes the final scene of the episode all the more poignant. In the wee hours of the morning, Joan returns home, Anne Bancroft's Oscar in hand, which she places next to her own on her nightstand. And then she sits there on her bed — still alone, still sad. Joan's plan to steal the night from her rival worked even better than expected, but what has she really gained?