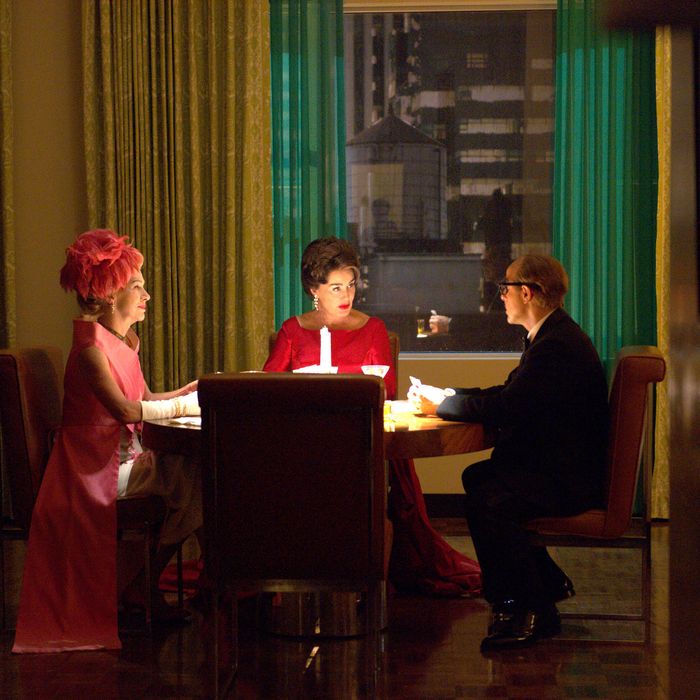 Feud
You Mean All This Time We Could Have Been Friends?
Judy Davis as Hedda Hopper, Jessica Lange as Joan Crawford, Stanley Tucci as Jack Warner.
Photo: Suzanne Tenner/FX
If Ryan Murphy and the Feud team set out to make us all feel depressed about the way older generations are unceremoniously cast aside, well, mission accomplished. Anyone else burst into tears as the final credits rolled, thinking about how freaking sad Joan and Bette ended up? No? No one? Totally. Not me either. I have complete control over my emotions.
While the theme of "women of a certain age" being devalued was at times deftly woven into the show, it was hammered home in this final episode. "You Mean All This Time We Could Have Been Friends?" spans a decade, leading up to Joan Crawford's death in 1977 and its aftermath. It is most certainly overstuffed, and the series would've benefited from at least one episode immediately following those Sweet Charlotte shenanigans. Yes, the Baby Jane stuff is flashy and feud-y — the 1963 Oscars episode is easily the best of the eight — but there are some truly emotional beats to be explored in the waning days of our leading ladies' lives. They deserve more exploration than they are given here. I guess it's a good thing, right? Wanting more? BUT I DIGRESS.
Post-Charlotte, Joan is rarely offered roles, and the one we do see her accept has her starring as a doctor in a low-budget caveman movie, Trog. (Had she lived long enough to have seen Encino Man!) When Joan gets a glimpse of her aged self, she tells her agent to stop submitting her all together. She will spend the rest of her days holed up in her New York apartment. Bette, meanwhile, takes anything and everything she can get, out of fear that the offers may stop coming. As her pal Victor Buono points out, "She lost her special something […] her high standards."
As much as this episode highlights the disastrous, depressing final run of two Hollywood legends' careers, it casts a much more emotional focus on Joan and Bette's attempts to figure out who they are outside of those careers. And maybe not loving the conclusions they come to find.
If you weren't depressed already, wait till you watch Bette Davis realize that everything she believed she had outside of her career — her children, her mother — is not as she thought. When Bette is faced with the fact that her career is floundering while that slacks-wearing snob Katharine Hepburn is still out there winning Academy Awards, she knows in her heart that she's obtained something wonderful that Katherine never will: motherhood. The feeling of a child's love. She has that over the old broad, ya know what I'm saying?
Except, well, she doesn't really. B.D., after hearing that Bette hit one of her young sons to discipline him, forbids her mother from seeing her children until she deals with her drinking problem and then only under strict supervision. It is a blow. Even worse, perhaps, is Bette discovering that the deep friendship she believed she had with her mother was all in her head. Bette goes to visit her daughter Margot and tells a sad, sad story about receiving letters her mother wrote to a friend — which were full of very unkind things about Bette. All this time, she thought her mother was her only friend, when in fact, Bette was all alone.
So when Victor informs Bette that Joan has cancer and that she should give the old girl a call since, you know, she's probably the one person in the world who really understands Bette's life, he's correct on many levels. Maybe it's the news of a Joan's illness making her feel nostalgic, or the fact that she's found a new actress who pisses her off more than Joan ever could in Faye Dunaway (#Don'tKnowWhatYouGotTillIt'sGone), but Bette sits down and dials Joan's number. Joan answers, but Bette can't find any words for the first time in her life. She hangs up without saying anything.
It's a real dang shame, you guys. It's a shame because, as we come to learn, a phone call and a possible friendship with Bette is something this particular iteration of Joan would've welcomed with open arms.
Sure, Joan has Mamacita three days a week (she returns in 1969! She hasn't aged a day!) and her insanely adorable dog, Princess Lotus Blossom, to keep her company as she giddily microwaves things in her small New York kitchen, but other than that, she's very much alone. The aforementioned train wreck that is Trog, which sees Hollywood icon Joan Crawford getting changed in a beat-up van, washing herself in a public restroom, and getting drunk and sitting on set while wearing Trog the Caveman's mask does a number on her. (This particular montage is set to "The End" by the Doors and it is perfectly heartbreaking.) The end of her career, paired with the loss of her most prized possession, her looks ("I'll stop worrying about how I look when they dip me in formaldehyde," Joan tells an unsuspecting dentist), is a lot for a sick Joan to handle. Her daughter Cathy does come for a visit, and tells Joan how lucky she and Cindy were to have her as a mother. The happiness on Joan's face reveals just how desperate this woman is to know she was loved.
All of this helps to make the episode's most dramatic scene, in which Joan reveals her "true" feelings about herself and Bette Davis, more believable.
One night, Joan, who has stopped getting chemo, wakes up to people laughing in her dining room. She finds Jack Warner and Hedda Hopper having a little party. Immediately, a sickly Joan is transformed into the glamorous girl we first met. Bette Davis arrives. The four sit and laugh, but mainly, they talk about pain and regrets. Joan reveals that she's spent so much of her life as "Joan Crawford," a woman she invented to give people what they wanted, that she has no idea who she is when she's alone. I mean, Jessica Lange basically rips your heart out and throws it on the floor. Eventually, Joan and Bette are left alone — IT'S ALL WE'VE EVER WANTED — for one last chat. Joan wishes she had been more generous to Bette. Bette wishes she had been a friend to Joan. Of course, this is all playing out in Joan's head, so it's really Joan wishing Bette had wished she could've been a friend, but still (or even more so?), it breaks your heart. They could've been friends! Instead, they were tossed into this feud by Hollywood whether they liked it or not (they probably liked it a little bit, right?), and were left to deal with the consequences on their own .
Maybe neither woman really wanted to be friends with the other. Maybe they would've hated each other regardless of how the studio heads and PR people and gossip columnists wanted them to feel. Who knows? Any way you cut it, it's all very, very sad.
Joan dies a week after her imaginary dinner party. In my favorite scene from the finale, Bette, Olivia, Victor, and Joan Blondell (all fresh from their pointless and distracting documentary interviews that I will forever rail against) come together backstage at the 1978 Academy Awards to watch the "In Memoriam" segment. They see old friends pass by onscreen, and eventually Joan Crawford's photo comes and goes. "Fifty years in show business and they give her two seconds," Joan Blondell huffs. But Bette knows better: "That's all any of us will get," she replies and they all toast to the late legend. Susan Sarandon is so wonderful in this moment. In the span of seconds, you can see Bette contemplating her entire life, including that little feud with Joan, now gone, and what it all means (or doesn't mean). As she tells that documentarian trying to get her to sit down for her own interview: Joan was a professional, they did one movie together, and their lives intersected. That's all.
And then suddenly, and finally, we are whisked back to the very first day on set of What Ever Happened to Baby Jane? Bette and Joan are sitting together in those now-iconic poses in their directors' chairs, chatting away. The rumors of their continuous feud don't seem to even enter their minds. Joan tells Bette that she hopes to gain a new friend out of this picture. Bette agrees. They walk off to their respective dressing rooms — whose doors we know will be slammed repeatedly — and the rest is history.
Nope. No. Totally not crying over here.