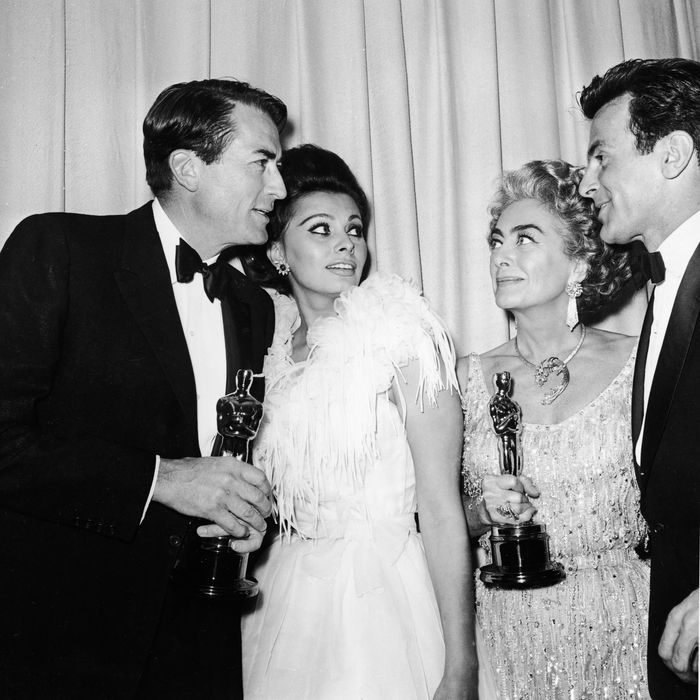 L-R: Gregory Peck, Sophia Loren, Joan Crawford, and Maximilian Schell stand backstage at the Santa Monica Civic Auditorium, Los Angeles, April 8, 1963.
Photo: Hulton Archive/Getty Images
Five episodes into the first season of Feud, the Bette Davis–Joan Crawford rivalry on the set of What Ever Happened to Baby Jane? crescendos at the Oscars ceremony, during which Crawford — who was not nominated — accepts the Best Actress award on Anne Bancroft's behalf. The infamous stunt happened after it was announced that Davis was nominated for Baby Jane? Upset that she had not been nominated for her role in the film as well, Crawford reached out to Davis's fellow nominees — Geraldine Page and Bancroft, both of whom lived in New York — to accept the award on their behalf if they did not come to the ceremony. Lo and behold, Bancroft won, and the rest is Hollywood history. After working through Ryan Murphy's splashy, catty, and colorful take on the ceremony, interested viewers may want to check out a few glimpses of the actual events that were televised during the night's show, which we've rounded up below.
Anne Bancroft winning Best Actress
In the most crucial clip from the evening, Maximilian Schell presents the Best Actress category, announcing Anne Bancroft as the victor for her work as Annie Sullivan in The Miracle Worker. As Bancroft was performing in Mother Courage on Broadway at the time, Crawford asked to accept the award on her behalf. The footage from the show doesn't cut to Bette Davis as the beaming Crawford takes the stage, but Feud provides a glimpse of her despair in that moment. (Davis later described the moment: "I almost dropped dead! I was paralyzed with shock. To deliberately upstage me like that — her behavior was despicable.")
Joan Crawford presenting Best Director
Earlier in the night, Crawford and Davis presented awards in other categories, moments that Feud also dramatizes in Sunday night's episode. Crawford presented Best Director to David Lean — who, delightfully, referred to himself as "this limey" — for Lawrence of Arabia.
Bette Davis presenting the screenwriting Oscars

Davis presented the awards for both original and adapted screenplay, which went to Horton Foote for To Kill a Mockingbird and, as Davis really did call them, "those three difficult Italian names for Divorce Italian Style" — those names being Ennio de Concini, Alfredo Giannetti, and Pietro Germi. We only hear her voice over a loudspeaker in the greenroom on Feud.
Olivia de Havilland presenting Best Picture
Later in the ceremony, and not seen on Feud, Olivia de Havilland (played by Catherine Zeta-Jones) presented Best Picture to Lawrence of Arabia.
Patty Duke winning Best Supporting Actress

For the sake of completion, and just because it's adorable, here's a 16-year-old Patty Duke winning her Oscar for Best Supporting Actress in The Miracle Worker. She was, at the time, the youngest winner in a competitive category, and her speech consisted of only the words "thank you."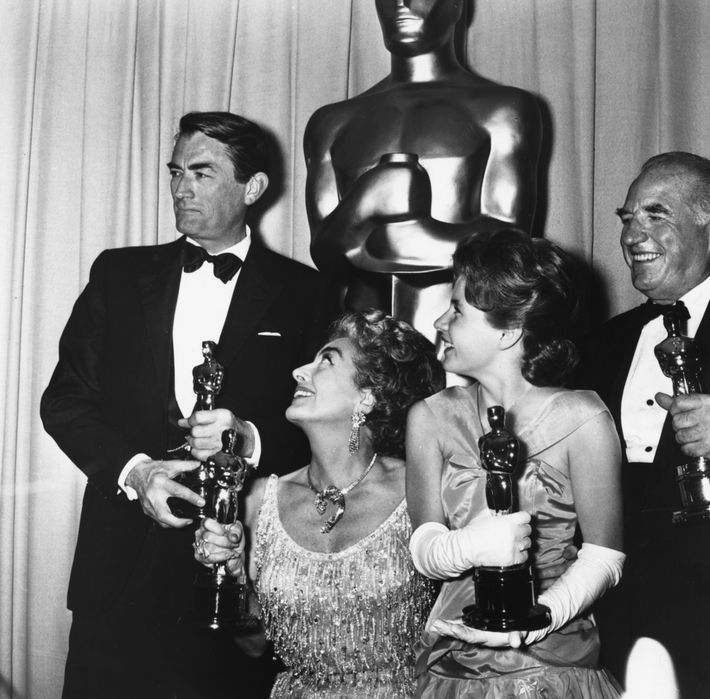 Still smiling broadly, Crawford also posed backstage with Anne Bancroft's Oscar, alongside the other acting-award winners.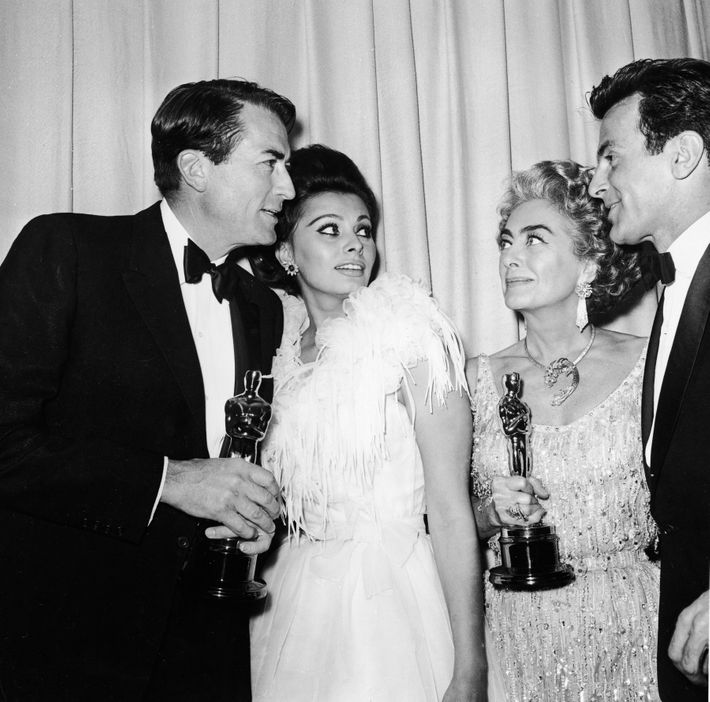 Crawford presented the Oscar to Bancroft a month later, after a performance of Mother Courage.