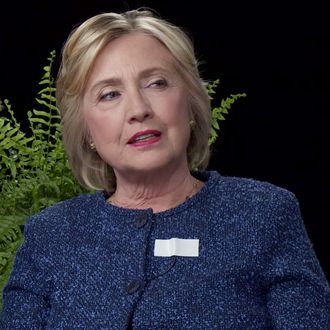 In Wired's new lengthy oral history of Funny or Die, Zach Galifianakis looks back at the emergence of Between Two Ferns as not only a politically relevant interview series, but as an effective way for America's leaders to deliver information to comedy fans ages 18 to 34 (take, for example, Obama's 2014 appearance on the show to discuss the Obamacare website relaunch). The Baskets actor also recalls interviewing then-presidential nominee Hillary Clinton while she was on the campaign trail, and let it slip that the show had to cut what sounds like the series' most excruciating joke from the final product due to time:
With the Hillary one, there was one bit we had to edit out because it was too long. I was like, "Oh, we have a faxed question from one of our viewers." So Hillary Clinton had to wait for this long fax question to come through. And there was just the noise of the fax machine while I was trying to make small talk with her. That was probably the happiest I've been performing in a long time. It was just so ridiculous that I'm having small talk with a very high-profile leader, and it gives me joy when those two worlds can kind of dance with each other. But I did try to get her to say the punch line about Donald Trump's "white-power tie." She said, "It would be better if you did it."
"I think it's weird that politicians have to go on Between Two Ferns," Galifianakis says now. "It's a sad state." Sure, but if they're there between those ferns anyway … why not subject them to the silliest bit you can come up with? Relive Hillary Clinton's appearance below.