Queen Cersei, first of her name.
Photo: Helen Sloan/HBO
If this was a normal year, we'd be an episode or two into the new Game of Thrones season by now, having a great time discussing fan theories, cheering on prospective couples, and wondering if Jon Snow was going to start breathing through his nose. For production reasons, Thrones is coming back a little later than usual this year, which means, instead of all of that, we're stuck analyzing the first photos HBO just released of the new season. What can we learn?

Daenerys has safely arrived in Westeros, which you can tell because she's getting the show's gray filter for the very first time. (Say good-bye to those bright oranges and blues, Dany!) By the looks of it, she's made her HQ at Dragonstone, which you may remember as the place Stannis moped around in seasons two and three. Fun fact: It's also where Daenerys was born, though considering her mother died in childbirth, you can understand why she doesn't look too thrilled about being there.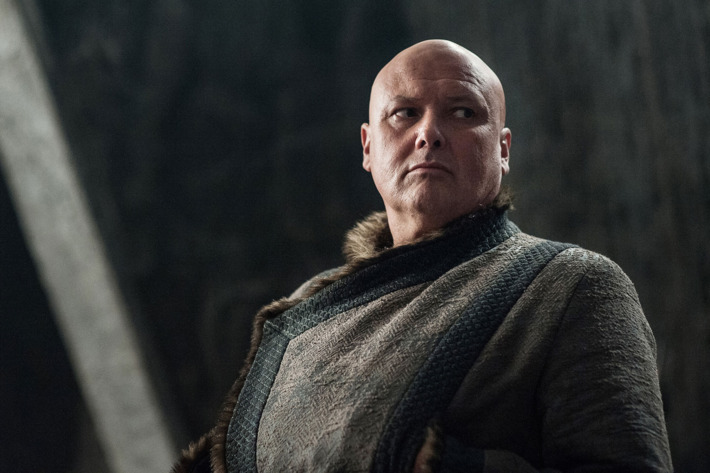 Here we see Varys in what looks like Dany's throne room, sporting an elegant fur-lined robe. Even eunuchs catch the chills.
Here's Missandei, looking very relieved not to have to deal with Tyrese and Ludacris anymore.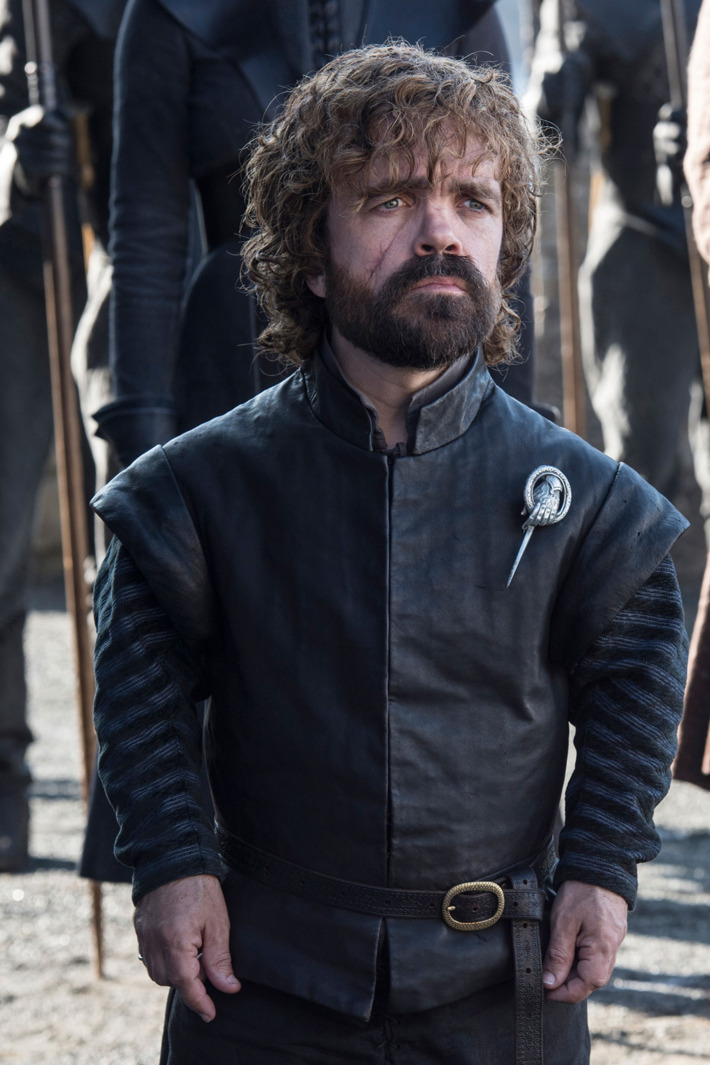 As you may recall from last season, Dany made Tyrion Hand of the Queen because … well, because he's a main character, and they had to give him something important to do. Just another well-connected elite failing his way into one prestigious position after another!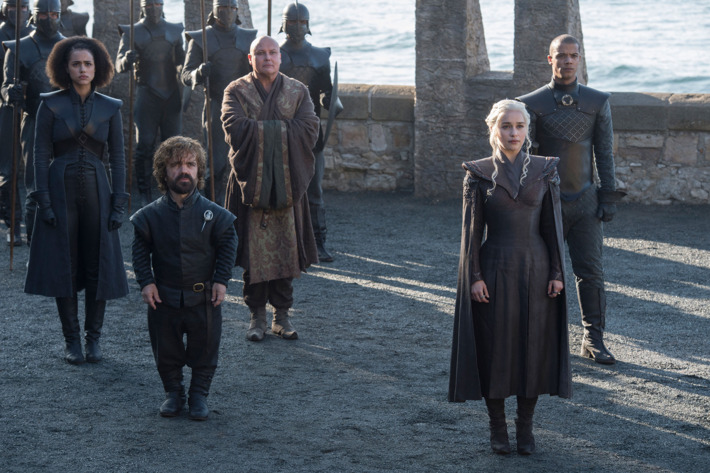 "Give me a D! Give me an R! Give me an A-C-A-R-Y-S!"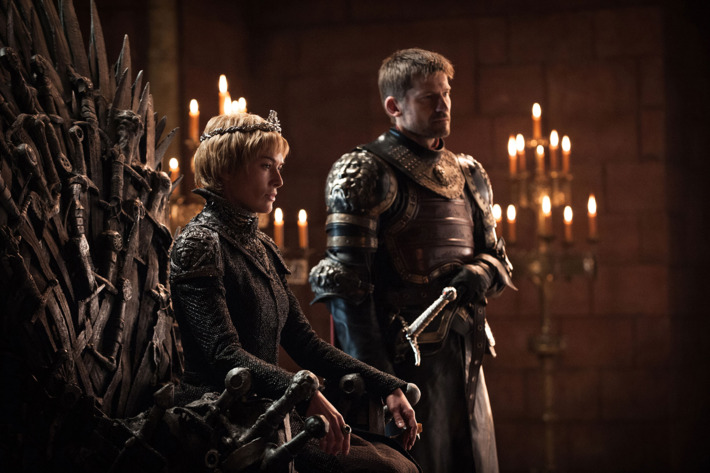 Thanks to her savvy "blow everyone else up with wildfire" strategy, Cersei is now queen on the Iron Throne. From the looks of this photo, Jamie is still her right-hand man, though he may have more than a few reservations about that job title.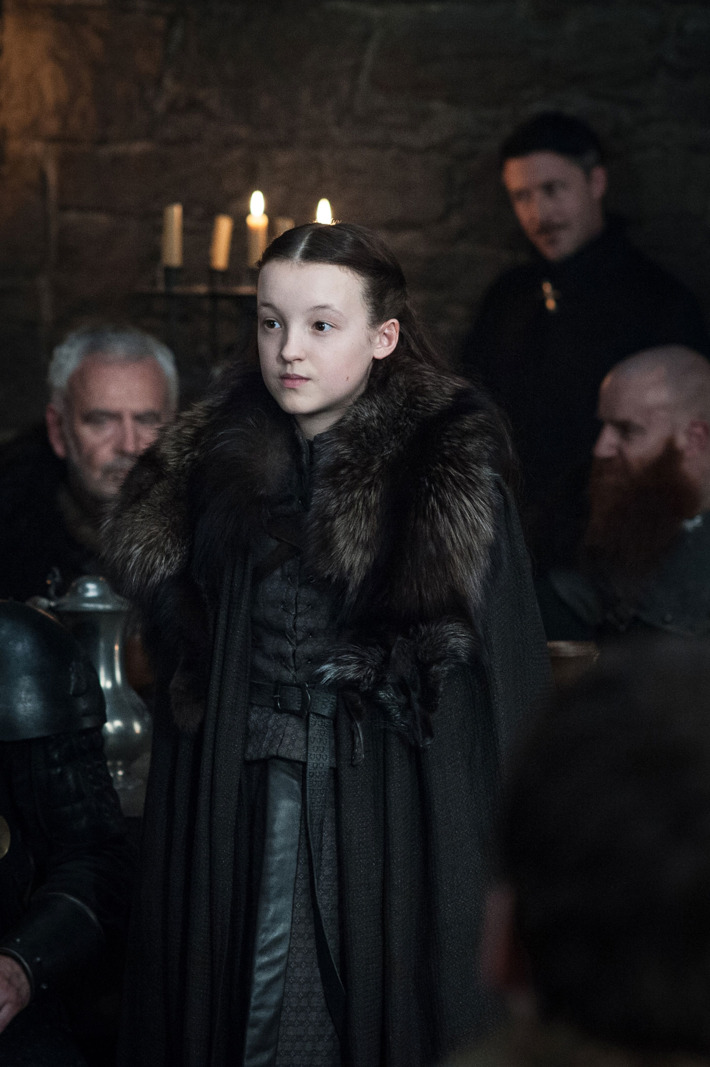 Lyanna Mormont is back! Everyone loves Lyanna Mormont! Check out Littlefinger in the background, though: Either this is the exact same scene from the season-six finale continued, or Littlefinger really likes to hang out in the shadows being weird. (Neither would surprise me.)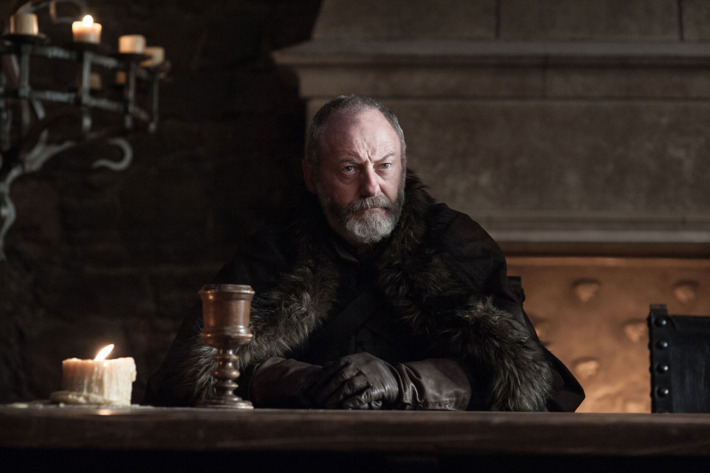 Davos Seaworth, here to give warmly gruff advice to aspiring monarchs until the end of time.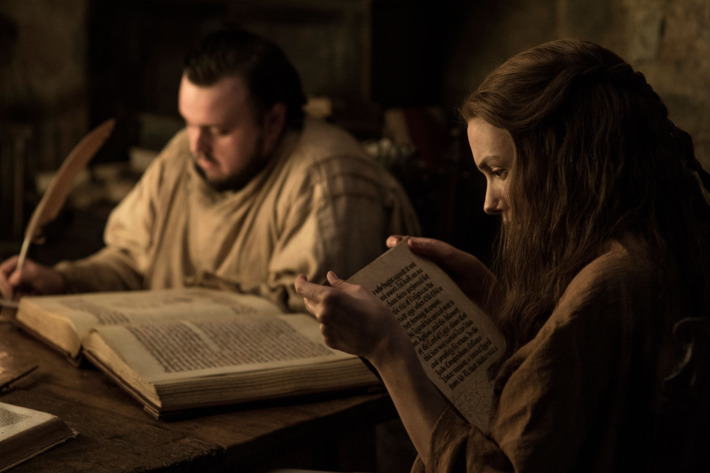 Down in Oldtown, Sam's traded in his Night's Watch cloak for some maester's robes. He's also pomaded his hair! Gilly's reading a scroll about the history of the World of Ice and Fire; this particular bit is about the terrible cataclysm known as the Long Night. If you want to read more, that'll be $31.91 on Amazon.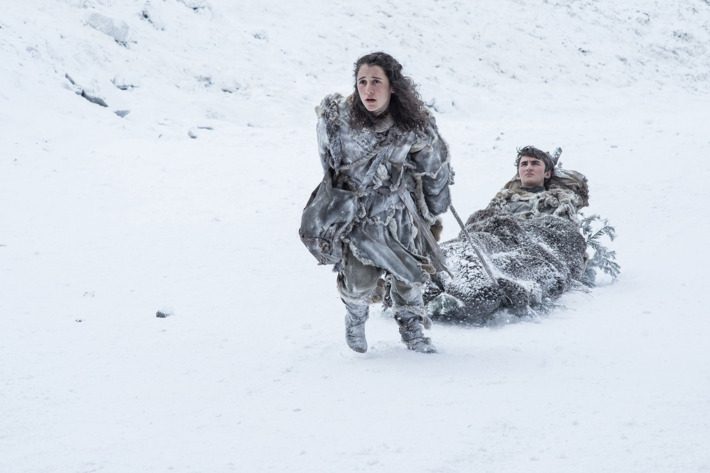 This is like when you go on a long drive with your parents and things get really tense and it takes a ton of work to keep everyone from blowing up. Except here Bran and Meera are on the run from an army of ice demons, their friends are all dead, and they've got to find a way to get to the other side of a 700-foot wall of ice. Slightly worse than a drive to Florida.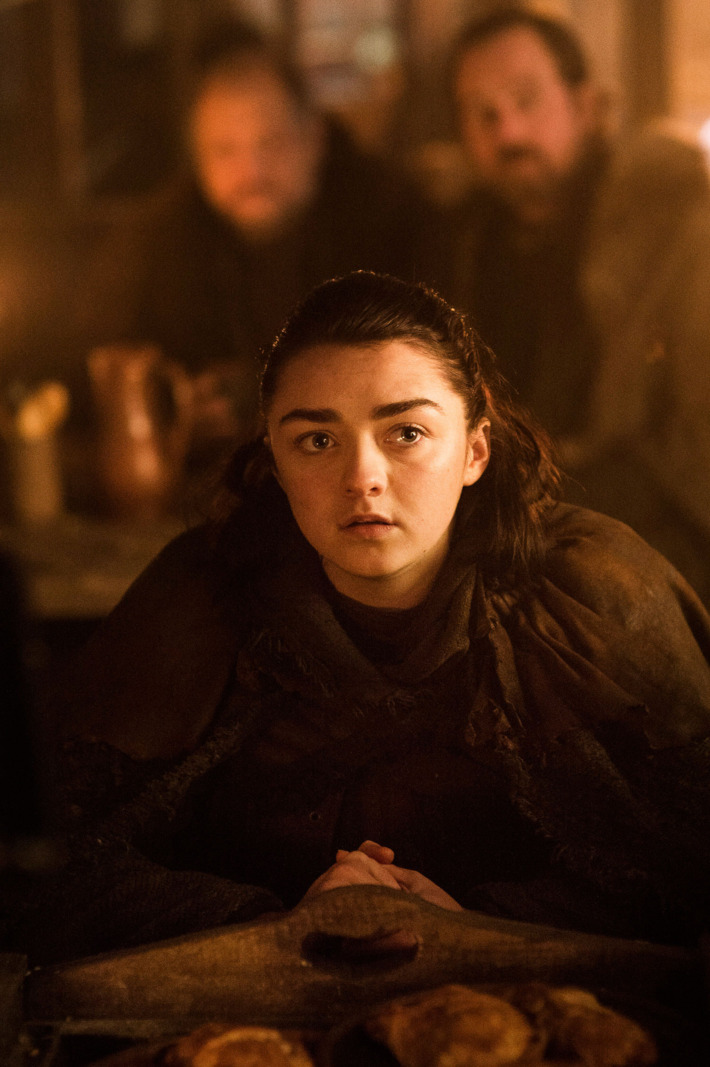 Last time we saw Arya, she was murdering Walder Frey at the Twins. From the look of the pies on the table, she's still there. Is she going to take down all of House Frey at once?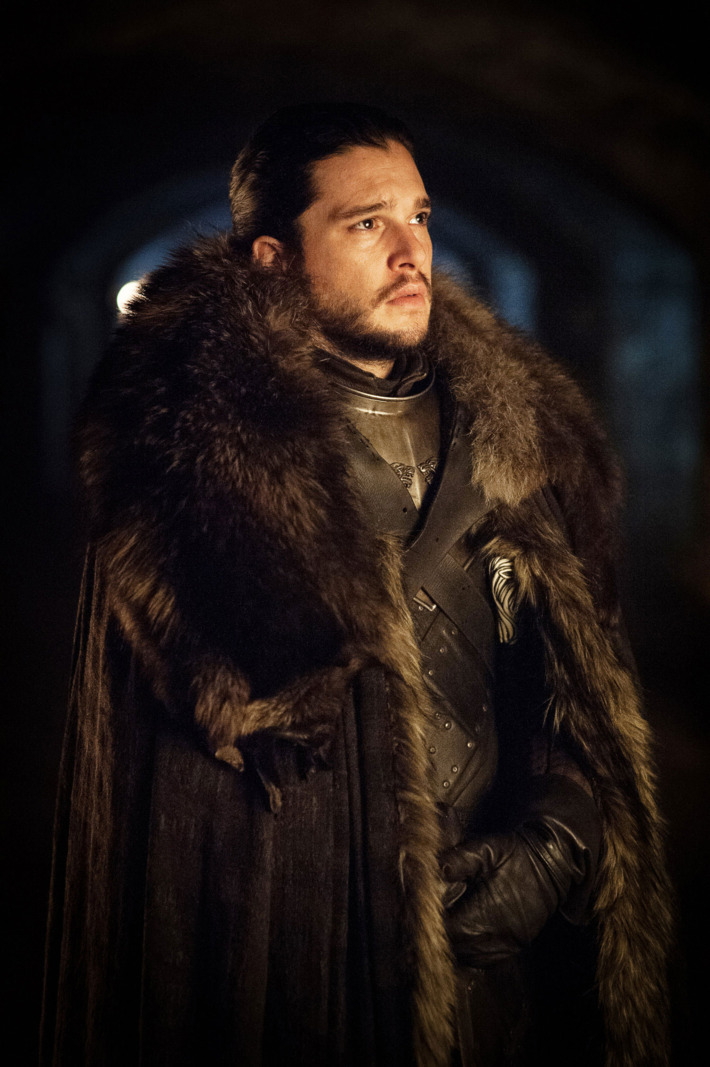 Say it with me: Juhn Snuh, da king in da Norf. He's seen here in what looks like the Winterfell crypts, which could be where he finally learns the secret of his parentage.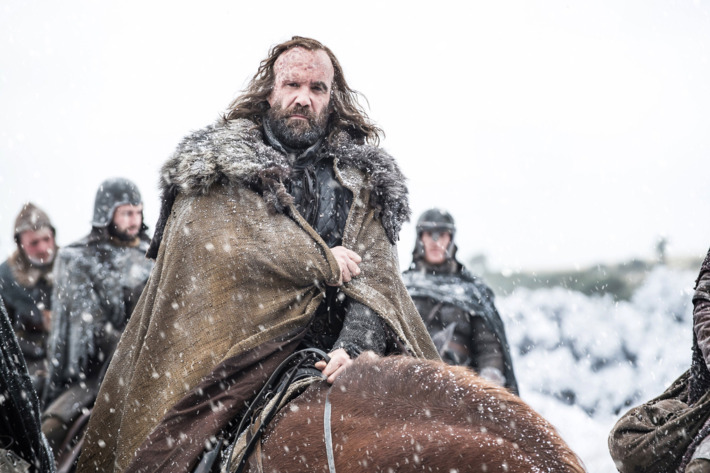 Look who's headed to the North, too! Sure, it took a little bit of narrative fiddling, but none of that will matter when the Hound's calling a White Walker something incredibly filthy.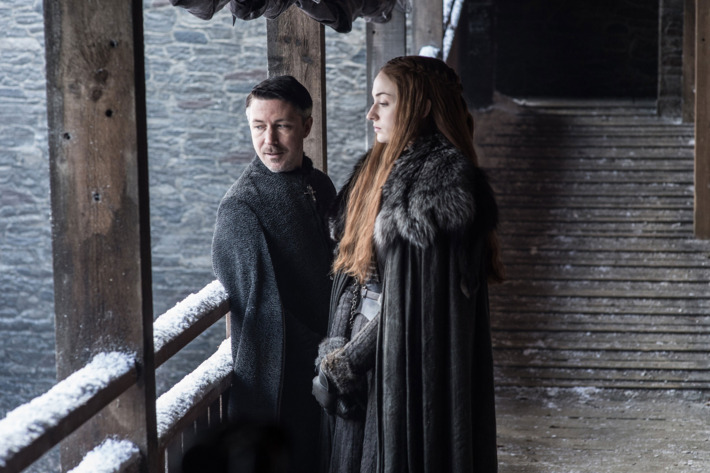 A question about Littlefinger: Why is this guy still alive? He has no allies, nobody trusts him, and his shit-stirring is so blatant, he might as well be carrying a ladle. I know they're probably saving it so he gets a big death in the last season, so I guess we're in for a season of him twiddling his mustache around Winterfell this year.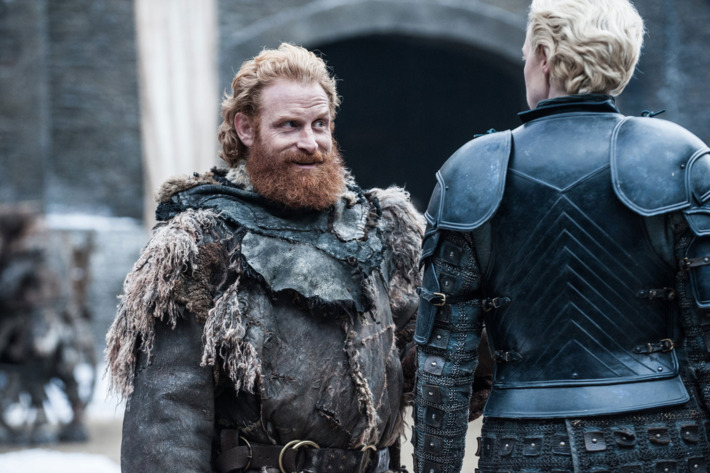 The return of the world's best ship.