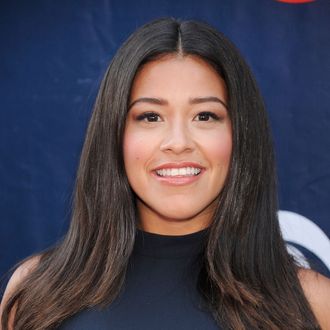 Photo: Gregg DeGuire/Getty Images
The international adventure of a lifetime awaits. As first reported by the Tracking Board and enthusiastically confirmed by the actress herself with numerous emoji ("I already have the fedora and coat"), Jane the Virgin star Gina Rodriguez is set to voice the globe-trotting Carmen Sandiego in a new animated series for Netflix. The 20-episode series will reportedly aim to be a hearty mix of entertainment and education as it follows the character's globetrotting adventures — just like it did with the beloved original computer game, Where in the World Is Carmen Sandiego? Netflix has already embraced childhood nostalgia with its upcoming revival of The Magic School Bus series, with Kate McKinnon taking on the voice-acting duties of Ms. Frizzle. Two escapades for the price of one!

Update April 18: Netflix confirmed the news in its announcement of the series, which will premiere in 2019.