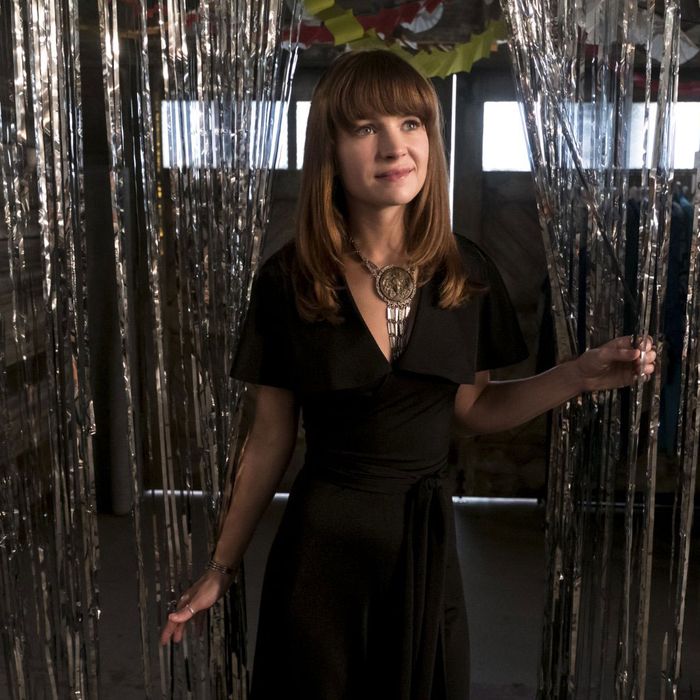 Britt Robinson in Girlboss.
Photo: Courtesy of Netflix
Based on Sophia Amoruso's novel #Girlboss, Netflix's new series Girlboss follows a young woman in San Francisco (played by Tomorrowland's Britt Robertson) who figures out how to build a business selling vintage clothing online. Though Amoruso, whose Nasty Gal clothing empire has recently hit hard times, is an executive producer for show, it's not a historical reenactment. And though it might seem like a millennial take on a sitcom, with a quirky cast of supporting characters that includes Jim Rash and RuPaul, it's not that either. Vulture sat down with Amoruso, Robertson, and creator Kay Cannon (of the Pitch Perfect movies), to talk about creating a Larry David–like lead character, their vision of pre–tech boom San Francisco, and how far they plan to get into the mechanics of running a company.
What made you think that #GirlBoss, the book, would work as a 30-minute comedy?
Kay Cannon: We get this question a lot, because I think people go, "What's funny about it?" When I first heard this story, I was like, Sophia is that type of honest to a fault [character], the female Larry David. I understand that. I can write that character and make that person funny. What we're trying to do with the show is tell a very real story where it's not necessarily your typical sitcom. It's a half-hour comedy, give or take, plus or minus five minutes; it really feels like 13 little movies in a way, or four movies.
Sophia Amoruso: It doesn't look like a sitcom.
A female Larry David is an interesting comparison because it's very much focused on her character. There aren't a lot of B and C plots or roommate hijinks.
KC: Yeah, we didn't really do B or C stories or anything like that. I think in one episode we have like a second story but very rarely.
Do you see the show changing over the course of the series? Do you want to get into the longer arc of the story of Nasty Gal?
KC: The first two are kind of like one episode in a way, but then the third episode is a totally different feel and look than the first two, and the fourth episode has its own style. So in that way, this show will continue to do that. We have an episode where we bring the internet to life in a Doctor Strangelove–like way around a conference table where people in a forum are speaking the thing that they are typing, so that was a very stylized episode. We'll continue to do that kind of stuff. We'll continue to change up episodes in order to tell the story in a cool way.
Britt, in bringing Sophia's character to life, you're embodying a real person. But the show says that it's also loosely based on reality. How much of it was mimicry and how much of it was making a character for the show?
Britt Robertson: Before we started shooting for sure, we had a lot of time rehearsing with Christian Ditter, our director, and Charlize [Theron, an executive producer] was actually in a lot of our rehearsals. That time I really used to just try everything, because I wasn't sure what was working at the time. I just knew my interpretation of these words, but I didn't necessarily take into account Sophia's interpretation. She really gave us the freedom to not be confined to that structure.
SA: It's not a historical reenactment.
BR: Yeah [laughs]. It's really nice having that vibe about it all, because [turning to Sophia] I never felt the pressure to be you. What I loved about telling the story is bringing these moments to life, and making them as real and grounded as possible and telling the stories as best we could. How do you bring this character to life and give her all of those amazing complex things that humans have, while also giving the audience the Sophia that they all know and love?
KC: We cast Britt as Sophia because she's a real brat [laughs]. She just is …
BR: That's what my mom says.
But do you push her into, like you said, a Larry David kind of unlikability, which is interesting.
KC: We needed to have, and found in Britt, an actress with a crazy wide range because we knew we were gonna have Sophia going to all different kinds of places. So she had to be fun and funny, but then also go real deep emotionally.
The show starts in San Francisco in 2006, right at the beginning of the tech boom. How did you construct that setting?
KC: When we went on location scouts, we went to San Francisco for a week just to get myself where I would know the city better, and know what I was writing about. I remember a waiter said, "In 2006, San Francisco was magic. Then eventually, when all the tech stuff started happening, it lost its magic."
SA: [Now] it's like hipster coffee shops on every corner …
KC: I loved that idea that the city had this magical moment in time before all the tech people came in, and I think it's like the best and worst place to be poor. It's very expensive …
SA: But it's beautiful. It's like cheap stuff that someone spun into something really beautiful.
So much of Girlboss is about the outfits Sophia's selling – for instance, in the first episode it's that East West jacket. How did you choose which pieces you were going to feature on the show?
KC: When I was writing the first episode, I checked in with Sophia to ask, "What would be like a fabulous find?" So she gave me the idea of a '60s or '70s East West motorcycle jacket. Audrey Fisher, our costume designer, found that jacket, and I got the approval from Sophia, being like, "Is this amazing?"
SA: I said, "Ah, that jacket's amazing!"
BR: It's incredible. It's like a full cow, though. I mean, it is thick.
How involved do you plan to get with Sophia, the character, running a company?
KC: By the end of the first season, she has two employees. We'll see the hiring of the first employee, in a way, who happens to be her best friend and the second [employee] coming in right before the launch. If we were given a second season, it would be, "How am I a boss to my friends?" The whole first season we're meeting people along the way who will become instrumental to Sophia's life later. The audience doesn't know it yet, but some of the team is being created. In the second season you'll see this team and then it's like, "How is this young boss going to tell them what to do with any kind of authority?"
I guess, implicit in the title, is the idea that she has to figure out how to be in charge while very young and as a woman. How did you want her to confront those expectations?
BR: A big part in that whole journey is that she is very young, and she has a really difficult time getting people to take her seriously. I don't know that it's specific to gender, you know? At this point in the series, what you're talking about is her struggle to become a boss and leader in this business. Frist of all, she has to accept the fact that it is a business, there's a whole six-episode arc of her just finally being like, "Oh, it's a business."
"Oh, this is how I'm gonna make my money …"
BR: So then once she took ownership of having this business, it's like, "Now I have to be a real boss, what does that mean? Do I hire people?" Those are the obstacles she faces, more so than feeling less empowered by the fact that she's a woman. She's young and people look at her as a child, and no one wants her to be taking ownership of this thing, even though she's really driven to do so.
KC: A big part of what we wanted to do, which came from directly from your life, was that [Sophia] loved doing it because she could do it in her undertrunks in bed, and she didn't have to work with other people. [On the internet], it was easier to get back to a customer without having to have a real interaction, and then what she discovers is that to win at life you need people. She has no business managing people. I think that's a big obstacle.
You were saying you have a lot of freedom to mix up the story — how does that play out?
KC: I actually thought of Game of Thrones, because, they kill main characters, right? I mean they're not the only ones doing that now, like The Walking Dead or whatever, but for us I was thinking that, in future episodes, would be like firing someone.
BR: Seems like she's killing me off …
KC: But that idea that you could fire someone or someone doesn't continue on the journey with her, and then they're gone. Or a breakup. We don't have to have a typical "this is our gang" [sitcom structure] throughout the whole thing, that someone that you fire may come back to get you.
SA: I think that makes it especially not sitcom-y, right?
Britt, what interested you in doing the show?
BR: My answer to this question is sometimes completely inappropriate. People say like, "Why do you think Girlboss is right for Netflix?' or "Why did you want to be on Netflix?" Usually my answer is like, because you can say, "Suck a dick." But to be honest with you, the freedom of being on a Netflix show is everything I wanted. I've been on network television shows. I know the grind of trying to get something cleared or passed and it's literally like, "Can she not wear this tank top where her boobs are exposed?" I wanted to be on a show that was not focused on the nothing. I wanted to be on a show that was, like, focused on doing something. The fact that Netflix is willing to let everybody run with it is amazing, and I love having the freedom to go to work and say "suck a dick" every day. That's so cool.
This interview has been edited and condensed.