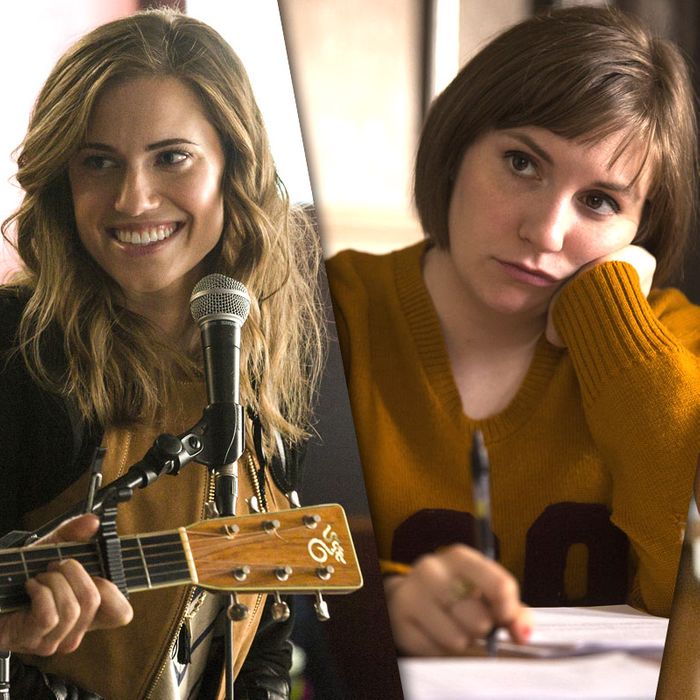 L-R: Allison Williams, Lena Dunham, Adam Driver.
Photo: HBO
The blessing of getting a part on Girls is that people love to talk about the show. The curse is that they might tend to mistake you for the character you're playing. As the stars of the show have discussed, media coverage tends to blur the lines between Hannah Horvath and Lena Dunham, or Allison Williams and Marnie, in a way that has come to define all the actors on the show's careers. As Girls comes to a close, its stars will all head in different directions, and some will have benefited more, career-wise, from their time in Brooklyn than others. So who got the biggest boost from the show? Let's run through their various career arcs, from least to most positively affected.
Christopher Abbott
Abbott's the odd case where quitting Girls probably got him more fame than actually being on it. Abbott left abruptly after the second season after getting frustrated with the limits of his character and went off into darker work like James White. Abbott brought Charlie back in season five, though the character was almost entirely different. The work of pushing past that initial persona continues!
Jemima Kirke
Kirke, who works as both a painter and an actress, had already appeared in Dunham's Tiny Furniture before Girls, and while the HBO series has given her an outlet to be the hippest cool girl that there ever was, one imagines she would have found a way to maintain that persona regardless. Don't expect Kirke to suddenly transfer to Oscar movies or big-budget blockbusters — that might be more her sister Lola's style — but do expect her to keep popping up in interesting indie fare.
Andrew Rannells
Rannells came to Girls from The Book of Mormon, which earned him a Tony nomination, and has kept up a career in musical theater (in Falsettos) and on other TV series (The New Normal). Once Rannells became a series regular on Girls, and Elijah started to take center stage, he had more of a platform, though it's hard to tell so far what kind of effect it will have on his career.
Ebon Moss-Bachrach
Before we met Desi and his seven ex-fiancées, Moss-Bachrach had a steady career popping up in everything from HBO's John Adams to Damages. After Girls, he's joining Netflix's Punisher series as a former NSA analyst named Micro, who probably isn't hiding a secret drug addiction. Being on Girls probably helped Moss-Bachrach nab the Punisher role, but career-wise, going from HBO to Netflix is a fairly even trade.
Alex Karpovsky
As Ray, Karpovsky provided much of the male (or specifically Judd Apatowian) perspective on Girls, giving Karpovsky a character-actor niche to exploit in movies like Inside Llewyn Davis and Hail, Caesar! Then again, Karpovsky already had a career as an indie writer and director before Girls began, so we're not talking any giant leaps here.
Zosia Mamet
Zosia had roles on Mad Men, the United States of Tara, and The Unit before Girls premiered, and while she brought so much to Shoshanna, one imagines she was on her way to getting some big exposure anyway. (Being David Mamet's daughter helps a bunch, as do her theater chops.) After providing much of Girls' comic relief, Mamet's heading into a role as Patti Smith in a Robert Mapplethorpe biopic, which might give her the chance to express some real range — or at least talk more slowly.
Allison Williams
Williams is, of course, Brian Williams's daughter, but before she got her start on Girls, her career consisted mostly of YouTube music covers. Once Girls began, Williams got the lead role in a live TV musical and parlayed her perfect white girl image into a chilling role in Get Out. Right now, she's at a tricky moment, navigating both the end of Girls and the success of Get Out, but if she chooses her next few roles carefully, things could be pretty set.
Lena Dunham
Before Girls, Dunham was one of many young Apatow protégés. Six years in, she's a gigantic name, and whether or not you like the show, the fuel driving her very own think piece industry. Whatever Dunham releases next is going to be a big event, and the subject of an armada of bloggers' scrutiny.
Adam Driver
Driver might not be as big as Dunham — and he's also not a writer or director — but he just might edge her out in terms of the biggest career transformation. His perpetually shirtless role as the weird boyfriend in a pay-cable comedy somehow turned him into a major movie star, the rare kind that can both play a Star Wars villain and work with Scorsese. Who would've thought that the guy who once sent Hannah a fur-swaddled dick pic would ever make it to space?