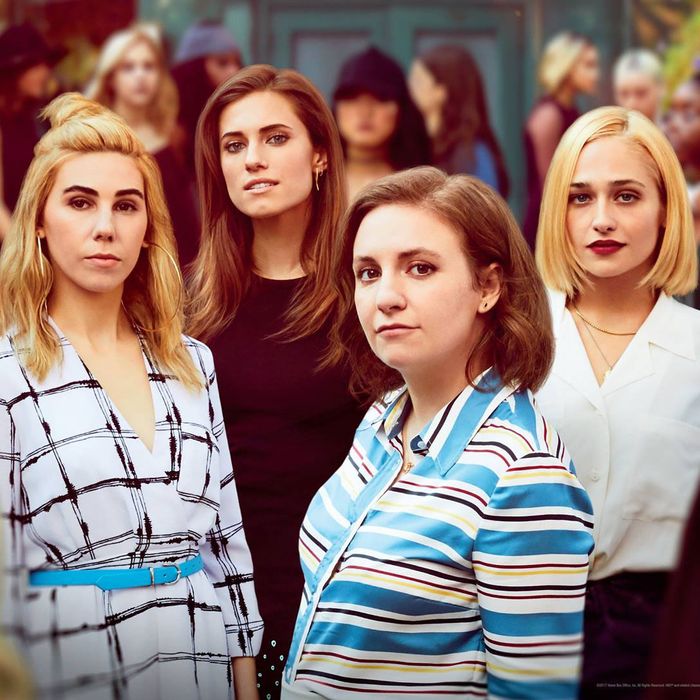 The poster for the final season of Girls.
Photo: HBO
Whenever HBO unveils the official poster for a new season of Game of Thrones, the internet comes perilously close to melting down: It's an Event. The release of new key art (as such posters are officially labeled in Hollywood) for Girls, by contrast, has been a decidedly more low-key affair since the show's 2012 debut. This doesn't mean the work is any less appreciated by fans, or that HBO exerts any less effort on finding just the right combination of words and picture to set the stage for the season ahead. Indeed, just as the series has put great thought into each week's opening titles, the posters for Girls have been a careful creative collaboration between the show's main producing brain trust (Jenni Konner, Lena Dunham, and Judd Apatow) and the network. "The show has a very clear and strong voice — bold, authentic, and unique," says Zach Enterlin, HBO's executive vice president for marketing. "And our goal with our campaigns was to kind of evoke that with everything we did. We'd get a sense from them what the arc of that season was, what they were trying to communicate, and we would go back and conceptualize ideas, come back to them, and talk them all through. It was very collaborative." With Hannah and her sisters calling it a day this Sunday, Vulture caught up with Enterlin and Konner to discuss their partnership and get the behind-the-scenes details about the making of six seasons of Girls poster art.
Season 1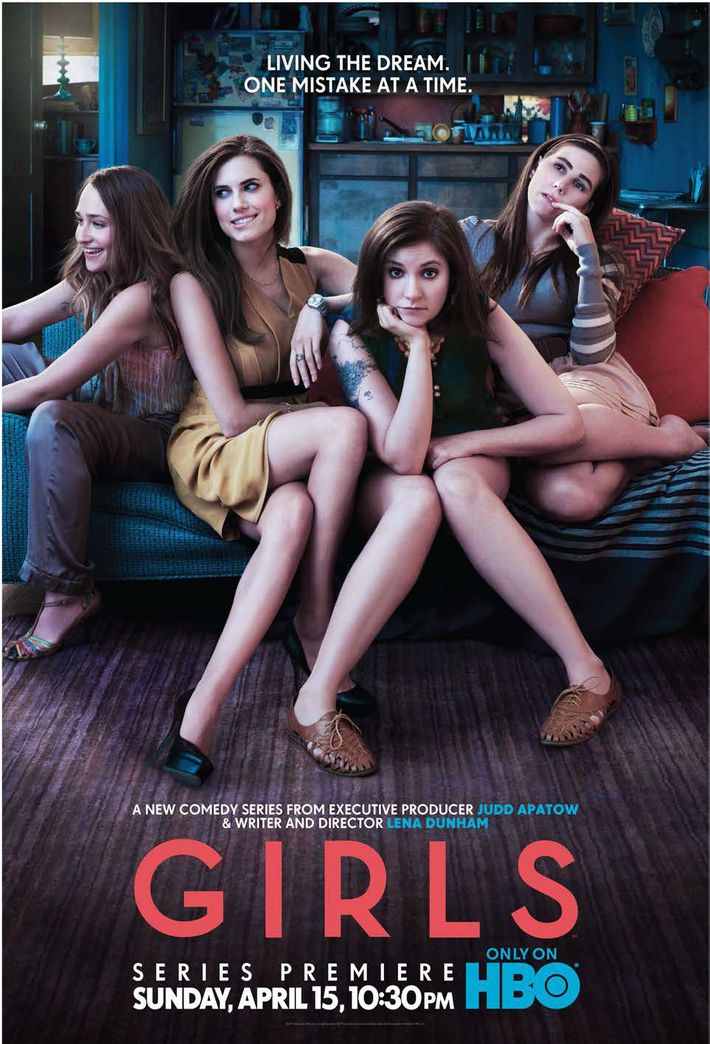 The inaugural poster for Girls was designed to convey what would become a hallmark of the series: authenticity. "We just wanted it to feel naturalistic," Konner says. "We wanted everyone to look like themselves, or look like their characters." The result was an image of the four main cast members, close together on a couch, sitting in a recreation of Hannah's unglamorous apartment. In addition to announcing what Girls would be, the poster also signaled what the show wouldn't be: Sex and the City for millennials. While Konner says she and Dunham had never considered their series might be compared to HBO's earlier hit, Enterlin admits the potential for such comparisons "was woven into [the marketing team's] thinking" about the poster. "Clearly the direction we went underscored some of those differences from Sex and the City," Enterlin explains. "That's certainly something that we thought about …This show [was] not glamorous New York, but rather an authentic post-college struggle in New York." That point was underscored by the season-one tagline: "Living the Dream. One Mistake at a Time." Konner says the tagline was probably the first one Enterlin sent to her and Dunham. "We were like, 'Great!'" she says. "We loved it. It was all very easy."
Season 2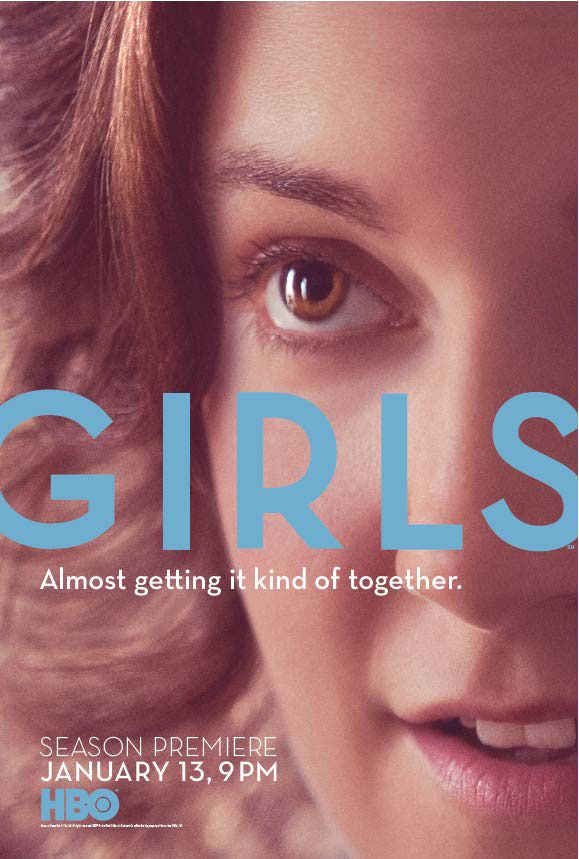 This is the only poster in six seasons to feature a solo shot of Dunham, sans any other cast members. Isolating the Hannah character from her friends telegraphed one of the central themes of season two. "It was just a really lonely season for Hannah, so we all thought it made sense creatively to have her alone on the poster," Konner says. "That's when we did the Patrick Wilson episode, which was entirely Hannah and Patrick Wilson." The poster also mirrored the enormous fame that came to Dunham after the first season of Girls. "Lena had a breakout moment with season one, and we thought that could be an interesting road, to double down on that," Enterlin says. "We were also intrigued by the ability to communicate a tone that's a little bit more intimate, maybe: This is someone you really want to get know more about in a much deeper way."
Season 3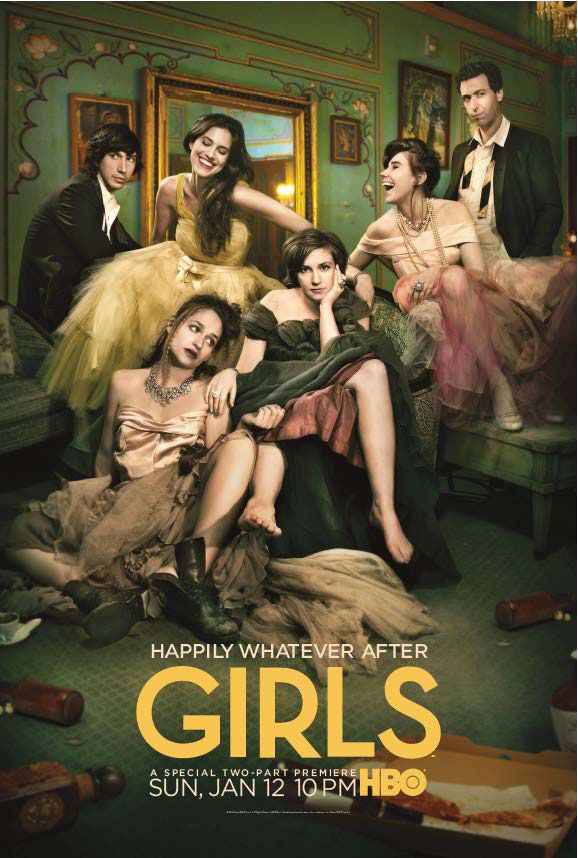 For season three, Enterlin says he and his team "set out to do something entirely different" than with the two previous posters. The result was the first (and only) key art to feature male co-stars Adam Driver and Alex Karpovsky, as well as the most decidedly dressed-up look for the characters. "It was sort of [built] around this high-concept idea of, can we undercut or challenge the aspirational, glamorous lifestyle in a smart way?" Enterlin says, adding that HBO wanted to "do something visually fresh that would help us stand out in the market." The poster is also a riff on a TV marketing cliche: the cast shoot where everyone gets dressed to the nines (think the famous shot of the Friends cast walking down a fake street wearing formal wear while holding champagne glasses and flowers). "We wanted to include everyone, and we wanted to do a more traditional cast poster that you've seen before," Konner says. "Except here, it's the Girls version of that." Also notable: Autumn de Wilde, who photographed Dunham's first big national magazine cover for New York in connection with the 2012 launch of Girls, was recruited to do this poster.
Season 4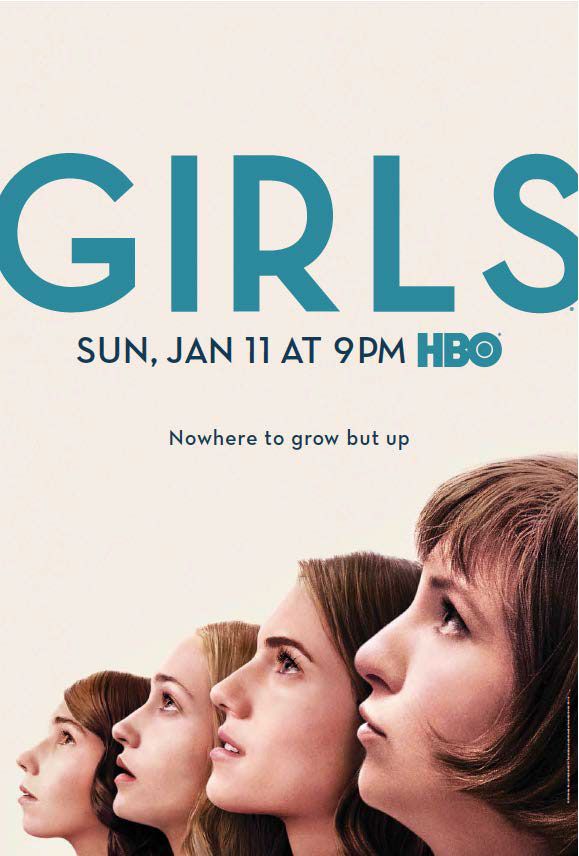 Maturity and growth were big themes for this season — Hannah was headed to the Iowa Writers' Workshop — and the poster quite literally mirrored that idea, in both image and text. In hashing out the concept, "It was one of those moments where we were like, 'Now the girls are really trying to grow up, and this is the beginning of that arc,'" Konner says. Enterlin says he and his team "sort of fell in love with the simple, visual metaphor of [the characters] looking up towards their futures. When you now take a step back and look at the entire portfolio, this is another moment where it was a pivot. This is where things were taking a leap forward, and the fact that it stood out visually from everything we'd done previously was all part of the plan." Konner also appreciated the contrast from past marketing efforts. "It was nice to go from remarking on the traditional with season three, to this," she says.
Season 5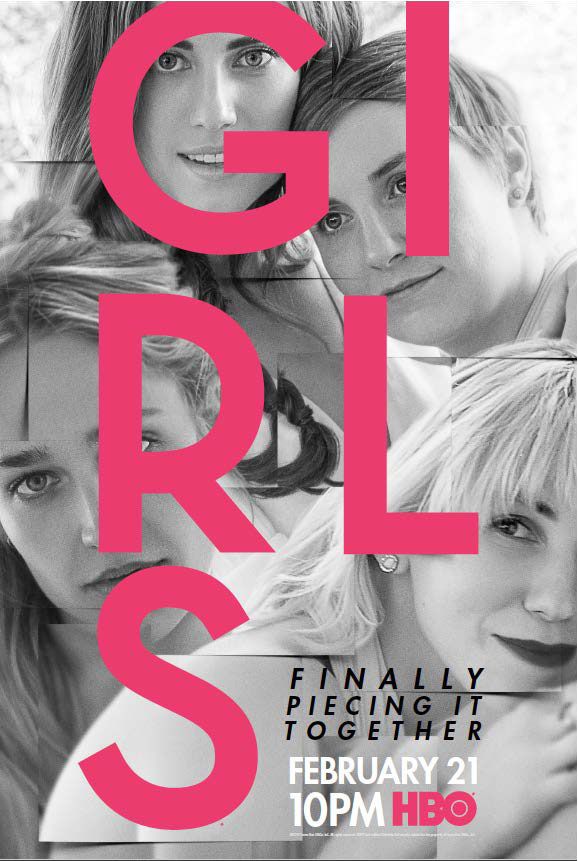 Marnie's ultimately ill-fated marriage was one of the tentpoles of Girls' penultimate season, and it was also the visual cornerstone of the poster, Konner says. "This is actually a scene we did for Marnie's wedding," she says, explaining the somewhat gussied-up look of the characters. The art is meant to continue the message of maturity seen in the previous season's marketing. The season-five poster "more fully illustrates the characters' evolution," Enterlin says. "Their expressions are more confident and relaxed. The black-and-white palette was a purposeful choice, again, to evoke their growth and look a little bit more sophisticated." Meanwhile, the tagline for the season was a nod to the big relationship steps the characters would take over the next ten episodes. "Marnie's wedding was the beginning [of the season], and Hannah was in a new relationship, and it was the seeds of Adam and Jessa starting their relationship — all of these things going on," Konner says. "All of those things were people trying — again, not necessarily successfully — to 'piece it together.'"
Season 6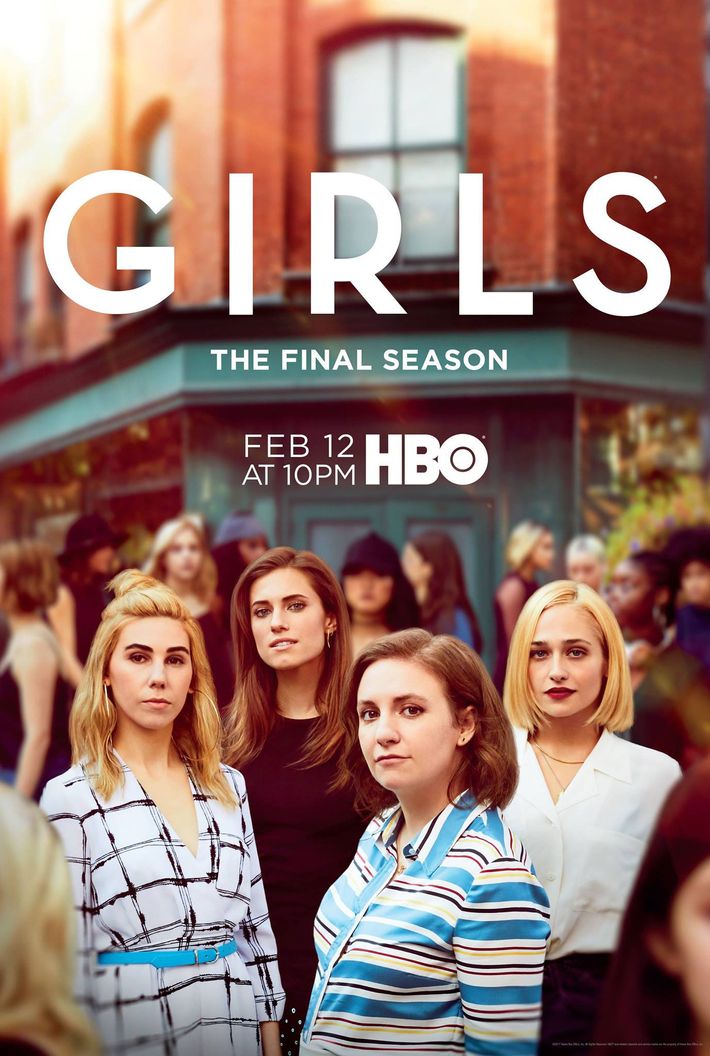 For the final poster, both the Girls creative team and HBO marketing felt strongly about the need to link seasons one and six. "One of the key elements [in the poster] is the background," Konner explains, noting photographer Danielle Levitt closed off part of a corner in Brooklyn Heights for the shoot. "With younger women coming to Brooklyn, they're now the old guard of Brooklyn. So it's them standing out from the crowd of the young people." As for the image of the four main cast members, Enterlin says the idea was to draw as sharp a contrast as possible between the photo used in the season-one poster. "These are not the same women we knew from season one, in any shape or form," he says. So with "every choice" that was made about the art, the goal was to "show that they've truly matured and are now much more confident adults," Enterlin adds. "I think you can see it from their wardrobe to their hair to their makeup to their body language. They're much more confident and mature." Or, as Konner summarizes, "In the first poster, Hannah is looking unconfidently into the camera, and all the girls are looking in different directions. In this one they're really all looking at the camera, bravely and confidently."