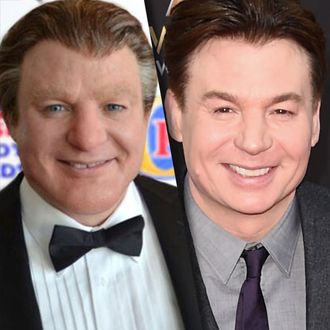 Maitland and Myers, totally two different people.
Photo: Jason Merritt/Getty Images
To fill the shoes of the late Chuck Barris in its Gong Show revival, ABC appears to have gone with someone who might be just as much of a unique character. The network announced today that Tommy Maitland, a supposed British comedy legend, will host the series in which judges can cut competitors' performances short by banging a big ol' gong. One problem: Maitland definitely doesn't exist, despite his new unverified Twitter account and the fact that he gave an "exclusive" interview to The Hollywood Reporter. Though ABC isn't saying anything, both TVLine and THR agree that Maitland is probably Mike Myers going full method, which makes sense, because he looks a lot like Mike Myers (a reverse image search on Maitland's headshot photo doesn't reveal much) and this is totally something Mike Myers would do. Whoever he is, Maitland will make his TV debut when the series premieres June 22.