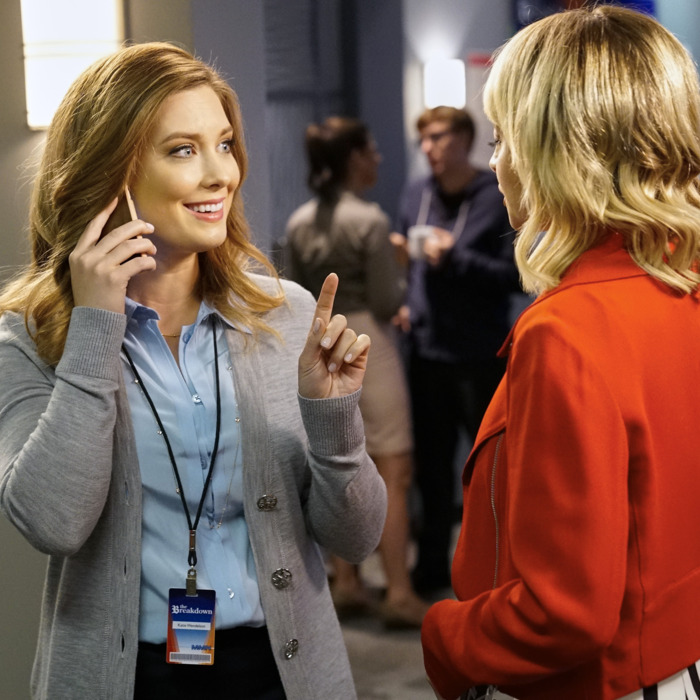 Based on its pilot alone, NBC's new sitcom Great News has a lot of intriguing topical elements in its arsenal. It's set at a cable-news network (complete with an aging host who isn't exactly appropriate with his employees), and it's immediately open about the office's workplace misogyny — despite having a longer tenure at her producer job, protagonist Katie routinely gets thrown over in favor of a male colleague, and her mom, Carol, is all too willing to accept the possibility of being molested at work.
But the heart of the show is something altogether new: the weird, codependent, claustrophobic, and ultimately loving relationship between a certain subset of millennials and their boomer parents.
Creator Tracey Wigfield (30 Rock, The Mindy Project) has been open about the fact that Briga Heelan's Katie and Andrea Martin's Carol were inspired by her own tight bond with her mom — down to the fact that they share email passwords. From the moment Katie wakes up in New York City to the moment she arrives at work in Secaucus, New Jersey, the pair chat nonstop about birthday parties and The Bachelor. Katie may occasionally confide in her colleague, Justin (Horatio Sanz), but it's clear that her real bestie is her mom.
Each has her own woes: Katie, who aspires to serious journalism, can't seem to get out of the puff-piece ghetto, and Carol is unfulfilled in retirement after spending her prime years as a stay-at-home mom to Katie. After a wake-up call at a friend's funeral, both women decide it's time to lean in — and for Carol, that means an internship at Katie's job. But even as she quickly becomes a thorn in her daughter's side, Carol proves to be a De Niro–level intern, ingratiating herself with the show's arrogant host, Chuck (the great John Michael Higgins) and dismissive executive producer, Greg (Adam Campbell).
Great News could easily coast on heavy doses of intergenerational conflict, but it becomes clear early on that its path is a more ingratiating one. Carol may be the classic boomer helicopter mom, pushing Katie onto the track team and into being assertive with her boss — but Katie is also the kid who wants to be helicoptered, needing her mom's booster shots of self-esteem in a workplace that isn't inclined to deliver them. (The pair's relationship is particularly interesting as a contrast with Martin's equally overbearing, no-filter mom in Difficult People, whose death grip on staying youthful and stage-managing her daughter's life is more monstrous than endearing.)
Because of Wigfield's past and the producing presence of Tina Fey and Robert Carlock, Great News is sure to earn comparisons to 30 Rock. As she finds her feet in this pilot, Wigfield clearly isn't afraid to hew a bit to the formula established by her own showbiz "mom," relying on daffy, pop-culture-heavy jokes (Martin reminisces about cleaning vomit out of Katie's Teddy Ruxpin), and a bright, larky score by Jeff Richmond. A news segment on "Is there a silent killer hiding in your family's handguns?" is classic Fey, and Nicole Richie's vapid blonde co-host is equal parts Jenna Maloney and Cerie, down to a Krakowski-perfect line reading about her football-star fiancé winning a prize for lewdest touchdown dance.
But while Fey's perspective is that of a through-and-through cynical Gen-Xer who's equally exasperated with everyone, Wigfield brings a certain sympathy to mouthy Carol and tantrum-throwing Chuck. It's an almost childlike forgiveness that extends to adults who are a bit childlike themselves, facing regular memory lapses, gray hair, and encroaching social-media "pound signs."
Based on the pilot, Great News' biggest initial flaw seems to be the extension of that reverential deference to its younger actors, who can seem a bit bland and backgrounded compared to Martin and Higgins — a pair of longtime character actors who are clearly having the time of their lives in lead roles with all the best lines. Are millennials too ignorant of the wisdom of our parents, or too attentive to it? It's a fascinating question, and I'm interested to watch Wigfield develop her voice as she explores it.