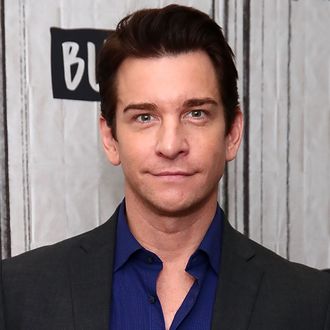 Photo: Astrid Stawiarz/Getty Images
If only there was a way to turn this day backward by 24 hours. Andy Karl, who's currently leading Broadway's new production of Groundhog Day — yes, he's playing Bill Murray's weatherman character — injured himself in the knee during Friday evening's preview performance. Per an account in the New York Times, Karl's injury was sustained onstage with about 15 minutes to go in the show; it was temporarily paused while a doctor was sought out, and Karl finished the show with the help of a walking stick. Following Friday's performance, producers for Groundhog Day released a short statement that confirmed the incident:

At approximately 10:30 in the second act of Groundhog Day, during the song "Philanthropy," Andy Karl injured himself during the performance and left the stage. The show was stopped. Andy insisted on finishing the show and after a 15-minute break went on stage with a cane. Following the performance Andy was taken to see a doctor. We will update you on further news as we hear it.
At the hospital to get his injury examined later that evening, Karl's fate got even weirder — he detailed in an Instagram post that a clock in the ER waiting room fell and nearly hit him. Still, he's in good spirits. "Is it irony that I was doing the 'philanthropy' number when I fell? Or is it karma for beating up clocks in the commercials?" he wrote. "I'm home now and I have no broken bones but tweaked my knee after a poorly landed leap frog. Finishing the show for all the @groundhogdaybwy fans and audience members was something I had to do. Thank you all for hanging in there. The last song 'Seeing You' was for you guys … I'm gonna get it looked at by specialist before I go back on stage, but know I love this show and this company and everyone that supports me more than you'll ever know."
In a new statement obtained by Vulture, the producers for Groundhog Day have confirmed that Saturday afternoon's performance has been cancelled. Karl's understudy, Andrew Call, will be playing the leading role at Saturday evening's performance. The production is still currently scheduled to open on Monday.