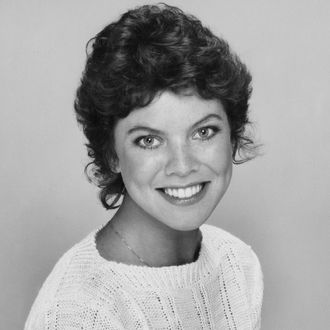 Photo: ABC Photo Archives/ABC via Getty Images
Erin Moran, the actress best known for her iconic role as Joanie Cunningham in the 1970s sitcom Happy Days and its short-lived spin-off Joanie Loves Chachi, has died at the age of 56. Per the Associated Press, Moran was found unresponsive on Saturday in Harrison County, Indiana, after police received a 911 call; an autopsy revealed she likely died from complications of stage 4 cancer, though a toxicology test is still pending. During the decade she was on Happy Days portraying the sweet but mischievous Joanie – the younger sister to Ron Howard's character Richie – Moran grew from a younger supporting player to a leading lady in her own right, eventually scoring the aforementioned spin-off with Scott Baio for two seasons.

When Happy Days ended in 1984, Moran struggled to find acting work and eventually decided to eschew Hollywood and move to the California mountains. While she managed to obtain a small handful of supporting roles in television and film since then — in projects such as Murder, She Wrote, Diagnosis: Murder, Celebrity Fit Club, and Not Another B Movie — she never starred in a leading capacity again. The AP also notes that Moran had "endured numerous struggles in recent years," which included stretches of homelessness and a hard-partying lifestyle.

This post has been updated throughout.