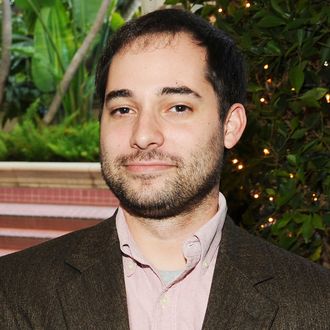 Harris Wittels.
Photo: Frazer Harrison/Getty Images
In 2015, comedian, writer, and co–executive producer of Parks & Recreation Harris Wittels died from a reported drug overdose. He was 30 years old. Now his sister, Stephanie Wittels Wachs, is honoring her brother with a festival dedicated to him: Harris Phest. The name pays homage to Phish, which Wittels loved so much he and Comedy Bang Bang's Scott Aukerman recorded a podcast about the band. The festival is set to take place on April 20, which would be Wittels's 33rd birthday, at 8th Wonder Brewery in Houston*, Texas, and will include performances by Phish cover band A Live One, stand-up sets, scenes he wrote for Parks & Rec, and a select reading of his finest tweets. During the event, the brewery will also be serving a special Humblebraggot beer (Wittels coined the term "humblebrag").
Wittels Wachs previously paid homage to Harris in 2016 with a devastating essay about her loss. Proceeds from the event will go to the Harris Wittels Fund, which provides scholarships to students from the comedian's alma mater, Houston's High School for the Performing and Visual Arts. Find out more about the event here.
* Correction: The post previously stated that 8th Wonder Brewery is located in Dallas, Texas. It is located on Dallas Street in Houston.