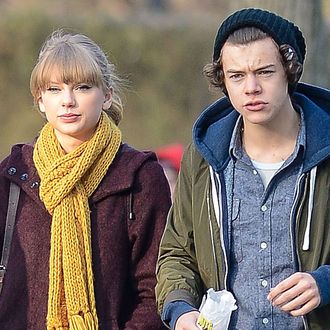 Remember this?
Photo: David Krieger/Bauer-Griffin/GC Images/Getty Images
In less than a month, the debut solo album from One Direction's Harry Styles will enter our orbit, and with it will come answers to every burning question made the subject of many an international inquiry on fan forums since he became a global pop commodity. This new era of an unguarded Styles begins with his first comprehensive solo interview in Rolling Stone, which was written by director Cameron Crowe. In it, Styles says his new self-titled album is all about honesty and that means having to open up the can of worms that was his fling with Taylor Swift for the first time. Styles confirms the specifics: The two only dated for a month after meeting at an awards show — that infamous Central Park stroll was their second date — but ended it because their combined fame made it impossible to canoodle like all the other couples in the park. "When I see photos from that day, I think: Relationships are hard, at any age," he says. "You're on a date with someone you really like. It should be that simple, right? It was a learning experience for sure. But at the heart of it — I just wanted it to be a normal date."
That their brief relationship then became another entry in Taylor Swift's burn (song)book, though, didn't bother Styles in the slightest. "I mean, I don't know if they're about me or not … but the issue is, she's so good, they're bloody everywhere," he begins. "I write from my experiences; everyone does that. I'm lucky if everything [we went through] helped create those songs. That's what hits your heart." Being the ex-boyfriend of your dreams, Styles also says it isn't his place to pass judgement on Swift's songs, even if they're about him: "She doesn't need me to tell her they're great. They're great songs … It's the most amazing unspoken dialogue ever." (Good thing they'll both always have New York to write about.)
Because if there's one thing you learn from dating Taylor Swift, it's that the future is extremely female and women are not to be dismissed — as Styles passionately professed in a feminist defense of his tween girl fandom:

"Who's to say that young girls who like pop music – short for popular, right? – have worse musical taste than a 30-year-old hipster guy? That's not up to you to say. Music is something that's always changing. There's no goal posts. Young girls like the Beatles. You gonna tell me they're not serious? How can you say young girls don't get it? They're our future. Our future doctors, lawyers, mothers, presidents, they kind of keep the world going. Teenage-girl fans – they don't lie. If they like you, they're there. They don't act 'too cool.' They like you, and they tell you. Which is sick."
Well done, Harry: You're in the clear at last.