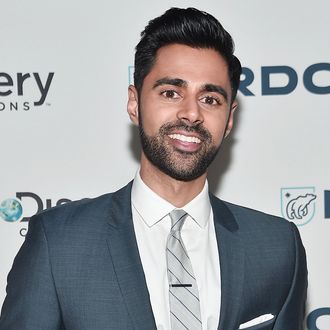 Hasan Minhaj.
Photo: Mike Coppola/Getty Images for The Natural Res
Plans for the the White House Correspondents' dinner are still moving forward, despite the fact that the president himself is not planning to attend the event. The White House Correspondents' Association announced that comedian and Daily Show correspondent Hasan Minhaj will host the dinner on April 29. "It is a tremendous honor to be a part of such a historic event even though the president has chosen not to attend this year. SAD!" Minhaj said in a statement. "Now more than ever, it is vital that we honor the First Amendment and the freedom of the press."
Trump's administration has routinely gone after the press, once calling it the "enemy of the American people," during his time in office. Despite that enmity, WHCA president Jeff Mason said on MSNBC this morning that the dinner, which raises money for journalism scholarships, will focus on celebrating the First Amendment and the free press, not just going after Trump in absentia (though Minhaj has made his negative thoughts on Trump pretty clear in the past). Meanwhile, Full Frontal's Samantha Bee is planning to host an event dedicated to sending up the presidency, and probably everything else. The "Not the White House Correspondents' Dinner" will also take place the night of April 29.