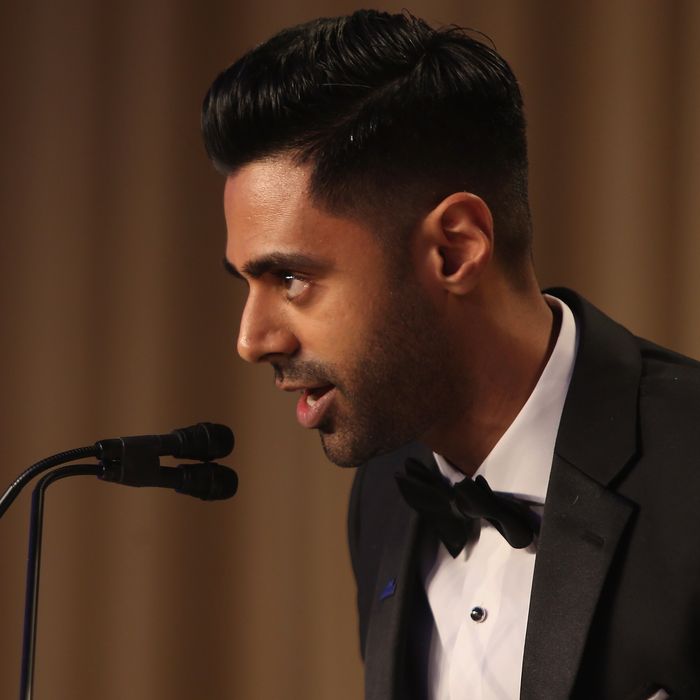 Hasan Minhaj.
Photo: Tasos Katopodis/Getty Images
"This is one of the strangest events I've ever done in my life."
This is just one of the lines that let the audience know how Daily Show correspondent Hasan Minhaj felt about slinging jokes at a president-free, post-truth White House Correspondents' Dinner. Even considering the usual odd "I'm okay, you're okay," vibe of the WHCD — which usually involves the president telling a few jokes about various media outlets who cover him, before being roasted by a political comedian (or, you know, Rich Little) — this year was even stranger for a number of reasons.
Given the contentious relationship between the press and the current administration, much of the dinner banter served as something of a pep talk: White House Correspondents' Association president Jeff Mason defended the press against the president's accusations that it creates "fake news" and is the "enemy of the people." Famed Watergate reporters Bob Woodward and Carl Bernstein gave a primer on tenaciously pursuing truth and fairness. And, of course, this was all done without the presence of the commander-in-chief, who conspicuously decided to sit it out.
Keeping in mind Trump's notoriously thin skin, his unhappy ribbing at the hands of Barack Obama and Seth Meyers in 2011, and Trump's own bomb at the Al Smith dinner in 2016, it's not surprising he decided to host his own self-congratulatory (and comedy-free) rally, far from D.C. Given the absence of the president, as well as his entire cabinet, this monologue was a great opportunity for the Muslim-American Minhaj to speak truth to power without worry of facing reproach in the moment.
You can see Minhaj's jokes for yourself above.
While the 25-minute set didn't quite match the brilliance of some of the best WHCD roasts in history, the animated and charming Minhaj had his moments. Here's a sample of his best lines.
• "The leader of our country isn't here. That's because he lives in Moscow. It's a very long flight … As for the other guy, I think he's in Pennsylvania because he can't take a joke."
• "A lot of people in the media say Donald Trump goes golfing too much … Do you want to know what he's not doing when he's golfing? Being president … The longer you keep him distracted, the longer we're not at war with North Korea. Every time Trump goes golfing, the headline should read, 'Trump Goes Golfing. Apocalypse Delayed.'"
• "You know Donald Trump doesn't drink, right? … Think about that. That means: Every statement, every interview, every tweet — completely sober. How is that possible? We've all had that excuse, haven't we? 'I said what? Listen, babe, I was hammered — that's not who I really am!' What does Donald Trump tell Melania? 'Listen, babe, last year on that bus with Billy Bush — that's exactly who I am.'"
• "A lot of people think Steve Bannon is the reason Donald Trump dog-whistles to racists, and that is just not true. Ask Steve Bannon. Is Steve Bannon here? I do not see Steve Bannon … I do not see Steve Bannon … I do Nazi Steve Bannon."
• "Jeff Sessions couldn't be here tonight. He was busy doing a pre-Civil War reenactment. On his RSVP, he just wrote, 'No,' which happens to be his second favorite N-word."
• To the press reps: "A lot of people don't trust you right now, and can you blame them? … Remember election night? That was your Steve Harvey–Miss Universe moment. The look on your faces at 11 p.m. on election night, it was like walking into a Panera Bread and finding out your sixth-grade teacher has a part-time job there. I was like, 'What? Mr. Leddington? I guess you don't have all the answers.'"
• On CNN's coverage strategies: "Everything isn't breaking news. You can't go to DEFCON One just because Sanjay Gupta found a new moisturizer … Every time I watch CNN, it feels like you're assigning me homework. Is Trump a Russian spy? I don't know, you tell me … I'm watching the news. It feels like I'm watching CNN watch the news. Just take an hour, figure out what you want to say, then go on the air."
• On his job at The Daily Show's relationship to the press: "You're running the marathon, I'm at the half-mile mark giving you tape for your nipples."
• "In the age of Trump, I know that you guys have to be more perfect than ever. Because you are how the president gets his news … You can't make any mistakes, because when one of you messes up, he blames your entire group. And now you know what it feels like to be a minority."