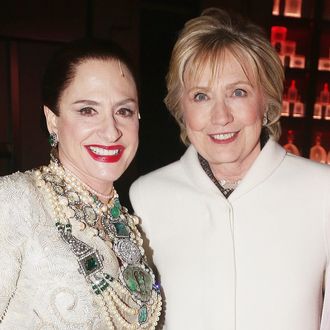 Hillary and Patti.
Photo: Bruce Glikas/Bruce Glikas/FilmMagic
Honestly, they should start adding her to the Playbill. Thursday evening Hillary Clinton stopped by the opening night of Broadway's War Paint, the new musical starring Patti LuPone and Christine Ebersole about cosmetic magnates Helena Rubenstein and Elizabeth Arden. If you can believe it, an audience excited to see two seasoned female performers go toe to toe onstage was also excited to see the former Democratic candidate there, and burst into applause at the sight of Clinton. War Paint marks the fifth production the former secretary of State has caught in 2017, and also the fifth standing ovation she's gotten for making an appearance at a show. Medically speaking, spontaneous applause and show tunes are the best way to recover from a disappointment seen, heard, and felt by an entire planet. Maybe these ovations are the only thing keeping Clinton from plunging back into politics, which she has explicitly stated she doesn't want to do. If so, hey, everyone says Waitress is phenomenal.

Let's journey back in time: On Sunday, January 8, attendees of The Color Purple realized, "Oh, any time we see Hillary Clinton, we are legally allowed to react however we want." So they did, giving her a standing ovation and setting off a trend that will hopefully last through Tony season.

A mere week later, on Sunday, January 15, Hillary Clinton and husband Bill closed out The Humans, seeing the play's last matinee performance on the production's closing day and, you guessed it, getting a standing ovation.
On February 2, a few observant audience members of In Transit screamed, "We love you, Hillary," setting off 40 straight seconds of thunderous applause and chants of her name, which at this point is basically included in Hillary's ticket.

On Wednesday, February 15, when Clinton attended a showing of Glenn Close's Sunset Boulevard, she was of course met with raucous applause.

A note to the Tony Awards: Please invite Hillary, so she can get a spontaneous standing O there, too.