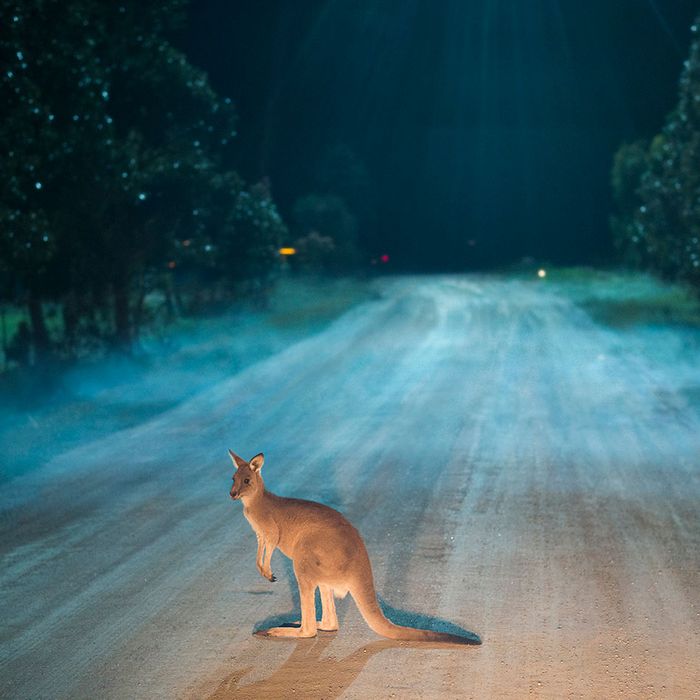 The Leftovers.
Photo: Courtesy of HBO
At the end of Sunday's episode of The Leftovers, a kangaroo gets hit by a car, then shot and killed by an Australian police chief. It is very unsettling. It's even more unsettling because this is the second appearance of a dead kangaroo on HBO just this year. Who could forget Pope Lenny's marsupial friend on The Young Pope, which he let roam around the Vatican gardens only to discover its lifeless body one evening?
What, exactly, is HBO's thing with dead kangaroos? Although we don't have any firm answers (yet), Vulture decided to come up with some more ways for the cable network to use its prodigious dead kangaroo budget because, clearly, two of anything is never enough.
Westworld: Maeve (Thandie Newton) has broken out of Westworld and is now roaming around the different theme parks situated on the moon. (You know they're totally on the moon, right?) While recruiting her fellow robots, she ends up in Aussieworld, where she amasses a huge army of animatronic kangaroos. Eventually, during a huge standoff with the owners of the Delos corporation, her army is gunned down and lies in a huge puddle of fake blood and ruined dreams.
Ballers: Vernon (Donovan W. Carter) gets signed by the Rams and decides to use his signing bonus on a pet kangaroo for his Miami mansion. Spencer Strasmore (the artist formerly known as the Rock) thinks it is a huge waste of money. When the kangaroo dies because Vernon only fed it Monster energy drinks and leftover Taco Bell, Spencer really thinks it's a waste of money when he has to figure out how to dispose of a dead pet kangaroo and avoid a whole Michael Vick scandal.
Silicon Valley: Bachman (T.J. Miller) decides that Pied Piper needs a mascot, so he buys a taxidermy kangaroo at the liquidation sale of a juice-press start-up that went bankrupt after some bad press. Everyone hates the creature, especially Jared (Zach Woods), who is scared by the beast while getting some water in the middle of the night and spills his beverage all over the servers. But how will Pied Piper find a way to demo their new service to the big VC who they're visiting tomorrow?
Big Little Lies: Season two kicks off when Jane (Shailene Woodley) and Madeline (Reese Witherspoon) serve as chaperones for a field trip to the Carmel Zoo to see a newborn kangaroo. When they arrive, the little kid is dead and foaming at the mouth in its pen. A week later, Renata (Laura Dern) freaks out because the new teacher didn't issue a trigger warning before reading the children Does a Kangaroo Have a Mother, Too?
Game of Thrones: The Sand Snakes ride kangaroos, one of the exotic animals of Dorne, into a battle with the Lannister armies of the north. They are all slaughtered because everything that happens in Dorne sucks.
High Maintenance: The Guy (Ben Sinclair) sells some weed to a veterinarian who works at the Bronx Zoo. He's not buying it for himself, but to treat the glaucoma of one of the zoo's kangaroos. When he gets it stoned, the kangaroo dies. It's very, very sad.
Last Week Tonight With John Oliver: When President Donald Trump fires the entire Supreme Court and replaces them with winners of Celebrity Apprentice, John Oliver decides to fire all of the dogs on his all-dog (and one lobster) Supreme Court and replace them with kangaroos. Then every member of the kangaroo court dies a quick death, just like our civil rights.
True Detective: A female kangaroo is found dead on the side of the road and two wannabe philosophy majors drive around rural America treating other female kangaroos like shit while trying to solve the initial kangaroo's murder.
The Sopranos: Christopher (Michael Imperioli) and Paulie (Tony Sirico) chase a kangaroo through a frozen wood, only to find him dead in the snow.
Six Feet Under: A funeral for a kangaroo?
Looking: If a hairy, fat gay dude is a bear and a hairy, skinny gay dude is an otter, then an Australian gay dude who is a little too excited is a kangaroo. Dom (Murray Bartlett) meets one on Grindr and the kangaroo, I don't know, dies during sex or something?
Sex and the City: When Carrie buys a pair of kangaroo-skin strappy heels at Manolo Blahnik from a sexy salesman named Peter, we have to wonder: Is PETA coming after her, or is she going after Peter?
Curb Your Enthusiasm: Larry David yells at a kangaroo for cutting him in line. The kangaroo dies.
The Newsroom: Aaron Sorkin yells at a kangaroo that it doesn't understand the news. The kangaroo dies.
Vinyl: Martin Scorsese yells at a kangaroo that it doesn't understand rock and roll. The $1 billion kangaroo dies after being renewed for a second season.
The Wire: Stringer Bell (Idris Elba) yells at a kangaroo that it doesn't understand business. He shoots the kangaroo.
True Blood: A kangaroo dies. It comes back as a kanga-vampire. Everyone tries to have sex with it.
John From Cincinnati: Is that kangaroo even dead? What is a kangaroo?
Luck: They ran out of horses.