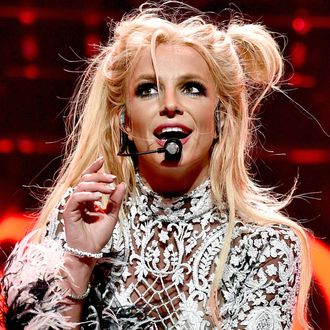 It's Britney, bitches.
Photo: Mike Windle/Getty Images for iHeartMedia
It's Britney, bitch, and she's ready to wreak havoc in the international political climate. According to Haaretz, the pop songstress is scheduled to perform a rare outdoor concert in Tel Aviv on July 3, much to the delight of her Israeli fan base. However, there's one problem that cropped up with the scheduling: Israel's struggling Labor Party, currently led by Isaac Herzog, is set to hold a primary election that very same day in close proximity to Spears's venue. No problem, right? The two events can proceed without any difficulties, surely? Wrong. Owing to the "major event" Spears's concert will inevitably bring to the city, the Labor Party has chosen to postpone the election by one day in order for it to proceed smoothly and to "make it easier" for party members to successfully reach the polling stations, as some major traffic routes will be blocked off for security reasons during Spears's show. While Haaretz notes that the party's decision was primarily due to the technical aspects of the overlapping events — a high number of security guards and ushers in the city were already hired to work the concert, for instance, and wouldn't be available to supervise the election — the publication's source admitted that "some consideration" was given to Labor voters who wanted to cast their votes and then "watch Britney do her thing." Oops!