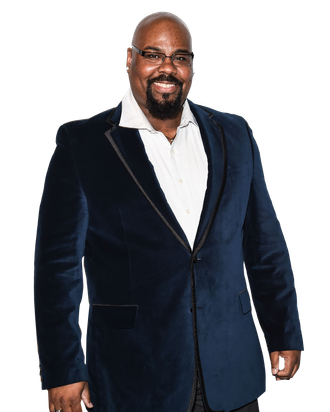 After years of playing the Genie in the Broadway musical Aladdin, James Monroe Iglehart is getting out of the bottle: On April 14, he will take over the Marquis de Lafayette/Thomas Jefferson role in Hamilton. Iglehart started out in Aladdin as it was being workshopped outside New York in 2011, and won a Tony in 2014 once it came to Broadway. In the wake of Iglehart's last Aladdin performance, on February 19, Vulture caught up with him to talk about perfecting his speed rapping, his love of Batman, and what it's like to play Titus's rival Coriolanus on Unbreakable Kimmy Schmidt.
First of all, how were the last set of performances in Aladdin?
Absolutely fabulous. The audiences were so hyped, and my family was there for most of those days. I've been with the show since 2011, all the way from Seattle to New York. To be able to go out like that, to go out in a good way on my own terms and still have a lovely relationship with Disney? It was wonderful. I saw that movie when I was 17, and to go out like that was great.
What were the highlights of the experience?
Opening night was great, because when we left Toronto, the feeling in New York was that we weren't coming in with a good show. I got home, and people were like, "Hey, I heard the show didn't go too well." All my associates who kind of wanted Disney to fail were looking forward to some problems. Then we came in opening night and the world just loved it. Then, of course, a highlight was being nominated for a Tony and winning.
A lot of the character is so tied up with Robin Williams's performance. How did you make your take different?
I think for every character you've got to put yourself into it. With the Genie, the Genie is Robin, because this man pretty much is this character. But then I went back into a little bit of history, Howard Ashman originally wanted the character to be like Cab Calloway or Fats Waller. I was like, Oh, that's right in my wheelhouse. So I put myself into it, and I put in jokes that I thought were funny. So it was Genie-esque, but I wasn't feeding off Robin. And what's funny is I heard from some friends he saw some of my clips, and he dug it. He said, "I like what the kid is doing. He's not copying me."
You got to add in a lot of improvisation to the show. Did you have any favorite impressions?
I liked to do things people didn't think I was gonna say. Like, by the last week, I brought in … what's that line? "Meet me outside?" That girl from …
Oh! The "cash me outside" girl.
Yeah. I was like, "Cash me outside." I would do that. We couldn't really do impressions. They didn't want me to do actual people impressions, because they didn't want stars to get mad. But I would hint at those people. Like, I hinted at Dr. Phil. I hinted at Michael Jackson. I hinted at Oprah. I definitely hinted at most of the hip-hop stars from Eminem to Fetty Wap to Soulja Boy. I hinted at a bunch of them, 'cause kids got it. Some of the parents were like, "I don't get what's going on."
Then what is it like to shift into Hamilton and to join that show?
It's really, really fun, but it's a totally different beast. As I was leaving Aladdin, I realized when I was onstage I only spoke to Al. I did not talk to anybody else until the last scene of the show. With Hamilton, it's an ensemble show. You are a principal, yes. But once you're not doing your solo, you're in the ensemble telling the story with everybody else. It's very intricate, where Aladdin was very big and flashy.
The challenge with Lafayette is that you've got to do that speed rapping.
I'm okay with that, because I've been rapping freestyle for years. I think the thing that surprised me was the preciseness of it. Somewhere in my head I was like, "Oh cool, I can rap fast." But it's like a puzzle piece, and if you're not specifically in the puzzle, you'll miss the next move.
Daveed had such a specific strut and look for Lafayette and Jefferson. Have you come up with your own approach to the characters?
The fun thing is Daveed is also in the group Freestyle Love Supreme that I'm in. We had a conversation before I took the job. He gave me his blessing and he said, "Man, take and run with it, and do what you do." And that's what I have done. So I'm hoping that the audience embraces it the way they embrace him. I want to keep the integrity of what he did, but I also want to bring a little of the Iglehart swagger to those roles.
You were in the early Lincoln Center concerts of Hamilton, so what's it been like to be in the early production, see the show grow into this massive thing, and come back?
It's been awesome, actually. I have some of the most talented friends in the world. When we first heard what Lin was doing, we didn't know how big it was gonna be, but we knew it was cool. Then after Lincoln Center, I got Aladdin, and I was working on that. There was a shot of me coming to Hamilton. I was like, "Guys, I think I'm going to stay with Aladdin and see where it takes me." Then I would watch from our hit show as their show become the juggernaut that it became.
Outside of Broadway, a lot of people know you from Kimmy Schmidt, where you play Coriolanus Burt, Titus's rival. How did that come about?
I got the call from my agent that they wanted me to come and audition. They said, "You would be the rival of Tituss Burgess." I've known Tituss for a while, but we never got to work together. We both did Disney shows. He was Sebastian [in The Little Mermaid]. We never even auditioned against each other, because we're the same type, but we're such different voices. He's a very high tenor, and I'm a baritone. We sang at the same places, but that was it.
So when I auditioned, I read what they wanted the character to be, and I told my wife, "I think I'm going to go in a little bit of a different direction with this." I know the timbre of his voice, so I'm going to go so opposite and be deep. Then when Tina saw me, she said, "You know, when I saw you in Aladdin I thought, 'I'd like to see if he could play this part.'" I was like, "Thank you, Tina."
I've had so much fun playing with Tituss because he's such a nut. He will go anywhere with you. And when you're with him, you better go someplace. Because he's gonna take you. He just goes. It's a lot of fun to play with that dude.
After going between shows as well-known as Aladdin or Hamilton, are there other roles you want to take on?
We'll see what happens. If new shows come around I would love to. There's a few revivals that would be fun to do. I'm a huge Music Man fan. I love The Music Man, and if someone wants to think outside the box and decide they would like to put me as Harold Hill, I would love to do that. I love stand-up comedy, and I love musicals. So I was trying to figure out a way to mix the two. I just did my solo show, which is a solo cabaret show, at 54 Below. I also did it in California and in Jersey, and it did really well. It's basically my story of me growing up as a kid. And when people usually do solo shows, it's like therapy in front of people. Mine is straight comedy. Mine is "let me talk about how stupid I was as a kid."
What were some of the stupid things you would talk about doing?
I really thought that it was going to be easy to become a performer. I remember singing in church is so easy. I shouldn't say easy, but church people are nicer. If you're a kid, when you're singing in church the adults go, "Oh, that's so precious. Oh that's so nice. He sounds just like his mom." Then when I turned around and decided to sing for my elementary school, those kids were mean as hell. They were bored and throwing stuff, and I was like, "You people are terrible. You don't know Jesus!" So basically I learned quickly that the secular world was a lot harder on performers.
Were people as critical once you came to Broadway? Or were the elementary-school kids the harshest critics?
You know what's funny? I would say the elementary-school kids are the harshest critics. Because adults lie to your face. Adults will look and you and go, "You were great," and then go tell their friends, "He was awful." Kids won't lie. Kids are like, "Hey man, you're terrible. You're the worst thing I've ever heard. You should never sing."
Before we're done, I wanted to ask about Batman, because from your Instagram and Twitter, it seems like you really love Batman.
When I was a kid, I used to watch the Adam West show a lot, and somehow that just stuck with me. But The Muppets and Batman would come on after school, and I would watch it. And I loved Adam West's Batman, but as I got older, my friend introduced me to some comic books when I was about 11, and I loved the duality of Bruce Wayne and Batman. I didn't like elementary school because, like I said, kids were mean, and I'm kind of a sensitive guy. So I created two personas: The persona that I used at school and the real me. It reminded me of Batman, where Bruce Wayne is the persona. That's what people want to see. Batman is actually the real him, that's who he really is. And I just latched on to that, through school, junior high through high school, I did the persona of what James Iglehart was supposed to be so the kids would leave me alone. I got cool. I could rap, I could sing, I could dance, and whenever people would step to me, I could use my words to defend myself. But deep inside I was always afraid of confrontation. As I got older I grew out of it, but Batman was … If Linus had a security blanket, Batman was mine, so he's always had a very special place in my heart.
This interview has been edited and condensed.