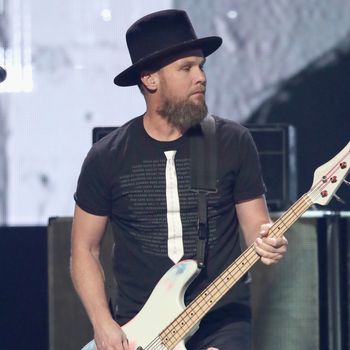 Zoom in.
Photo: Kevin Kane/WireImage for Rock and Roll Hall of Fame
Those looking for a "Steve Miller moment" at this year's Rock and Roll Hall of Fame induction ceremony will be disappointed to learn that the evening was devoid of any sort of unexpected drama — in fact, the general mood was one of levity and excitement, with David Letterman and Rick Wakeman bringing their comedic A-game to the stage. (Not to mention, the excellent multi-song performances from all inductees.) If we were to go Millerian for a moment, though, the honor would go to Pearl Jam's bassist Jeff Ament, who appropriately chose to dedicate a part of his speech, as well as his shirt, to shed light on the musicians who the Rock Hall has omitted over the years. Reminiscing about how he got involved with Pearl Jam, he explained:

Being here with the band, who have become some of my best friends in the process, making music and art, traveling the world, supporting causes and programs together, making small differences, meeting great artists, and creative minds all over the world. That's a pretty great fucking life. It's an honor in to be part of a club that includes so many of our heroes — Neil [Young], the Clash, [Led] Zeppelin, the Stooges, Cheap Trick — but the fact is that we were affected and infected by bands that aren't here. So many important bands that made us want to pick up our guitars and write songs. Roxy Music, the Jam, Devo, X, Black Flag, Jane's Addiction.
While the accompanying shirt obviously couldn't be easily read by everyone at the Barclays Center, a few hours later Pearl Jam posted it on Instagram for everyone to see up close. Dozens of Rock Hall of Fame–ignored musicians are included on it, such as the Cars, Steppenwolf, Blue Öyster Cult, Fugazi, Motörhead, Billy Idol, Björk, Nina Simone, the Monkees, and Sonic Youth. (One of the shirt's musicians, Tom Waits, was actually inducted in 2011.)

Inductee finalists for the next Rock Hall of Fame will likely be announced in October.