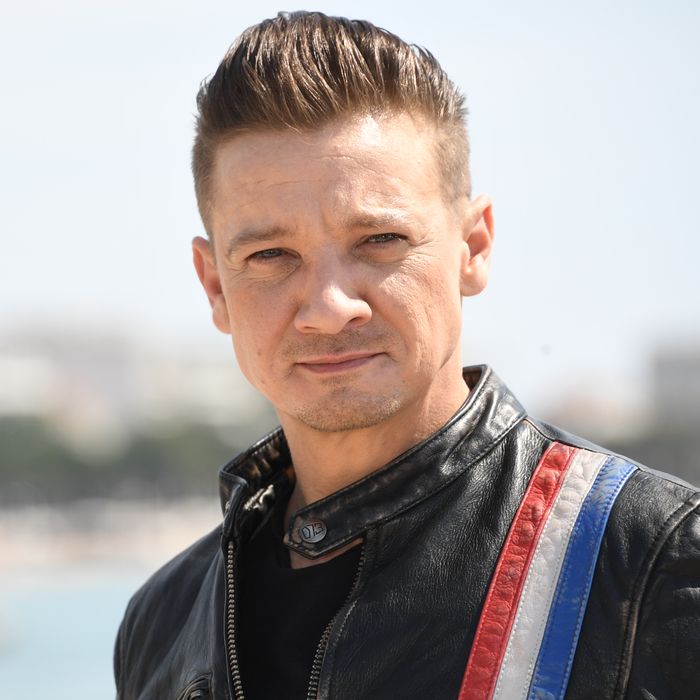 Hello from Jeremy Renner.
Photo: YANN COATSALIOU/AFP/Getty Images
Have you ever wondered what perennial Hollywood franchise player and house flipper Jeremy Renner does with his spare time? Let me introduce you to Jeremy Renner — not the actor, but the app, which provides exclusive content from Jeremy Renner, the person. Renner released his app on May 22 as a way to "connect directly with [his] fans." The app itself, which plays Jeremy Renner's cover of "House of the Rising Sun" some, but not all, of the times you open it, is not very easy to use. In fact, at the risk of angering Renner's seemingly vibrant fan community, I would agree with the consensus that it is pretty bad. Most of the content on the app is only available to so-called "superfans," and you can only become a superfan by engaging with Renner's content. That in turn requires logging in through Facebook, and I'm not about to let my friends from college watch me try to ingratiate myself to Hawkeye.
Still, while there's not much reason to ever open Jeremy Renner, the app, it's worth keeping on your phone for the push notifications. Every time Renner, the actor, posts something, you get a short message from the app. Don't click on the messages. They are mostly captions of Jeremy Renner selfies, which you do not need to see. However, the messages themselves are things of beauty. It's like a Twitter feed from someone who's not trying to be clever, or a Facebook post from your tech-savvy uncle — full of disjointed, stream-of-consciousness thoughts about jet lag, Renner's kids, coffee, and more jet lag. It's poetry from someone totally uninterested in writing poetry, or being profound.

I began keeping track of Renner's notifications a few weeks ago. Below, you can see the fruits of my labor. Some housekeeping: Because these are push notifications, some of the longer in-app messages cut off after a sentence or two. Also, I haven't saved all the notifications on my phone, so this is by necessity an incomplete list. However, I think you'll see that it is a large enough sample to adequately represent just how puzzling these notifications are.
"Go over to the music tab to hear what I've been working on!"
"Boost your comments by clicking your profile image to become my #1 fan."
"Be active to earn stars! The more you use the app, the more stars you earn!
My Superfans will get access to exclusive content and contests." [The image attached was locked and exclusive to superfans.]
"Welcome to the app! This will be the main place I interact with my fans and share a deeper look into my life."
"Stay tuned for an exciting announcement today for my superfans!"
"CONTEST!!! Comment down below why you are my number 1 fan and one winner will be flown out to the Calgary Comicon April 28 and 30 to have lunch with me!"
"Quick snip of a new tune. I'll share more. I promise. I never share unfinished music. Or share in general. Lol. More to come. Xx" [This was also locked for superfans. So were many of the posts that follow. Eventually I stopped checking.]
"Is anyone else on spring break? I'm a late night owl and still was awakened by some wretched soulless thumping…"
"I'll bring the coffee and whiskey. Who will make a roaring fire?"
"The mountain lodge is now complete! Time to compete …"
"Still hibernating…. hahaha."
"Ok ok ok. Here is one more lil clip of this tune. I got to finish it. Then I may share it all."
"Time to fly the skies! Back to work…"
[No text, but when you open the app, you see a photo of Jeremy Renner with the name of the winner of the Calgary Comic Con trip, Lisa, written on it.]
"Working away… got to close up shop and pick a winner. Which is totally impossible you guys !!"
"Thank you all for the first venture out on the site. It has been great thus far getting to chat with a lot of you on the app. The fan support for Michael [not Lisa – I have not been able, or honestly bothered, to find an explanation for this] made all of us over here help decide him as the winner."
"Keeping it real on this side of the fence!!!! 2 hrs and counting til official birth of my purpose in life. *sunglasses emoji*"
"Thank you for all the birthday love! Ava"
"Woke with air plane pajamas on.. Only to realize I get on an airplane in 45 min. I assume it's cool to just roll out like this? Lol"
"Evening stroll on the city streets… goodnight to you all. Zzzzzz"
"Attacked by clippers in the chair today."
"Morning everyone!!" [It was 8:22 a.m. ET.]
"The little lady liked the snack table."
"Fun view from my room"
"Another night. Another hotel room. Night all!!"
"Coffee. Check. Zipper is up. Check. Ready for some press today. *emoji with tongue sticking out*"
"Quick break to say hello to the super fans"
"*sunglasses emoji, but the one that's just sunglasses, not a face* *winking face* love to the LOYAL…"
"Cup of coffee please…."
"Have a kick ass Saturday!! Let's finish strong…"
"It's TIME to fly…. he's going to need a name!"
"@Superfans *sunglasses emoji*"
"Feels like a Monday to me as well" [It was a Monday.]
"Jet lag is winning you guys. Sorry Few more days"
"Hoping to do a love streaming chat to answers questions soon. I'll keep you posted"
"Love stream. Lol. Live stream. Jet laaaaaaaag. Hahaha. A love stream."
"@Superfans Have a great weekend you guys!!! *rabbit emoji* *pine tree emoji*"
"'Ain't no mountain high enough' *treble clef emoji* *piano keys emoji*"
"Happy Saturday you all" [It was 12:39 a.m. ET on Sunday.]
"Hunting for rabbits , but only found this lonely boy buried. Lol" [This got me to open the app, but the image was, of course, locked for superfans.]