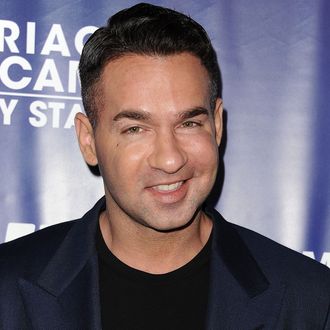 The Situation.
Photo: Jason LaVeris/FilmMagic/Getty Images
Michael "the Situation" Sorrentino has gotten himself into another sticky situation. (A special thank you to the nickname that keeps on giving.) In 2014, the Jersey Shore star and his brother Marc were indicted for tax offenses and conspiring to defraud the United States, and now the two face new charges of tax evasion and structuring and falsifying records to obstruct a grand jury investigation. The brothers previously pleaded not guilty to filing false tax returns on $9 million in income, claiming millions of dollars of personal expenses were for business; they'll be arraigned on the new charges on April 17.
This isn't the first time the master of GTL (that's gym, tan, laundry, not lawsuit, though that works now too) has gotten into legal hot water. In 2012 he sued Abercrombie & Fitch for their shirt "The Fitchuation" and lost (but let's be honest, there were no winners here). Then A&F offered to pay $10,000 if Sorrentino would stop wearing their clothing on Jersey Shore. Then in 2013, Sorrentino filed a breach of contract lawsuit against Devotion Vodka for allegedly cheating him out of millions after endorsing the protein-infused vodka (wait, what?). But they countersued him for fraud and breach of contract.
Remember when his main interest was abs?