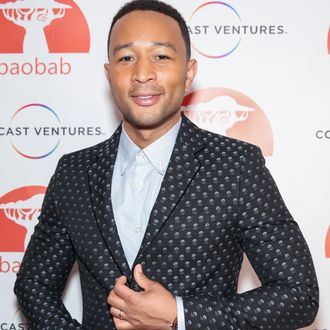 John Legend.
Photo: CJ Rivera/Getty Images for Baobab Studios
Before performing at Tuesday night's Time 100 Gala, John Legend took a shot at another honoree on Time's list of influential leaders, artists, and pioneers: President Donald Trump. Legend has been quite vocal in the past about his political beliefs — decrying the president's controversial travel ban, for one — and he had few kind words for the commander-in-chief. When New York asked Legend what he thought was "the least bad thing about Trump's first 100 days," the singer responded, "We haven't gotten into a nuclear war yet." Legend then listed for reporters several of Trump's lesser qualities:
I think he's a terrible president. Manifestly unqualified, not curious, not good at legislating or anything that his job requires, doesn't have any depth about any subject. He's also using the office of the presidency as a way to make money for himself with his businesses so he's corrupt. I can't say anything nice about the guy, I think he's one of the worst people I've ever encountered in public life.