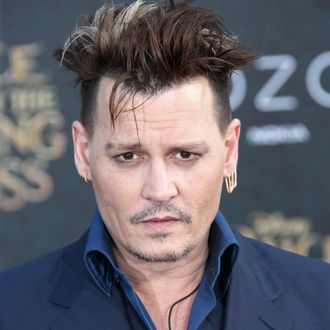 Johnny Depp, cannoneer.
Photo: Frederick M. Brown/Getty Images
One of the stranger points of contention in Johnny Depp's current legal battle with his former business managers the Management Group is how much money he spent on a "specially made cannon" used to blast Hunter S. Thompson's ashes over Aspen, Colorado. TMG has claimed that the cannon cost Depp $3 million, but in a new interview with The Wall Street Journal, the actor claims it was actually $5 million. (Either way, this seems like way too much money to spend on a cannon, but that's neither here nor there.)
While it might seem counterintuitive for Depp to claim he was spending millions more than TMG estimates, the actor's lawsuit against TMG revolves around claims that they weren't properly monitoring his spending. He's claiming that their negligence and fraud cost him tens of millions of dollars, steering him toward high-interest loans, and failing to make loan and tax payments on time. In a countersuit, they're claiming that he was simply out of control, living a "selfish, reckless and irresponsible lifestyle" that cost $2 million a month.
"Why didn't they drop me as a client if I was so out of control?" Depp told the WSJ. Later adding, "It's my money. If I want to buy 15,000 cotton balls a day, it's my thing." Depp is looking for more than $25 million in damages in his suit, while TMG is looking for $560,000 in unpaid fees and a ruling that the actor himself is solely responsible for his financial situation in their countersuit. We hope that, by the end of it, someone will please tell us exactly how much that cannon cost.