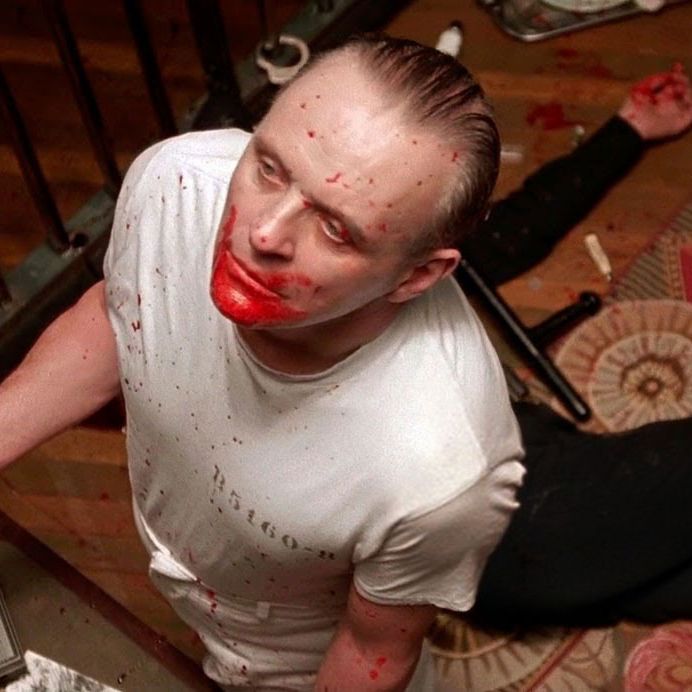 Anthony Hopkins in The Silence of the Lambs.
Photo: MGM
Director Jonathan Demme's humanist spirit reigned over his lengthy, textured career, covering everything from a Talking Heads concert film and a Hannibal Lecter thriller to a Henrik Ibsen adaptation. An industrious director until the very end, Demme brought a certain craft and care to every one of his projects, big and small. In celebration of his life and work, here are 19 films by the late director that are currently available to stream.
Handle With Care (1977)
Following a group of emotionally isolated Nebraskans who live out their wildest fantasies over the CB radio airwaves, Demme's 1977 film Handle With Care (also known as Citizen's Band) explores the beauty and discomfort of disparate people being forced to come together for reasons both within and beyond their control. Though it certainly owes a debt to Robert Altman, the film brims with Demme's unique brand of compassion and understanding, especially for Americana misfits, an approach he would develop over the course of his career.
Available to rent/buy on Amazon and iTunes.
Who Am I This Time? (1982)
Based on a Kurt Vonnegut short story, Demme's contribution to the PBS American Playhouse series follows a romance mediated by performance and writing. Christopher Walken stars as an introverted community-theater performer who lives his truth onstage; Susan Sarandon plays a newcomer who falls for his stage persona. Together, they discover a relationship within the words of Shakespeare, Tennessee Williams, and Oscar Wilde. Featuring a score composed by John Cale of the Velvet Underground.
Available to stream on Amazon Prime.
Swing Shift (1982)
Goldie Hawn stars as a WWII-era riveter who falls in love with a fellow factory worker and musician (Kurt Russell) while her husband (Ed Harris) is off in the Navy. Hawn and Russell became romantically involved during production, while Warner Bros. reportedly muscled Demme into recutting and reshooting parts of the film to make it a more lighthearted affair. Demme's original cut has yet to receive an official release.
Available to rent/buy on Amazon, iTunes, YouTube, Vudu, and Google Play.
Stop Making Sense (1984)
The greatest concert film ever made, Stop Making Sense captures both the awe-inspiring power of live performance and the warmth of a community in sync. David Byrne's wide-eyed, blank expression leads the rest of the Talking Heads in a rock-and-roll tour de force, demonstrating how emotive passion and cerebral sobriety can work in tandem to break down mental walls. Demme eschews everything inessential to the actual construction, development, and execution of the unfettered concert experience. Highlights include Byrne's famous Big Suit ("Girlfriend Is Better"), a funky aerobics workout ("Life During Wartime"), and one of the most moving moments in Demme's filmography, an elegant dance with a lamp ("This Must Be the Place").
Available to stream on Fandor. Available to rent/buy on Amazon, iTunes, YouTube, Vudu, and Google Play.
Something Wild (1984)
Something Wild follows a mild-mannered corporate rebel (Jeff Daniels) and a streetwise stranger (Melanie Griffith) as they embark on an improvised adventure that leads them into the arms of a psychotic ex-convict (Ray Liotta). Though it's best remembered for across-the-board stellar performances and its facility to maneuver between different tones, Something Wild stands as one of Demme's very best features, making the case that a person must reconcile the darkness inside them in order to achieve any semblance of inner peace. Bonus: The Feelies appear as a high-school reunion band.
Available to rent/buy on Vudu.
Married to the Mob (1988)
Demme closes out the '80s with a light comedy about a mob wife (Michelle Pfeiffer) trying to escape her compromised life after her husband (Alec Baldwin) gets whacked, only to find that she's targeted, romantically and otherwise, by the FBI (Matthew Modine) and a mob boss (Dean Stockwell). While Married to the Mob could have easily been a broad farce, Demme and Pfeiffer both bring genuine emotion to the table, finding grounded realism in a woman's desire for a fresh start.
Available to stream on DIRECTV. Available to rent/buy on Amazon, iTunes, YouTube, Vudu, and Google Play.
The Silence of the Lambs (1991)
Demme's best-known film follows a young FBI trainee (Jodie Foster) who seeks out the help of an incarcerated cannibal psychiatrist (Anthony Hopkins) to capture a serial killer named Buffalo Bill (Ted Levine). A sleeper hit, The Silence of the Lambs went on to win the big five Academy Awards and pushed Demme into the mainstream spotlight, where he would remain, for better or worse, for the rest of the '90s.
Available to rent/buy on Amazon, iTunes, YouTube, Vudu, and Google Play.
Philadelphia (1993)
One of the first Hollywood films to openly address the AIDS epidemic, this 1993 drama follows an HIV-positive attorney (Tom Hanks), who teams up with a homophobic personal-injury lawyer (Denzel Washington) to bring a wrongful dismissal suit against a discriminatory law firm. The film netted Hanks and rocker Bruce Springsteen their first Oscars and sparked necessary conversations about the national epidemic.
Available to stream on Starz. Available to rent/buy on Amazon, iTunes, YouTube, Vudu, and Google Play.
Storefront Hitchcock (1998)
Demme's third performance film (following Stop Making Sense and Spalding Gray's Swimming to Cambodia) stays true to its name: He films singer-songwriter Robyn Hitchcock as he performs inside a New York City shop window. Stripped down to the bare essentials, but nevertheless cannily filmed, Demme puts Hitchcock center stage, giving him complete power to deliver his unique brand of pop to a captivated audience.
Available to rent on Amazon, iTunes, and Vudu.
Beloved (1998)
Demme's adaptation of Toni Morrison's Pulitzer Prize–winning novel received mixed critical reception and a poor box-office performance upon release, but almost 20 years later, the film is due for a reassessment. Oprah Winfrey excels as a former slave haunted by spirits and reincarnated souls in her home on the outskirts of Cincinnati.
Available to rent/buy on Amazon, iTunes, YouTube, Vudu, and Google Play.
The Truth About Charlie (2002)
A remake of Stanley Donen's 1963 film Charade, The Truth About Charlie stars Mark Wahlberg and Thandie Newton in the roles originally played by Cary Grant and Audrey Hepburn. The film follows a newlywed (Newton) who tries to solve the mystery of her murdered husband with the help of a mysterious stranger (Wahlberg). It was Demme's second box-office bomb in four years and was critically panned upon release.
Available to rent/buy on Amazon, iTunes, YouTube, Vudu, and Google Play.
The Manchurian Candidate (2005)
Demme's underrated Bush-era remake of John Frankenheimer's 1962 original stars Denzel Washington as a war veteran who discovers a government conspiracy involving mind control. Though the original was marked by Cold War–era paranoia, Demme's update is framed by post-9/11 vulnerability, which bolsters the impressive performances of Washington, Liev Schreiber, and Meryl Streep.
Available to stream on Netflix. Available to rent/buy on Amazon, iTunes, YouTube, Vudu, and Google Play.
Neil Young: Heart of Gold (2006), Neil Young: Journeys (2011)
Demme paid tribute to the brilliance of Neil Young in three separate concert documentary films, only two of which are available to stream at the moment. Heart of Gold began filming just after Young lost his father and shortly before he went into surgery to repair a cerebral aneurysm, and a palpable sense of melancholy charges every moment onscreen. Journeys splits its time between a concert at Massey Hall and Young's visit to his childhood home where he tells stories from his past.
Neil Young: Heart of Gold is available to rent/buy on Amazon, iTunes, YouTube, Vudu, and Google Play. Neil Young: Journeys is available to rent/buy on Amazon, iTunes, YouTube, Vudu, and Google Play.
Jimmy Carter: Man From Plains (2007)
Demme's last official documentary follows former President Jimmy Carter on a tour across America to promote his book Palestine: Peace Not Apartheid. Man From Plains functions as a tribute to Carter's conscience as he refuses to leave the spotlight until he's finished discussing his opinions on Israel, post-Katrina New Orleans, and more.
Available to rent/buy on Amazon, iTunes, YouTube, Vudu, and Google Play.
Rachel Getting Married (2008)
Rachel Getting Married not only features Anne Hathaway's greatest performance, which was rightfully rewarded with an Oscar nomination, but it single-handedly brought Demme back into the good graces of audiences and critics. The film follows a black sheep who's been in and out of rehab for years (Hathaway) as she attends her sister's (Rosemarie DeWitt) wedding, reopening very old wounds and causing familial havoc. Aided by a powerful script by Jenny Lumet, Rachel Getting Married documents raw family dysfunction without traditional niceties or quirkiness.
Available to rent/buy on Amazon, iTunes, YouTube, Vudu, and Google Play.
A Master Builder (2013)
Demme collaborates with Wallace Shawn and Andre Gregory (both of My Dinner With Andre and Vanya on 42nd Street fame) to bring Henrik Ibsen's 1892 play to life. Following an aging architect (Shawn) and his relationship with a younger woman (Lisa Joyce), Demme constructs a lucid fantasy of a man struggling to make peace in his final hours. The weight of mortality provides this late work with the gravity it deserves.
Available to stream on FilmStruck. Available to rent/buy on Amazon and iTunes.
Ricki and the Flash (2015)
Demme's last feature follows a wannabe rocker (Meryl Streep) who abandoned her family to chase her dreams, only to return home to make amends with her estranged daughter (Mamie Gummer). Though Ricki and the Flash received a mixed critical reception upon release, the film has garnered fans due to its compelling performances, especially from Streep and Gummer, as well as Demme's live-music staging.
Available to stream on Starz and DIRECTV. Available to rent/buy on Amazon, iTunes, YouTube, Vudu, and Google Play.
Justin Timberlake + the Tennessee Kids (2016)
It's poetic that Demme's final film documents a performance, specifically the final date of Justin Timberlake's 20/20 tour at the MGM Grand in Las Vegas. Demme's presentation astounds, providing Timberlake's voice and stage work with the wide-screen treatment while also giving equal due to every musician and performer behind him. Demme tames a massive production so it fits a screen, but never suppresses its grandeur. More important, his remarkable humanism shines through every step of the way.
Available to stream on Netflix.