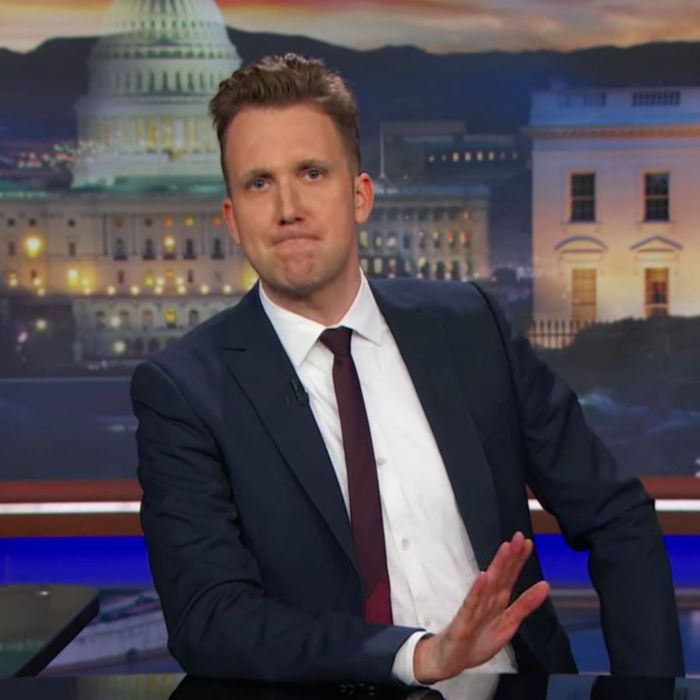 Jordan Klepper.
Photo: Comedy Central
Comedy Central has spoken, and Jordan Klepper is the next Daily Show correspondent to receive the coveted 11:30 slot previously held by Stephen Colbert and Larry Wilmore. Debuting on the satirical news program in 2014, shortly before Jon Stewart's departure, Klepper has consistently delivered some of the best field reports and desk pieces during Trevor Noah's tenure. With the hair of a local weatherman (as well as the face and body of a weatherman), the self-assuredness of a national news correspondent, and the cadence of an empathetic yet fact-driven anchor, Klepper, much like Colbert before him, is able to walk the line of seeming sincere to his marks, while appearing deeply sarcastic to the audience at home. While it's unclear what format and direction Klepper will take with his show when it premieres next fall, here's where his strengths as a political satirist and as a potential host lie:
"Jordan Klepper Fingers the Pulse"
Though Klepper hit the ground running at The Daily Show, his best work came during the 2016 election, when he could often be found deeply entrenched in a crowd of Trump supporters. Klepper's work went beyond pointing cameras at Middle America. During his recurring "Jordan Klepper Fingers the Pulse" segment he convinced many people to speak with unflinching candor about everything from why they didn't care about Trump's Access Hollywood "Grab them by the pussy" tape to Trump's Victory Tour "circle-jerk." The best (and scariest), however, was his segment uncovering the real conspiracy theories real people really believed.
"Donald Trump: The Greatest Show on Earth"
Klepper's ability to steer an interview can be like a sleight-of-hand trick: By casually seeming to affirm his subject's statements while throwing in an outlandish or bombastic statement he leads his subjects into arguing new points entirely. In this interview with a Coney Island sideshow performer, Klepper turns a conversation about the art of the circus into the secret behind Trump's showmanship.
"Are All Cops Racist?"
In October 2015, those distant days before every political or news-related thought was somehow about Donald Trump, Klepper and Roy Wood Jr. scored an early success under Trevor Noah's reign on The Daily Show with this look into police bias. Here, Klepper plays a character he returns to frequently: the white guy with an indignant refusal to see problems facing people of color and women.
"Good Guy With a Gun"
Just as how Klepper is willing to play the at best naïve, at worst mild-mannered-bigot to his more enlightened colleagues, Klepper also frequently takes on the part of gung-ho intrepid reporter ready to follow conservative arguments to their illogical conclusions. In this case, Klepper took on Fox News talking heads' assertion that the only way to stop an active shooter is with a good guy with a gun, by becoming the "good guy with a gun."
"Oppression Cosplay"
Klepper was always particularly good as a foil to Jessica Williams when she was still on the show. With her, Klepper inhabited a specific sort of privileged, Obama-era, post-racial, accidental racist. It's a character that made him an ideal Rachel Dolezal defender and makes you wonder if he'll be doing his show in character.
"TMI"
Like many Daily Show correspondents before him, Klepper has an improv and sketch background, having studied and performed at Second City and UCB Theatre. It was there that Klepper met his wife and comedy parter, Lauren Grey. Together they've made very funny sketches about the absurdity of coupledom. "TMI" shows that where Colbert's buffoon was based in pomposity, Klepper's is rooted in a faux intellectual smugness.

"A Conversation With Jack White & Jordan Klepper"
Should Klepper's show run like a traditional late show with interviews, rest assured that he can handle a straightforward talk with a celebrity. In his conversation, for Pandora, with Jack White, Klepper is a quick and comfortable interviewer.
Klepper Hosting The Daily Show
When Trevor Noah fell ill, Klepper jumped into the hot seat. He didn't reinvent the wheel with his monologue at the top of the show, but then again that's not what regular watchers want. Fans expect an informative take on the biggest news event laced with topical jokes and maybe a few goofy jabs, and that's exactly what Klepper did. Given the short notice, Klepper gave a solid, confident monologue about the final 2016 presidential debate and showed promise as a future front man.