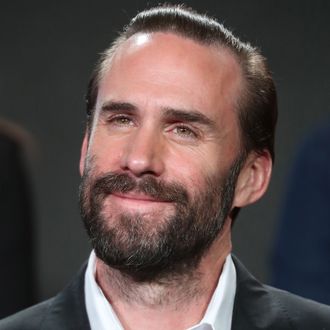 Joseph Fiennes as himself.
Photo: Frederick M. Brown/Getty Images
Joseph Fiennes isn't one to shy away from controversy. The actor currently stars in Hulu's adaptation of Margaret Atwood's The Handmaid's Tale, where he plays the Commander (a.k.a. Fred) who commits government-mandated rape every month. While the TV show has debuted to rapturous reviews (including our own), Fiennes did an episode of Sky TV's Urban Myths — in which he played Michael Jackson on a road trip with Elizabeth Taylor and Marlon Brando — and the release of the trailer was met online with a mix of horror, derision, and mockery, commensurate to Fiennes's makeup for the role. Many people said, despite Jackson's skin tone later in his life, he was a black man and should be played by one. Paris Jackson tweeted that the image "made [her] want to vomit." Quickly, Sky TV announced that they wouldn't air the episode.
During a press junket for The Handmaid's Tale, I asked Fiennes over the phone what his logic was for taking on the controversial part. "Well, it's a satire, so we have to look at it through that lens. The depiction of the three characters is very satirical, comic, lighthearted, to examine the disconnect of iconic celebrity," Fiennes replied. "But it's good that people stand up for [what they believe], and I'm all for that. I'm all for that discussion, and it means a lot to me and my fellow actors to talk about casting, getting it right, getting it wrong, and then if there's a mistake, to examine that mistake and talk about it. Maybe the controversy is good if it brings about discussion. But it is satire. It's a 20-minute sketch, and it's lighthearted."
Fiennes likened his performance to something you might see on SNL. "It's funny, because not so long ago, there was an SNL sketch where an actress played Michael Jackson and no one batted an eyelid," said Fiennes. "It's no less offensive than anything on SNL. That's the level of offense." Fiennes is presumably speaking of Amy Poehler, who played the late singer in a number of sketches from 2003 to 2005. (For the most part, black men have played Michael Jackson, including Eddie Murphy, Chris Rock, and Tim Meadows.)
Fiennes suggested that if he had his druthers, the episode would not have been pulled from the air. "Should we shut down the arts and directors and writers based on that, which has happened?" Fiennes said. "If you don't like the comedian, don't go see him, but do you shut him and his satirical material down? Do you become a totalitarian state where you go, that's offensive?"
I tell him that the reason why people were upset with his casting wasn't because it was satire, but because comedy has a long and injurious history of blackface. Fiennes replied, "If it comes anywhere near that criminal and hateful sensibility, then I'm deeply regretful and embarrassed, but there's a part of me that would love people to see it and get into a discussion. I'd love to sit down and examine that as a subject. But that is abhorrent, and if it treads anywhere near that, then it's good that it's shut down."
Does he regret taking the role? "No. In life, you can't avoid getting into hot water. It's all lessons and learning. As an actor, you take on roles, and nobody has seen it, so nobody can even have the full comment because they haven't witnessed it," said Fiennes. "But it's all about discussion, and I'm up for having a debate, talking about it, and not shying away from it. If it brings about debate and helps change things for the good, then I'm all for it."