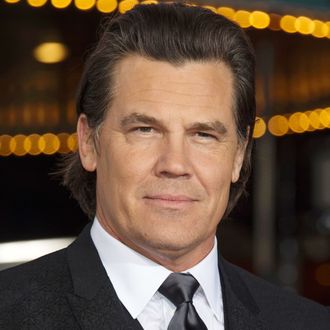 Josh Brolin, the Cable guy.
Photo: VALERIE MACON/AFP/Getty Images
There's a special club out there for actors who have played characters in multiple superhero franchises, with Chris Evans, Ben Affleck, and Ryan Reynolds being among the most notable. And now Reynolds will be joined onscreen by another member of that not-so-secret society: Josh Brolin. Even before we see him play space dictator Thanos in Avengers: Infinity War, news has come down from The Hollywood Reporter that the lantern-jawed hunk will play fan-favorite Marvel Comics character Cable in next year's Deadpool sequel, which is situated in the X-Men cinematic cosmology. Co-created by Rob Liefeld and Louise Simonson, Cable is traditionally depicted as a time-traveling soldier sent from the future to prevent Armageddon, and has often been paired with 'Pool as a straight man, so expect many jokes at his expense. Might he have white hair and a glowing eye? No matter what, we can expect that his guns, both literal and figurative, will be huge.