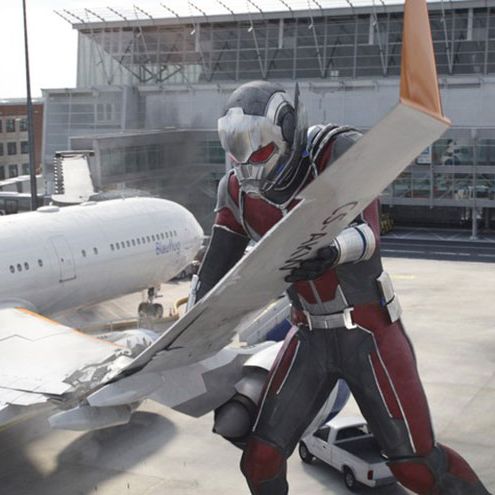 We won't need to say good-bye to this guy.
Photo: Marvel
On a trip through the Marvel Studios offices Monday, journalists were shown scenes and goodies from several of the studio's upcoming comic-book films, including Black Panther, Thor: Ragnarok, and Spider-Man: Homecoming. You'll get to see all three of those movies in theaters within the next year, but Marvel even showed us concept art drafted for films beyond that, including Avengers: Infinity War (out May 4, 2018), Ant-Man and the Wasp (arriving July 6, 2018), and a brand-new origin story, Captain Marvel, which has set Brie Larson to play the titular superhero but isn't due until March 8, 2019.
Our perusal of Ant-Man and the Wasp proved to be the most revealing, in more ways than one. Director Peyton Reed, who helmed the first Ant-Man, walked us through a wall of concept art for the soon-to-shoot sequel that hinted at the new film's even bigger concept: Inventor Hank Pym (Michael Douglas), who bequeathed his incredible shrinking suit to Scott Lang (Paul Rudd), has now advanced his size-altering technology to the point that "it's not just the suit that's the vessel for shrinking and growing," Reed told us.
Indeed, in the world of Ant-Man and the Wasp, it seems like anything is fair game for a seismic shift: We saw one keyframe where a van full of people had been shrunk down to the point where a dog was running around with it in its mouth like a toy car, and another shot where centipede-type creatures had been blown up to a massive, city-threatening length. Lang's Ant-Man was still able to commandeer different insects in his tiniest form, but blown up to the same giant size he unleashed in Captain America: Civil War, he used his body in one piece of concept art to bridge a long and perilous chasm, letting cars drive over his arms and shoulders without falling into the abyss below.

Reed also showed us Ant-Man's new suit, which doesn't look dramatically different from his original or Civil War look but blends the best elements of both, as well as two iterations of the flying Wasp suit that will be worn by Hope Van Dyne (Evangeline Lilly) in the sequel. There was also a conspicuous piece of concept art detailing the original Wasp suit worn by Hope's lost mother, Janet Van Dyne, which we glimpsed briefly in flashback form during the first Ant-Man. In that film, we learned that Janet shrunk herself down to a level so tiny that she disappeared into a quantum realm, so it's natural to expect that a future Ant-Man movie — likely this sequel — might involve a search for her.
I pointed to the glossy rendering of Janet's suit. "We'll see this one again, won't we?" I asked Reed.

He couldn't divulge that but instead laughed loudly, which felt like a hint. "Only time will tell," Reed teased.
Hanging on the wall right by Janet Van Dyne were several illustrations of Brie Larson as Captain Marvel, though Marvel executive and producer Jeremy Latcham cautioned that "by the time the Captain Marvel movie comes out, whether she'll be wearing that exact costume … who knows?" He explained that Marvel Studios will often commission long-lead art to show to potential directors meeting with the studio, but it would be a surprise if the character's final look changed that much, since the concept art effectively translated the blue jumpsuit with red accents that Carol Danvers, Larson's iteration of Captain Marvel, historically wears in the comic books.
The most exciting piece of concept art generated for the film showed Captain Marvel fighting two giant robotic baddies, one fist about to clank against metal, the other held in reserve and readying a fiery energy blast. I asked Latcham if he'd sent Larson the concept art to get her hyped.
"Oh, dude," he replied, giddy. "Not only have we sent it to her, but there's a video of her seeing it. You guys probably won't be seeing it anytime soon, but she was super-psyched."

Expect the studio to announce a director soon. Marvel Studios head Kevin Feige has been meeting with directors for the better part of a year, but according to a chatty Reed, they've finally settled on a helmer he wasn't permitted to name.

And then, opposite a wall that featured all those heroes, we saw concept art of Thanos from Avengers: Infinity War. Josh Brolin's purple baddie has been pulling the strings since the first Avengers movie, though aside from two brief scenes in Guardians of the Galaxy, he's mostly been relegated to Marvel's post-credit scenes. That will change during this next Avengers team-up, where Thanos finally leaves his comic throne to fight the Guardians, the Avengers, and all of the newer recruits like Doctor Strange and Black Panther.
In the keyframe we saw, Thanos wore a shit-eating smirk, a sleeveless mauve waistcoat, and some pretty practical pants and boots. Behind him, an out-of-focus spire jutted out at a Pisa-like angle: Had he leveled a metropolitan city on Earth, or simply decorated an outer-space area in an awfully dangerous way? It wasn't easy to tell, but it felt fitting that the illustration was placed so that he was staring down concept art of Ant-Man, the Wasp, and Captain Marvel. If the Avengers want to take down the big purple guy, they'll surely need all of that new trio's special talents.