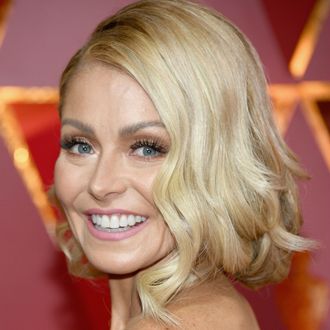 Photo: Kevork Djansezian/Getty Images
Slit open your mattress, exchange your gold for cash, and commandeer a bus to Atlantic City: If you think you know who will take Michael Strahan's long-vacant morning-show gig alongside Kelly Ripa, now is the time to put your money where your obsessive love of daytime talk shows is. On Sunday, the Live With Kelly host posted a video teasing Monday's episode, and, according to the video's hashtags, we're about to find out who will be joining her, following Strahan's exit almost a year ago for Good Morning America. This as-yet-unknown person will also, according to the video, need to join Ripa in drinking out of one giant two-person mug, possibly as part of some sort of beautiful morning-show ceremony.

As you might recall, the sudden announcement of Strahan's impending departure last April caused Ripa to take a four-day hiatus from the show, before Strahan eventually departed in May. According to Variety, Ripa's new co-host will allegedly not be one of her many repeat co-hosts, which would hypothetically rule out favorites such as Andy Cohen, Anderson Cooper, Fred Savage, and Jerry O'Connell. So, is anyone ready to put their money on a John Leguizamo or a Jim Parsons? How about a Josh Groban or a Busy Philipps? Rita Ora, maybe? Any takers on Rita?