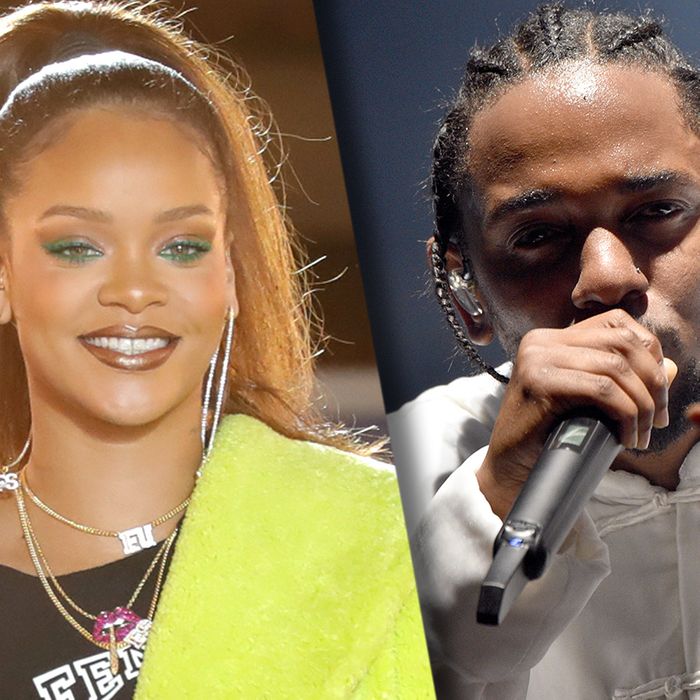 Rihanna and Kendrick Lamar.
Photo: Getty Images
As the balance between spoken and sung lyrics in rap tilts ever further toward melody, it's become more common for major R&B icons to adopt rap tones to suit their own ends: for example, Beyoncé on Lemonade, or Frank Ocean at points on Endless and Blonde and on various Odd Future guest turns. Rihanna, though, has played it cool for the most part. It's not that she can't pull it off — it's difficult to imagine the line "Didn't they tell you that I was a savage?" existing in a world without rap — but more that her temperament is a little harder to match to rap. Beyoncé's emphasis on capital-G Glory or Frank's interest in realist detail naturally correspond to the spirit of rap, but Rihanna, more relaxed than the former and less committed to material things than the latter, has to pick her spots more carefully: She's been gracing rappers with her appearance more often, but she's there to sing, not sing-rap.
So "Loyalty," her feature on Kendrick Lamar's freshly released DAMN., is more exceptional than it may seem at first. Though only eight bars, Rihanna's sung rap is as fluent as it is brief, a swift and casual tour of her accomplishments ("Been a bad bitch way before any cash came") topped off by a final line all the more delightfully memorable for not rhyming at the end: "Run the atlas, I'm a natural, I'm alright." Chipping in elsewhere on the hook and other verses, she provides the ideal complement for Kendrick's own crisp, carefully disheveled victory march. It very much seems as if DAMN. marks a turn away from the rigidity and didacticism intrinsic to Kendrick's excellence on To Pimp a Butterfly: The fact that there's not just a place, but a perfect place for Rihanna on the new record is a sign that Kendrick can afford to agonize a little less and stunt a little more.
Though this isn't necessarily central to the song, it's clear to those with ears that "Loyalty" serves as the latest volley in the war of subliminals waged between Drake and Kendrick over the past four years.
Rihanna's off-again, on-again, off-again relationship with Toronto's biggest star makes for an intriguing backdrop to a song about loyalty with Drake's biggest rival. The vocals that kick off the track, with their Auto-Tune and lingo ("geeked") reminiscent of Drake's former tour mate and collaborator Future are actually done by "Loyalty" producer DJ Dahi, whose beat, centered on a slow, beautifully twisted soul sample, makes for a sparse but rich accompaniment. (It's no accident that Kendrick brought out the real Future during his Coachella set.)
Though demanding loyalty from others, Drake has never exactly been renowned for loyalty himself, and the appearance of some of his close associates with Kendrick is all but guaranteed to disturb the yearlong beauty rest he prescribed himself at the end of More Life — a collection that no one is talking about right now, thanks to DAMN. "Loyalty" is the ideal flex for a master artist coming down off a social-justice high looking to dunk carelessly on any and all nemeses, and it's Rihanna's presence — smooth, succinct, and cleverly shaded — that makes it possible.