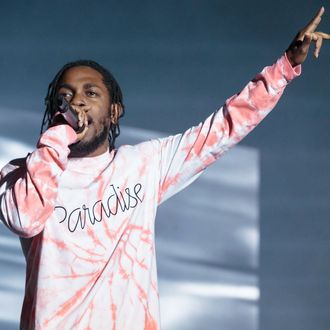 It's all happening.
Photo: SUZANNE CORDEIRO/AFP/Getty Images
Piecing together the puzzle that is Kendrick Lamar's next album just got a lot easier. After learning of its true release date, April 14, last week, we now also know the album's title and all the necessary details. Lamar has taken to Instagram to officially announce that his fourth album is — drumroll, please — called DAMN., full stop. (Sorry to anyone banking on it actually being titled ALBUM.) As teased, his follow-up to 2015's To Pimp a Butterfly has 14 songs, including "HUMBLE.," and now it's been revealed that they're all one-word titles that also end in periods — even the song inspired by Kendrick's real last name, Duckworth. Punctuation matters, kids!
A previous browse through the album credits found the legal names of the members of U2, which could've either meant they were heavily sampled on a song or actually involved — and it appears to be the latter: U2 are indeed featured on a song called "XXX." And now you're blushing. Also featured: Rihanna, on a song called "Loyalty." Try to act more thrilled about all this news than Lamar looks on the album's cover.