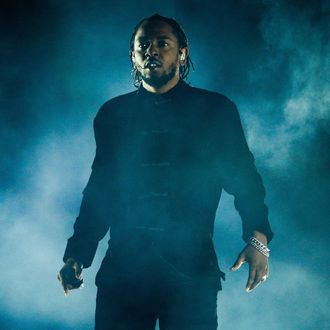 Drake's not the only one making rap and doing numbers like it's pop.
Photo: Rich Fury/Getty Images for Coachella
The debate over whether or not Kendrick Lamar is better than Drake will likely outlast us all, but the question of can he be more commercially successful than Drake has finally been answered with a resounding well, damn, yeah. For the first time in his career, Lamar has outperformed Drake when they've both released a new project. Kendrick scored his third No. 1 on this week's Billboard 200, as his new album DAMN. exceeded industry expectations to debut with the biggest first-week numbers of 2017 so far. (To Pimp a Butterfly and untitled unmastered also went No. 1.) A few weeks ago, Drake held that title when his More Life not-an-album debuted at No. 1 with 505,000 album equivalents and set a streaming record. Kendrick just one-upped him by moving a staggering 603,000 album equivalents — the biggest debut of Kendrick's career — and came just 30,000 units shy of matching Drake's streaming album equivalent record.
He did, however, best Drake in sales: DAMN. sold 353,000 traditional albums to More Life's 225,000, also giving Kendrick the biggest-selling album of the year, over even Ed Sheeran's Divide, which sold 322,000 albums earlier this year. (The last album to sell more in a week was J. Cole's 4 Your Eyez Only with 363,000.) DAMN. still doesn't hold a candle to the stats Drake's Views pulled in a year ago (that album did over a million), but it's now the biggest debut week since then and a pointed message to Drake that he's no longer the only one "making rap albums [and] doing numbers like it's pop."