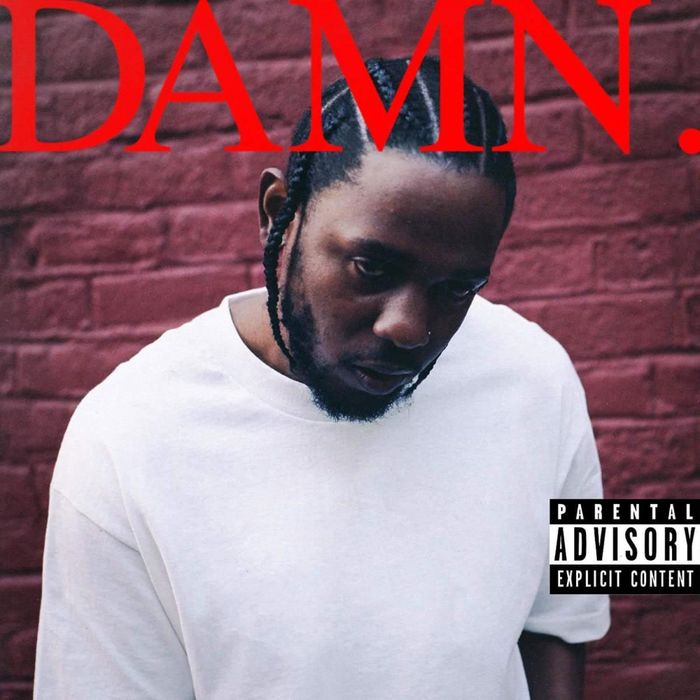 It's been two years since Kendrick Lamar's To Pimp a Butterfly, and we are not alright. Bold, organized racism is ascendant. Military conflict seems inevitable. Environmental decay can't be far off. Doom hangs on the air. Butterfly was a record about weathering bad times and the chain reaction between faith, hope, and change. "Alright" tapped old slave spirituals' steely resolve, providing a sense that time could be bided, and trials overcome through patience. Through belief. In church, you're told that "Faith is the substance of things hoped for, the evidence of things not seen." But what happens when that hope fades? DAMN. is Kendrick Lamar's trip to the same place of fretful hyperawareness many of us have occupied throughout 2017's onslaught of bad news. "I feel like it ain't no tomorrow," "FEEL." laments. "Fuck the world. The world is ending, I'm done pretending." Each song tackles a big concept: "LOVE.," "LUST.," "LOYALTY.," "FEAR.," "GOD.," etc., as Kendrick weighs the merits of cutting it all loose in the face of hardship. This is a record about the dark places your head goes when you give the world a message of hope and determination and get President Trump in return. It's an attempt to sort out why suffering is fair at all.
Faith is this album's cornerstone, but it's not the joyful, celebratory faith of Chance the Rapper, the grizzled, determined faith of Lecrae, or the darkly yearning faith of DMX and Kanye West. DAMN. sees belief nudged into doubt by a volatile mix of world disorder and offbeat theology. Interludes include answering machine messages from a cousin telling Lamar that Black, Latin, and Native Americans are the Bible's chosen people, and that our suffering can be traced back to places where we disobeyed Biblical law. (The sentiment resembles the teachings of the Black Hebrew Israelites, a century-old mix of tenets from Christianity and Judaism sullied by the bigotry of a small, vocal sect of confrontational street preachers.) Kendrick is obsessed with the lawmaking, punitive God of the Old Testament, who made ample use of obedient, unquestioning followers but chastised the ones who dared to second-guess things. The suggestion that cruelty visited upon people of color in America is the result of prosperity deliberately being withheld from on high is bleak and dangerously wrongheaded, though sadly not without precedent.
Repeat invocations of the Book of Job in "FEAR." and "XXX." ("Take the gratitude from him / I bet he'll show you something") seem crucial to the understanding of this record, since Job's trial was specifically a test to see what he does when he becomes accustomed to the taste of failure. The question of whether Job's goodness is, at root, just preservation of the wealth and comfort his virtue has afforded him is explored in the book as calamity shatters his well-being piece by piece. Broken and bereaved, Job curses the day he was born and questions the justice of a belief system that repays reverence with random sickness and death. He believes his record of good service warrants an answer. DAMN. is a gutsy, pitted Job moment for a modern rap audience. (The title, in that sense, doesn't invoke the PG-13 exclamation "damn" has become in modern parlance, but rather the verb form, the one that revokes the promise of eternal spiritual life offered by organized religion. Heavy stuff to drop on Easter weekend.) The album's lengthy airing of grievances is punctuated by the smug "GOD.," where Lamar reckons that laughing at rappers who make less money must be "what God feels like."
In its bleaker moments, DAMN. embraces the hopelessness Butterfly held at bay. It is the sound of fighting the good fight and losing, of wondering whether you're even worth saving. What prevents a record this haunted by ecclesiastical woes, bile for the press ("BLOOD.," "DNA."), and cold contempt for other rappers ("HUMBLE.," "ELEMENT.") from lagging is the poise of a master of his craft at work and his renewed interest in simpler sounds and structures. Kendrick Lamar albums habitually sidestep and subvert the trends upheld by big rap-radio records. 2011 and 2012's Section.80 and good kid, m.A.A.d city favored plush productions and prioritized live-sounding instrumentation instead of trap drums. To Pimp a Butterfly melded g-funk, free jazz, and boom bap with fluid backing by funk and jazz luminaries from George Clinton to Robert Glasper. The new music is a little less challenging to the ear but no less edifying. "DNA." ushers us in on booming 808s from Atlanta trap beatmaker Mike WiLL Made It, and the rest is bolstered by Top Dawg Entertainment's formidable in-house production team with appearances from Cali sample genius Alchemist on the Wu-Tang homage "FEAR.," the internet's teen guitar prodigy Steve Lacy on "LOVE.," and North Carolina indie-rap legend 9th Wonder on "DUCKWORTH." If their involvement doesn't underscore a renewed commitment to beats and rhymes, the DJ drops from '80s DJ and mixtape maestro Kid Capri ought to.
DAMN.'s accessibility doesn't end at its production credits. The singles are strong: The lilting "LOVE." features newcomer Zacari, whose disembodied, angelic vocal recalls The-Dream and Jeremih at once, and Rihanna's spot on the yearning "LOYALTY." marks the first time a Kendrick album sprung for a pop star since Drake featured on GKMC's "Poetic Justice." (Unlike "Poetic Justice," these songs don't run counter to the theme of the surrounding album; both look at love through lenses of suspicion and distrust.) Kendrick's delivery is loosening up more too. It's hard to imagine him trying the upper register melody and self-satisfied huff of "GOD." without Young Thug and Lil Uzi Vert on the scene pushing hooks and quirky ad-libs to the fore, and the hostile, whooping money talk of "ELEMENT." seems like deliberate Drake parody. It never feels like biting; it's more like a rare acknowledgement of the sound of popular rap in 2017. (The snark for his peers is like Odysseus home from war, sizing up competitors angling for his livelihood.)
Listening along as Lamar lobs syllables as quickly as the ear can catch them is a joy, and the creative storytelling carried out in these shifting flows feels satisfying and complete, like the overarching narrative sweep of Good Kid reproduced in breathtaking miniature. On "FEEL." Kendrick blurts out all his troubles and shortcomings as a series of psychiatrist's couch "I feel like…" dispatches. "FEAR." repeats the trick as Lamar revisits three moments he felt overwhelming anxiety, as a 7-year-old navigating a stressed out parent's cruelly inventive promises of corporal punishment ("I'll beat your ass if you tell them social workers he live here / I'll beat your ass if I beat your ass twice and you're still here"), then a 17-year-old Compton kid resigned to the possibility of an early death ("I'll prob'ly die from witnesses leaving me false accused / I'll prob'ly die from thinking that me and your hood was cool"), and a 27-year-old rap superstar who can't shake the fear that he's meant to lose his riches and notoriety, just like Job.
DAMN.'s yarns about fame and faithfulness tie up neatly in "DUCKWORTH.," a fast-paced story where the hustler Anthony ("His family history's pimping and banking: He was meant to be dangerous") spares his friendly local chicken spot guy Ducky ("Hustling on the side with a 9-to-5 to freak it / Cadillac Seville, he'd ride his son around on weekends") during a robbery there and goes on to found the rap label that eventually signs Kendrick, Ducky's son. The story rolls out like a parable: The way Lamar sees it, he lives today thanks in part to the crucial kindness the two men shared in that store, and the ways they've prospered since the first meeting can't be an accident. After all that talk of curses and suffering, "DUCKWORTH." closes us out on a pastoral reminder to be good to everyone we meet, because we never know who holds the power to change our lives. Was the whole album a vehicle to deliver this message?
When the dust eventually settles, we'll look back on Kendrick Lamar as an artist who came through for us so passionately and unflinchingly that we began to take the magnitude of what we asked of him for granted. He shouldn't have be the guy in "XXX." who scares up spiritual gravitas on the phone with a friend who lost a child to gun violence and then gives a speech at a school on the subject. He shouldn't have to be the guy the nightly news calls a danger to the youth of America for performing a protest song about police killing those same youth. He shouldn't feel like nobody is praying for him. It's not the job of a musician to change the world. They only need to inspire whoever does. Kendrick Lamar has done so, brilliantly, every step of the way. And that's enough. Let's celebrate it.