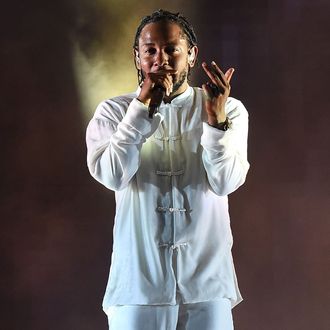 Sit down. Be humbled by the mass success of Kendrick Lamar.
Photo: Kevin Winter/Getty Images for Coachella
If ever you've wondered what it's really like to take a back seat to Kendrick Lamar, Ed Sheeran can currently be found keeping it warm. After a relentless 12 weeks of Sheeran's "Shape of You" leading the Hot 100 with no end in sight, it's finally been unseated by the biggest song of Kendrick Lamar's career. Kendrick's lead single from DAMN., the ironically cocksure "HUMBLE.," has risen to No. 1 after debuting at No. 2 just a few weeks ago. Not only does it knock Sheeran down a spot, the song now becomes Kendrick's first-ever solo No. 1. He'd previously only got that far with Taylor Swift by his side for his appearance on the "Bad Blood" remix — much like Drake only knew what No. 1 felt like with Rihanna by his side for some time. If you're keeping score, it took Kendrick Lamar as many albums as it took Drake to reach his first solo No. 1 song (though, technically, Drake still had the help of Wizkid and Kyla on "One Dance," while "HUMBLE." is all Kendrick.) But back to being anything but humble: In addition to taking No. 1 with an album that did bigger first-week numbers than Drake's latest, Kendrick's album spawned a No. 1 song while More Life has so far topped out with "Passionfruit" and "Fake Love" at No. 8. Did we mention Kendrick's "DNA." has also reached No. 4? So, about that seat.