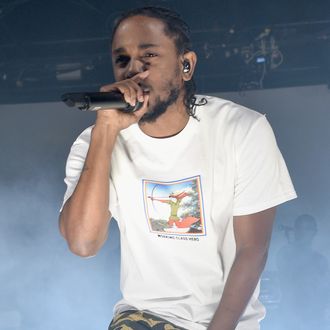 A debut worth humble-bragging about.
Photo: Bryan Bedder/Getty Images for American Express
Who says you need Taylor Swift to win over the masses? A little over a week ago, Kendrick Lamar dropped a surprise song and video combo, and it's now the biggest song of his career. On this week's Billboard Hot 100, "Humble" has debuted at No. 2, the highest Kendrick has ever charted by himself to date. (Ed Sheeran's "Shape of You" is once again No. 1, for an 11th week.) Kendrick had previously gone No. 1 with his remix of Taylor Swift's "Bad Blood," though that was largely driven by the song's high-profile video. This is not only Kendrick's most successful solo song, it's also, shockingly, his first track to ever enter the Top 10. (He's made it there three times before as a featured artist with Swift, Maroon 5, and A$AP Rocky.)
"Humble" represents a bittersweet moment for all of hip-hop, too: It's the first rap song to debut this high since Eminem's "Love the Way You Lie" featuring Rihanna debuted at No. 2 seven years ago, though "Humble" has the added distinction of not having a pop guest to sweeten the deal. So, where most rap songs must spend weeks, even months, climbing the charts before they ever see Top 10 territory, "Humble" just proved it's possible for a rap-only song to start off high. So long as you're Kendrick Lamar at the peak level of fame, that is.