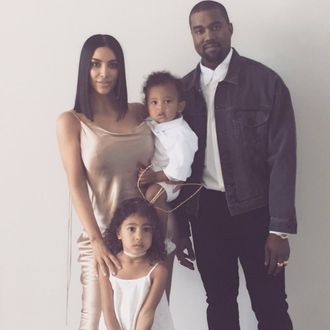 West Family Easter photo.
Photo: Kim Kardashian West, Twitter
Before we as a society can prepare for our next three-day weekend and excuse to be drunk on our cousin's porch (Memorial Day is only 41 days away!), Kim Kardashian West has some revealing Easter photos to share. Among the pictures dropped on social media of the beautiful West family celebrating the high holy day in style with relatives, barnyard animals, and Chrissy Teigen, there was a shot of the children with the Easter Bunny with the caption "Dadye." Does this mean that Kanye is not only a highly successful rapper and father, but also a mythological deliverer of candies? Probably! And really it all makes sense: We've never seen the Easter Bunny and Yeezy in the same place. So it's all adding up. Hope Sean Spicer doesn't mind giving up the gig.