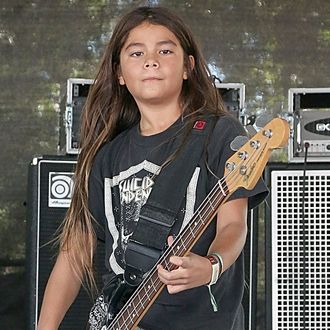 Photo: Gary Miller/Getty Images
As for many of their fans, Korn probably came to you early — perhaps while they dominated MTV's TRL in the late '90s and early '00s, offering you the perfect conduit for your screaming, preteen rage. Now Korn is touring South America with an actual tween filling in as bassist, and you're not mad, exactly — it just would have been nice if it were you.
Tye Trujillo, son of Metallica bassist Robert Trujillo and bassist for the tween band the Helmets, will perform with the nu-metal band during their upcoming dates in Colombia, Brazil, Argentina, Chile, and Peru this month, beginning on April 17. Korn's regular bassist, Fieldy Arvizu, is unable to to attend for reasons unspecified in the band's Facebook announcement — which also explained, "We are bummed Fieldy can't join us on this run but excited to do a few gigs with a young player like Tye. We look forward to welcoming our brother Fieldy back when we return to the States in May." Hey, cheer up: Maybe one day the band will suddenly find itself in need of an adult who has hasn't picked up an instrument since eighth grade? Then all your secret, Korn-related dreams could come true.